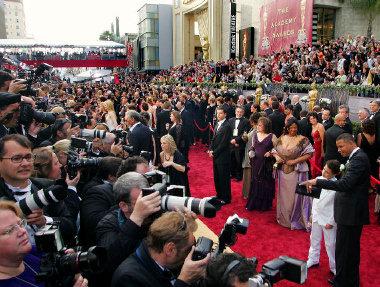 Like many of you Oscar night starts two hours prior to the ceremony as I sit down in front of my television to watch the fashion parade down the red carpet. With my friends on Twitter and Facebook we hand out our own awards for the night; best dressed, best hair, best make-up, best style, the don't you own a mirror award. I always await the moment when the interviewer asks "What are you wearing?" Of course the answer is about the dress she has on but just once I'd love to have an actress respond "Chanel No. 5 it's my lucky scent. Oh you meant my dress its Chanel too." While I don't expect any of the red carpet interviewers to ask the question I'd love to hear answered I thought I might do a little research and try and figure out what fragrances might be present on the Red Carpet Sunday night.
Based on my research there will be three classic perfume houses, Chanel, Guerlain, and Jo Malone very well represented on the red carpet.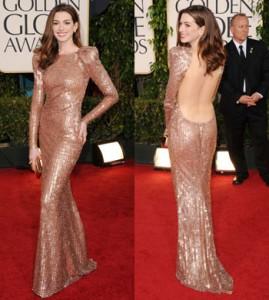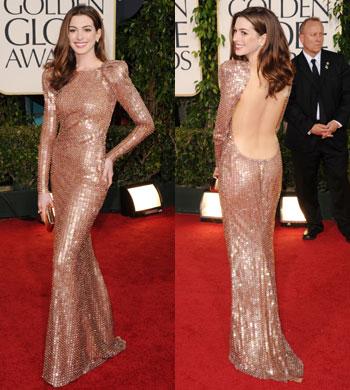 Chanel Chance is the choice of Anne Hathaway who will be co-hosting the ceremony.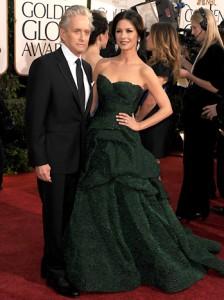 Catherine Zeta-Jones will most likely be in Coco when standing next to Michael Douglas.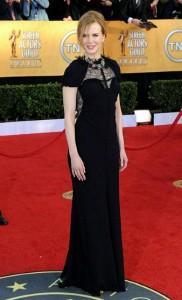 Best Actress Nominee Nicole Kidman for "Rabbit Hole" will be wearing Chanel No. 5 which she has been the spokesperson for.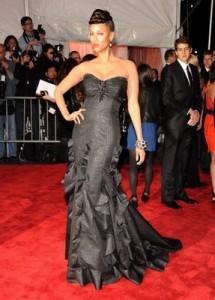 Guerlain L'Heure Bleue has been worn from Catherine Deneuve to Julia Roberts to Tyra Banks.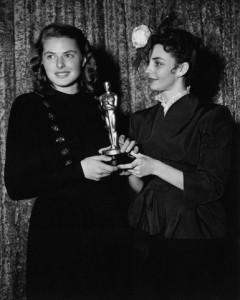 Guerlain Mitsouko was favored by Charlie Chaplin and Ingrid Bergman.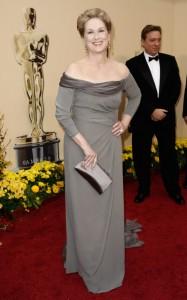 Meryl Streep will be in Guerlain Shalimar but the most worn Guerlain fragrance will be Vetiver with many of Hollywood's sexiest men like Tom Cruise and Andy Garcia wearing it; but just like Mitsouko, Vetiver crosses over to be Jodi Foster's preferred fragrance.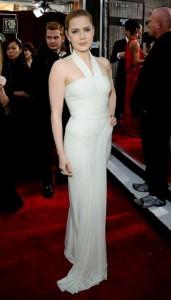 The Jo Malone brigade will be led by Best Supporting Actress nominee for "The Fighter" Amy Adams who prefers Nectarine Blossom & Honey.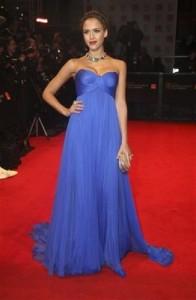 She might be joined by Jessica Alba who has worn Blue Agave & Cacao; and Oprah who wears Jo Malone Grapefruit.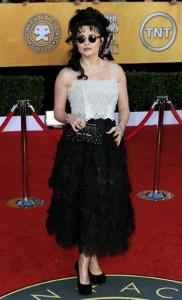 Helena Bonham Carter, nominated for supporting actress in "The King's Speech", will be wearing Tann Roka Kisu. She is likely to have company in Gwyneth Paltrow who also wears this fragrance.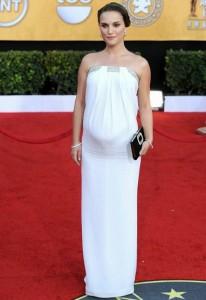 Natalie Portman should be wearing Miss Dior Cherie as she takes the podium to accept the Best Actress Oscar for which she is the odds-on favorite.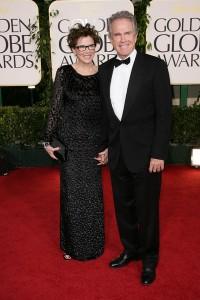 The most eye-opening fragrance I found to be worn by numerous celebrities is the fragrance favored by fellow nominee Annette Bening, for "The Kids Are Alright", Bijan. Bijan might be the fragrance with the biggest box office as it is worn by Directors Geroge Lucas and Steven Spielberg as well as Oscar icon Jack Nicholson who should be sporting Bijan from the front row.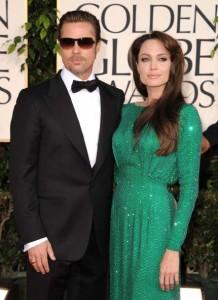 Angelina Jolie and Brad Pitt will likely be wearing Creed Love in White and Lorenzo Villoresi Musc, respectively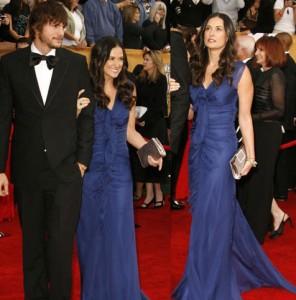 Ashton Kutcher wears John Varvatos while escorting Demi Moore in Clean.
So while the red carpet will be full of high fashion it also will have trails of sillage of some of the best perfumes out there.

Thanks to Saks.com we have two Guerlain giveaways for our Red Carpet Draw. We have two sets of5 X 2mL drams of Guerlain Mitsouko and Guerlain L'Heure Bleue. We will give one winner all five drams of Mitsouko and the other all five drams of L'Heure Bleue. To enter leave a comment telling us who you think is the most stylish celebrity past or present. The draw will take place on Feb. 28.
–Mark Behnke, Managing Editor