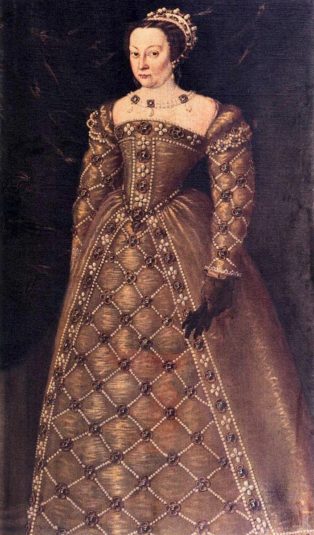 Catherine de Medici by an unknown artist, 1555, Uffizi Gallery, Florence
Ever since a leather tanner from Grasse called Galimard first made scented gauntlets for Catherine de Medici 500 years ago, perfume and leather have gone hand-in-glove. Galimard, a brilliant marketer, killed two birds with one stone. To mask the odiferous smell of tanned hides, he dipped gloves in a rosewater and spice formula and presented the resulting "sweet gloves" to Catherine, whose enthusiasm for the new fashion accessory made them the court's newest status symbol and put Grasse on the map as the center of European perfumery. Cuir Imperial, Ormonde Jayne's newest addition, embodies this dual tradition, marrying classical perfumery with a leather so multilayered that it seems to pay homage to different leather genres while striking a bold individuality.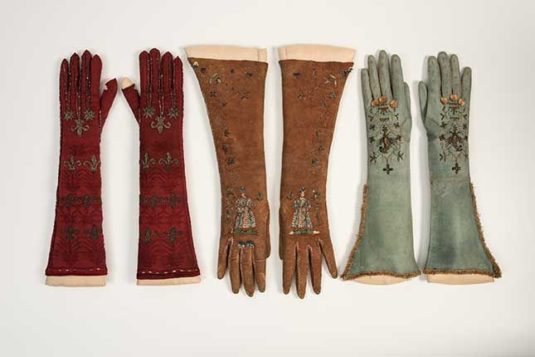 Collection of antique leather gloves, photo from Bath Fashion Museum
Linda Pilkington's composition is orchestral: at different moments, Cuir Imperial gives nods to birchy, bomber jacket fragrances like Santa Maria Novella Nostalgia, floral suedes like Hermes Doblis, and rich, oriental-accented scents in the style of Serge Lutens Cuir Mauresque. But this is no derivative leather: the distinctive Ormonde Jayne woods-citrus cadence runs through the perfume as an undercurrent, and the construction is restrained and creative, leaving you in no doubt whose perfume this is.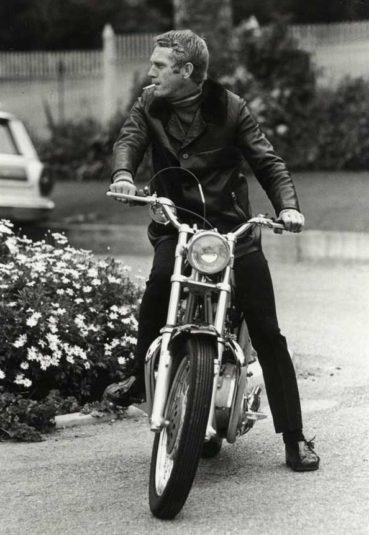 Steve McQueen on his Triumph Bonneville, c. 1950s
Birch, which gives tanned leather its particular bitter-burnt rubber aroma, dominates Ormonde Jayne Cuir Imperial, especially in the opening, where all the cuir de russies in the world seem to rush by. The first few moments are given entirely to birch's charred smell; butch, redolent of motorbike oil and tire treads. Edging in is a dry herbal note I take to be sage, which complements the pitchy smell of the tar.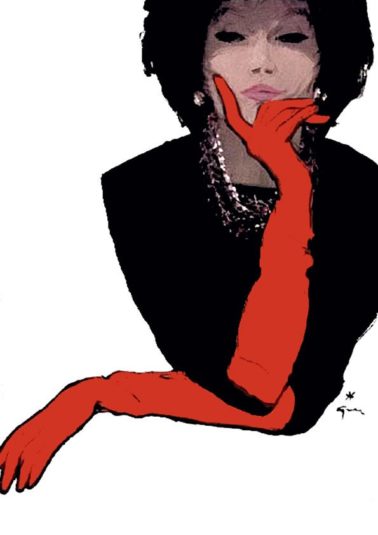 Illustration by Rene Gruau, 1960
The smokiness reaches a pitch within the first ten minutes, after which there's a key change. An incredibly realistic cognac wafts in to class things up. Stripped of its spiritous bite, the complicated, ambery-medicinal-raisin smell of cognac is a brilliant choice to add dimension to the leather and smooth out its rough-rider edges. As it comes further forward, the cognac adds richness and complexity. Fruity and floral notes glide in discreetly and the leather begins to shift from biker to Bergdorf's. A touch of rosy velvet comes through, elegantly, orris dusting Cuir Imperial with face powder and pastry sweetness that redirects the leather to the smell of vintage suede gloves.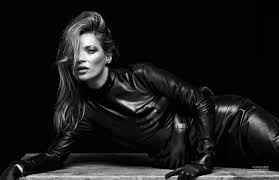 Kate Moss, photo by Bryan Adams for Zoo Magazine Fall-Winter 2013
As Ormonde Jayne Cuir Imperial settles down, it burnishes. Wood notes come through like low flutes as crackly notes of patchouli and pepper are added, joined by the dustiness of saffron and cardamom. The Ormonde Jayne signature reappears, and, in its final stages, Cuir Imperial somehow manages to smell of everything that went before without ever getting muddy or off-balance. Two hours later, I get catches of suede, motorcycle jacket and cognac mixed with orris and sandalwood.
Complex, clever, and sumptuous, Ormonde Jayne Cuir Imperial is a leather fantasia from one of independent perfumery's most distinctive and consistently elegant houses.
Notes: Cognac oil, clary sage, bergamot, cardamom, pink pepper, leather and suede notes, orris, saffron, rose absolute, freesia, tonka, sandalwood, patchouli, cedar, vetiver, incense.
Disclaimer: Sample of Ormonde Jayne Cuir Imperial generously provided by Ormonde Jayne. My opinions are my own.
– Lauryn Beer, Senior Editor
Ormonde Jayne Cuir Imperial
Ormonde Jayne Cuir Imperial is a limited-edition bespoke perfume made exclusively for Harrods in London. But thanks to the generosity of Ormonde Jayne's Creative Director Linda Pilkington, we have an 8 ml bottle of Ormonde Jayne Cuir Imperial for one registered reader in Europe or the U.S. Please be sure to register here. To be eligible, please leave a comment saying what appeals to you about Ormonde Jayne Cuir Imperial based on Lauryn's review and if you have a favourite Ormonde Jayne perfume. Draw closes 9/10/2018.
We announce the winners only on site and on our Facebook page, so Like ÇaFleureBon and use our blog feed … or your dream prize will be just spilled perfume.