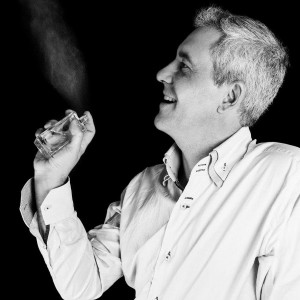 Daniel Josier
"A year ago I started studying mind control, positive thinking, and energy of the universe….and decided to launch a fragrance full of energy, positive thinking, and good vibes!" –Daniel Josier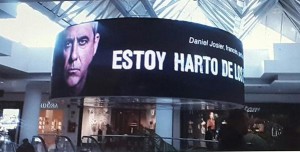 Daniel Josier Billboard Ad in Barcelona
Daniel Josier is a perfumer of Spanish descent and the nose behind his eponymous brand Daniel Josier. His perfumes are under the radar, but to perfume aficionados his collection is highly prized. Daniel is very well known in Barcelona, Spain where advertisements for his fragrances can be seen all across the city.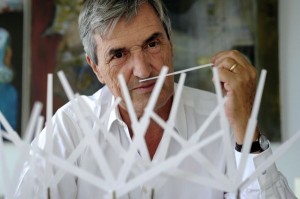 Jean Claude Ellena
Daniel's education as a perfumer is one filled with many years of experience and the very fortunate opportunity to work under and be mentored by one of the greatest perfumers of modern times –Jean Claude Ellena. After finishing his perfume studies at ISPICA in 1997, Daniel began working at Haarman & Reimer in Grasse, France, and in 1998 master perfumer Jean Claude Ellena became his director and mentor for the next six years. After the merger between H&R and Dragoco which became Symrise. M Ellena went to Hermes and Daniel went on to work at Expressions Parfumees, until he decided to be an independent perfume and launch his own line. Interestingly, Daniel's composed the first prototype of Tom Ford's Tuscan Leather; Mr. Ford went in a different direction. Daniel's version,a smooth leather vs the distressed and Cuero De La Toscana, is a topseller in his own collection.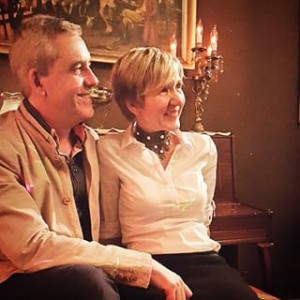 Daniel Josier with his wife Josune
Josune is Daniel's newest creation and one that he holds very close to his heart as it is named after his wife of 24 years. When I asked why he decided to name the fragrance after his wife he explained, "Initially the perfume was to be called 'Positive Thinking'…but this energetic scent was also charged with love. So I decided to rename it and give it the name of the person who fills me with energy, positivity, good vibes, and love."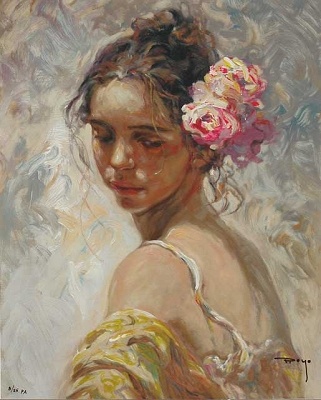 Jose Roya La Perla courtesy of Roya Art
Josune the fragrance allows me to close my eyes and vicariously experience Daniel's relationship with his wife upon first spritz. From the moment my nose was introduced to the fresh bergamot and the sensual rose and jasmine bouquet my mind pictured a woman of positive light, one whose smile radiates a room, and whose touch is gentle, genuine, and always full of passion. As the fragrance dries down the earthy patchouli and comforting sandal wood sing to your heart the same way a first encounter with an exquisitely beautiful woman does; in the sense that obvious physical attraction is there, and then through conversation you find out that her beauty goes far beneath the surface and is anchored deep within her spirit where she displays a down to earth personality, a heart to lift others up, and a profound love for anything that makes the mind think, wonder, and imagine. The tail end of this romantic symphony is layered in warmth, energy, and jubilation as the sweet praline note takes form and intertwines with the warmth and delicacy of vanilla. The clean and sensual musk notes add longevity and truly make the fragrance long lasting and unforgettable.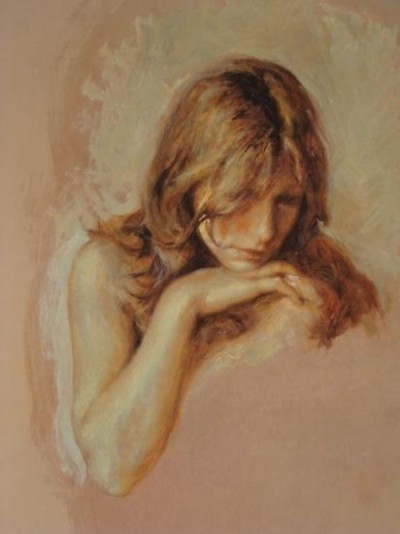 Jose Roya
Ode to Josune by The Nosey Artist
Closer…closer…I always want you closer,
24 astonishing years and you never cease to amaze me
I love you like a friend, I honor you like a queen,
And more than just my wife you are a symbol of hope for me-like a rose with unscathed petals that grew from a crack in the concrete
Your unconditional love is as rare and exotic as the finest of jasmine oils and worth more than the price of ten kilos
In a world full of chaos you are an infinite source of positive energy,
I have no need for meditation for you are my Zen moment and today I've had the honor of you becoming my muse
They say that scent is one of the most powerful senses that are linked to memory and I believe that to be true,
For when I close my eyes and think of you I am instantly enthralled with the delightful smell of your vanilla skin
Your natural aroma is as warm as the morning smile you greet me with,
And as sweet as the praline pies you bake for me
I couldn't imagine what life would be like without you,
As a matter of fact I don't even deem it possible for me to live without your presence
You're a blessing to me and any other that you happen to connect with,
And like the prefect skin scent you make your way into the hearts of others without flamboyance or an over dose of projection
And this is precisely why I decided to bottle up the essence of your existence and share it with the world
When they feel your warm touch and embrace your uplifting aroma I want them to repeat the same words that my heart continuously sings out to you,
"Closer…closer…I always want you closer"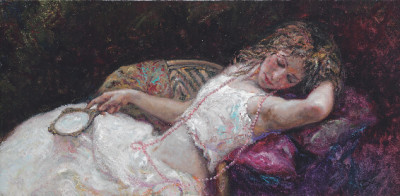 El Collar Rosa
Josune is romance in a bottle. I experienced 8 + hours longevity but the sillage is intimate, which is fitting for a fragrance meant to honor David's wife, his beloved and his studies in mediation and positive energy Josune to be delightful, uplifting, comforting, and very passionate all the same time. Josune is a fragrance meant to be shared and would work well on both men and women with lean towards the ladies, as the praline and rose add a touch of femininity.
–The Nosey Artist
Disclosure: Personal bottle of Josune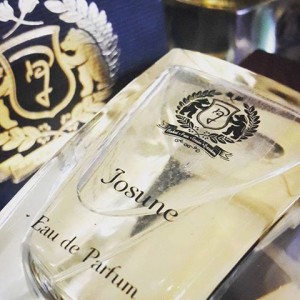 Editor's Note: All of Daniel's fragrances including Josune can be found and purchased on his website at www.danieljosier.com (attention: the website is in Spanish, but Google will ask you to translate). We welcome The Nosey Artist to CaFleureBon and hope you enjoy his olfactive storytelling. Learn to look past notes and enjoy perfume as liquid poetry. The Nosey Artist is on Instagram @the_noseyartist. I chose the romantic art of Spanish Impressionist Jose Roya

Daniel Josier Perfumes
Thanks to Daniel Josier we have a worldwide draw for TWO registered readers (you must do this or your comment is invalid). You have a choice of the newest fragrance, Josune. Another reader can choose from Josune or the following fragrances from Daniel Josier's collection: Ambrec Tabac, Orquidea Negra, 1929, Bois d' Iris, Le Musk, Mystery Oud, Interdit Absente, Vanilla et Coco Golden Tuberose, Cuero De La Toscana, or Golden Vetiver (or a sampler of 12). To be eligible please comment what appeals to you about Josune from The Nosey Artist's review and his poem,welcome him to CaFleureBon, the fragrance you would like to win and where you live. Draw closes 11/8/2015
We announce the winners only on site and on our Facebook page, so Like Cafleurebon and use our RSS option…or your dream prize will be just spilled perfume.