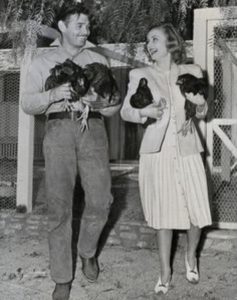 Clark Gable and Carole Lombard Thanksgiving; she was a country girl
This morning I was thinking of the great Old Hollywood actress Carole Lombard who was married to the love of her life Clark Gable, for three years, before she died tragically in a plane crash on Mount Potosowi near Las Vegas after returning from a trip selling war bonds, just weeks after World War II broke out in the Pacific.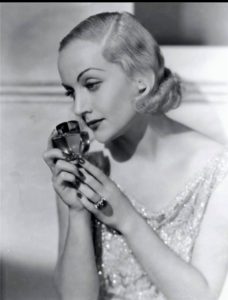 Carole Lombard with a bottle of perfume
Since ÇaFleureBon is a perfume blog, you might be interested in learning that Carole Lombard was a perfumista and in Michelle Morgan's book Carole Lombard Twentieth Century Star, she was quoted "I really enjoy perfumes. I don't buy the stuff for the bottles to be used as decorations for my dressing table. I open every bottle and use it until I tire of it. I change perfumes on an average of once a week, returning to old favorites or new possibilities". Barbara Herman, Creative Director of Eris Perfumes, author of Scent and Subversion and Yesterday's Perfume wrote that Carole wore D'Orsay's animalic floral Intoxication (1939). Caswell Massey claims she wore Casma, a fragrance they recently brought back.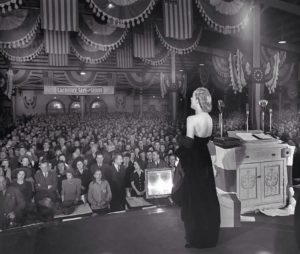 Carole Lombard selling War Bonds 1940
But this post isn't about perfume.
In my family, it is a tradition that we spend Thanksgiving at my sister's house. In our life time, we all have had good years, tragic years but most importantly we have been blessed with love for each other and have helped and supported each other through the darkest and brightest of times- illness, birth, death …life. Today is also my dad's birthday and one of my dearest friend's, so turkey and birthday have a special meaning this year.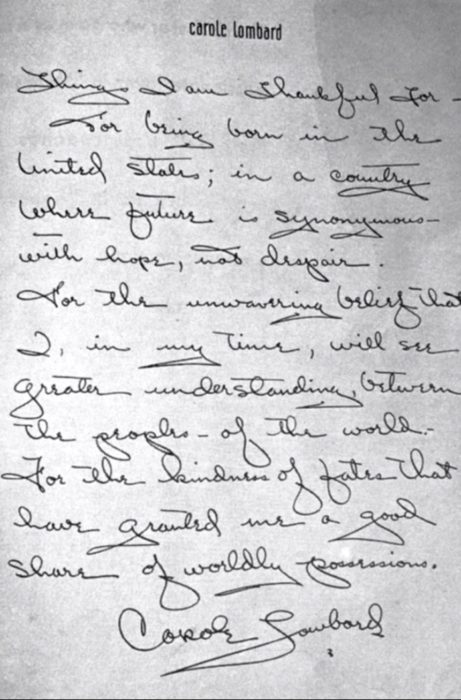 This is a letter Carole Lombard wrote in 1940.
"Things I am thankful for-For being born in the United States, in a country where future is synonymous with hope, not despair, for the unwavering belief that I, in my lifetime, will see greater understanding between the peoples of the world. For the Kindness of fates that have granted me a good share of worldly possessions".- Carole Lombard
From our CaFleureBon family to yours, we wish everyone a Happy Thanksgiving. We are especially grateful that our Sr Contributor Tammy Schuster has returned home and recovered from an illness that her doctors told her she may not live through. She lost her sense of smell and has regained it.
Feel free to leave a comment with what you are thankful for.
Michelyn Camen, Editor in Chief