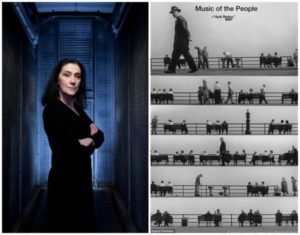 Ellen Covey and Music of The People
It has been almost a year, July 23, 2016 to be exact, since perfumer Ellen Covey of Olympic Orchids and Editor-in-Chief Michelyn Camen teamed up to create the Noteworthy Music Project, an opportunity for ÇaFleureBon readers to name a new Olympic Orchids perfume based on one of their favorite songs. For the Noteworthy Music Project the winning perfume name would not simply be attached to an already existing fragrance but would provide the musical and lyrical inspiration, a synaesthetic template, so to speak, for the perfumer's new creation.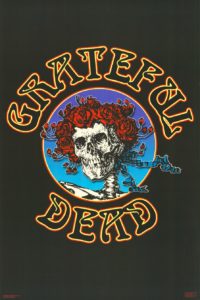 Grateful Dead Skull and Roses album art
Reader "Dixie", the grand prize-winner of the project, commented that she was "going out on a limb …suggesting a Grateful Dead title that sounded unique and interesting…'Cryptical Envelopment' [Cryptical Envelopment/The Other One – 1967/68]." Ellen Covey was intrigued and inspired by Dixie's choice, by the " …rambling theme in the beginning and end and some evocative lyrics in between, with imagery of exploding roses and hallucinatory transformations." Ellen goes on to describe her concept of the fragrance as "…a challenging perfume to make, but really fun. It will take about 6 months…" Cryptical Envelopment has taken somewhat longer than expected but great things come to those who wait!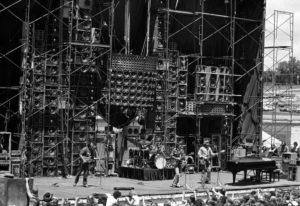 The Grateful Dead Wall of Sound 1974 ©
These are the lyrics Ellen used as inspiration (composed by Jerry Garcia as a suite)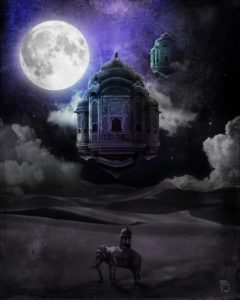 Imaginary Traveler Christian Schloe©
"The other day they waited, the sky was dark and faded,
Solemnly they stated, "He has to die, you know he has to die."
All the children learnin', from books that they were burnin',
Every leaf was turnin', to watch him die, you know he had to die.
The summer sun looked down on him,
His mother could but frown on him,
And all the other sound on him,
He had to die, you know he had to die.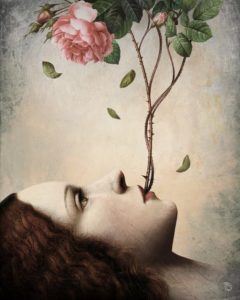 Secret of The Rose by Christoan Schloe©
Spanish lady come to me, she lays on me this rose
It rainbow spirals round and round, it trembles and explodes
It left a smoking crater of my mind I like to blow away
But the heat came round and busted me for smiling on a cloudy day
Coming, coming, coming around
Coming around, coming around, in a circle
Coming, coming, coming around
Coming around, coming around, in a circle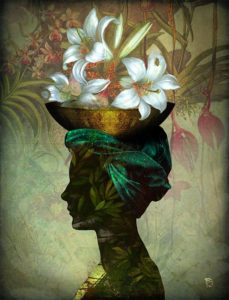 Christian Schloe ©
Escaping through the lily fields, I came across an empty space
It trembled and exploded, left a bus stop in its place
The bus came by and I got on, that's when it all began
There was Cowboy Neal at the wheel of the bus to never ever land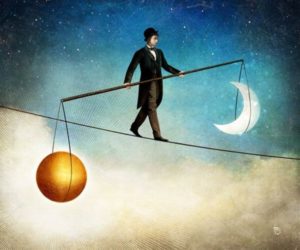 Coming, coming, coming around
Coming around, coming around, in a circle
Coming, coming, coming around
Coming around, coming around, in a circle
And when the day had ended, with rainbow colors blended,
Their minds remained unbended,
He had to die, oh, you know he had to die."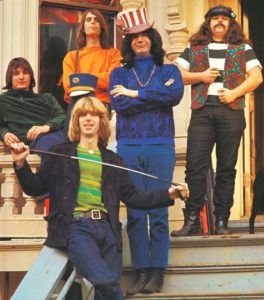 Grateful Dead in front of 710 Ashbury Steet, San Francisco, 1967
I admit my almost complete ignorance of the Grateful Dead. In the late 60s into the 70s I rarely listened to their music and even today, I am barely familiar with their work. Instead I remember André Watts performing the Rachmaninoff Piano Concerto No.3 and Horowitz playing Scriabin's "Vers la flame". In those days my favorite popular artists were the masters of Soul, Motown, and R&B: James Brown, Wilson Pickett and Aretha Franklin among others.
Today He Felt Life by Christian Schloe
So how does a classically trained, soulful, UN-dead-head talk about a perfume named Cryptical Envelopment? Perhaps I am hallucinating, but Cryptical Envelopment is indeed "cryptical" and esoteric, opening with the scent of something vaguely familiar yet very foreign. With the first spritz I am enveloped in a cloud of woody-golden, spiced tobacco, scented with tangy green citrus, mint, menthol, cardamom, a touch of white turmeric, cinnamon and ginger. This exotic vapor enfolds my skin in a mystery scent for at least 30 minutes before a hazy, fresh rose accord, visited by wraiths of white lilies and champaca, emerges from the smokey, mentholated mist. The long lasting floral heart of Cryptical Envelopment (at least six hours of flowers) creates a Kirlian-like aura, a subtle field of rosy energy that, combined with the initial spices and tobacco, paints an unforgettable bloom on my skin. As the perfume dries down the rosy haze lifts, revealing a deep, rich finish, steeped in civet and tolu balsam that lingers for another hour or two before disappearing in a wisp of patchouli and musk. Notes: Rose, aromatic tobacco, lily, patchouli, davana, ginger, champaca, civet, dark musk and tolu balsam.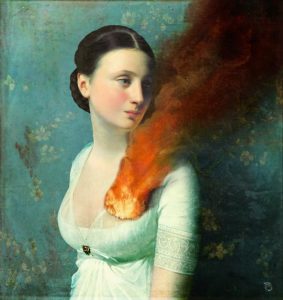 Portrait of a Heart Christian Schloe
The mystery evoked by the opening of Cryptical Envelopment and the soothing nature of the floral heart are indeed, as Ellen Covey so aptly puts it, "…a psychedelic ramble from a brightly blooming surreal flower garden to a mystical death and reawakening on the 'bus to never ever land'.
Many thanks to Ellen Covey and Olympic Orchids for the "charmed" bottle of Cryptical Envelopment. My opinions are my own.
Gail Gross, Editor
Art Director: Michelyn Camen Editor-in-Chief; I used the art of Austrian Surrealist Christian Schloe. I wanted to capture the beauty and mystique of the fragrance without resorting to dark surreal or psychedelic art cliches evoked by the lyrics.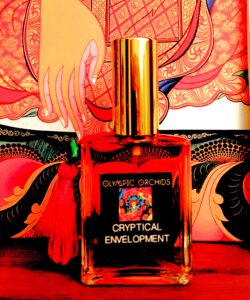 Gail's Cryptical Envelopment art
Thanks to the generosity of Ellen Covey and Olympic Orchids we have one prize, a 30 ml bottle of Cryptical Envelopment for the US OR one 15 ml classic dab on perfume anywhere in the world, available to one registered reader. Be sure to register or your comment will not count). To be eligible for the draw, tell us where you live, what appeals to you about Gail's review, if you like the Grateful Dead's music, where you live and your favorite Olympic Orchids fragrance. Be sure to check out Olympic Orchids new boutique website for new offerings and special offers. Draw closes July 20, 2017
We announce the winners only on site and on our Facebook page, so Like Cafleurebon and use our RSS feed…or your dream prize will be just spilled perfume.