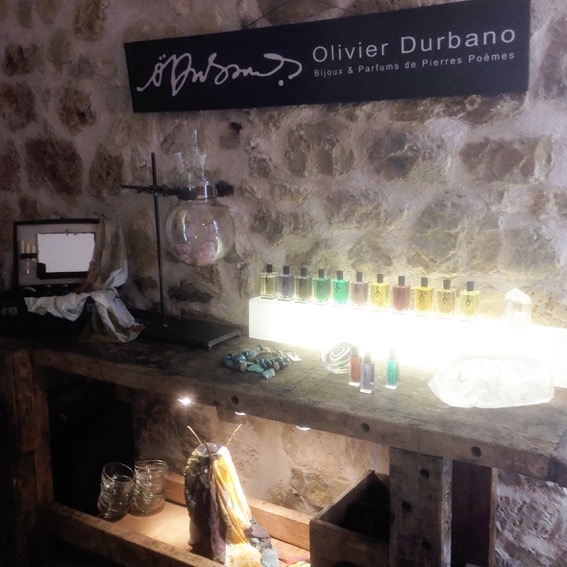 Boutique Parfums & Bijoux Pierres Poèmes Photo Olivier Durbano
Jeweler, Designer and Perfumer Olivier Durbano will soon open the doors to his first boutique, located in Grasse (the pre-opening is Tuesday 8/22). Olivier's great grandparents cultivated rose de mai and Jasmine for perfumeries three generations ago and from his first perfume Rock Cyrstal in 2005, he has always created his beautiful Pierres Poèmes in Grasse.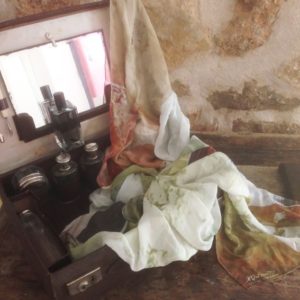 Olivier Durbano's exquiste cotton and silk shawls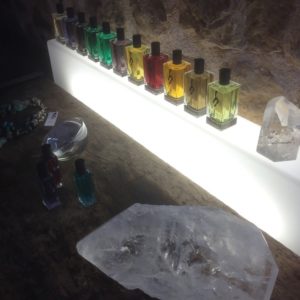 Rock Crystal gemstone and Olivier Durbano Parfums which are 20-30 percent pure perfume Photo Olivier Durbano
Although most perfumistas know Olivier for his 11 fragrances, Chrysolithe was launched in 2015 (soon to number 12) his jewelry, each as unique as a snowflake and rare shawls, such as Black Tourmaline Cotton (you must look at his shawl New York 2016 ) are works of art, many inspired by the gemstones of his perfumes.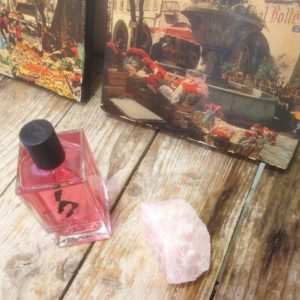 Olivier Durbano Pink Quartz Photo Olivier Durbano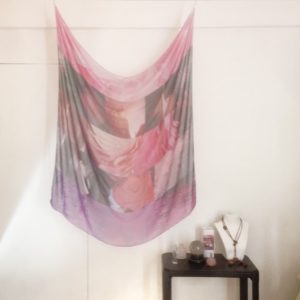 Pink Quartz Etole shawl, Angel, Pyrite and Pink Quartz necklace and perfume display Photo Olivier Durbano
Grasse is the perfume capital of the world, located in the French Riviera and includes Cabris, where the The Roudnistka Estate is located. Famous for its flower fields of jasmine, rose, violets, and lavender, the region is home to MOLINARD (1849), FRAGONARD (1926), The Grasse Institute of Perfumery and The Musées de Grasse, this area in Provence is well known for its tours and simply stated without Grasse there is no perfume. I have often referred to Brooklyn and Soho here in NYC as the fragrance district. The real fragrance district was established in the mid-18th century and is the leading source of perfume materials in the world.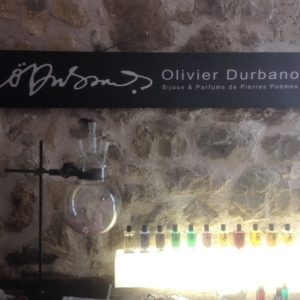 Interior Olivier Durbano New Boutique Parfums & Bijoux Pierres Poèmes Photo Olivier Durbano
Olivier kindly shared photos of a sneak peek of the new boutique exclusively for ÇaFleureBon readers.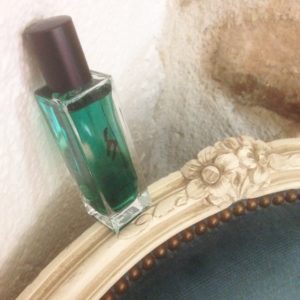 Turquoise (Tama Blough's favorite and the subject of her Fragrant awakening When Scent Becomes Soul Photo Olivier Durbano
Address:
Parfums & Bijoux Pierres Poèmes
Place aux Aires – 7 rue des Moulinets
06130 Grasse
France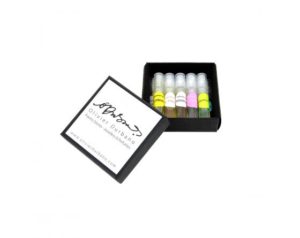 To celebrate this milestone in Olivier's life, art and return to his roots, Olivier is offering a draw for a registered reader worldwide for a Discovery Box of all the collection Eau de Parfum [20%] Olivier Durbano Poems Stones Perfumes in Limited Edition Rock Crystal, Amethyst, Black Tourmaline, Jade, Turquoise, Pink Quartz, Citrine, Heliotrope, lapis Philosophorum (Philosopher's Stone), Promethee, chrysolithe 11 x 2,5 ml in a black box
Please leave a comment wishing Olivier Bonne Chance, your three favorites from Olivier's perfume, jewelry and shawls and where you live. Draw closes 8/25/2016
We only announce winners on site and on our Facebook page- so like Cafleurebon and use ourRSS feed option … or your dream prize will be just spilled perfume