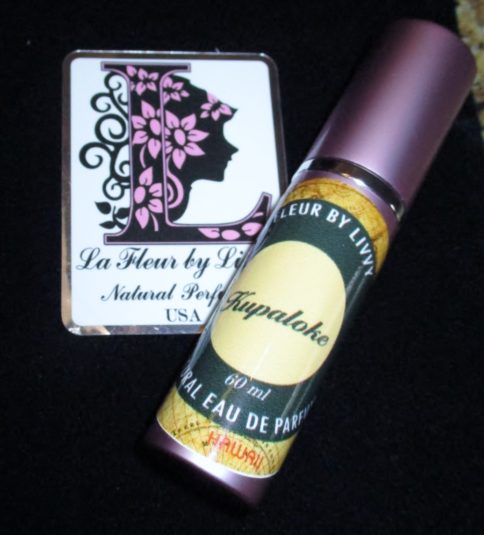 Complete with Clarissa Pinkola Estés style neo-native folklore, Colorado based Olivia Larson of LaFleur by Livvy Kupaloke; a Hawaiian addition to the Travel Collection and to be sold exclusively by Ave Parfum*- a unique perfumery offering, "…niche, artisan and natural perfume from around the world" and some of my favorite Houses. "And so it goes till this day the fishermen can hear faint strains from Kai's ukulele as they get closer to the tiny island in the Pacific accompanied by the smell of freshly baked vanilla cakes, with hints of caramel and cinnamon, sweet and citrus aromas followed by a heavy rich floral scent from the tuberose and orchid lei's being woven. Now let me tell you a story. Kupaloke's hand was promised, unknown to her to the Chief's Son, Ailanee as her father had made an alliance between the two villages before he passed away. The Chief was getting ready to celebrate this matrimonial alliance. However, The distraught Kupaloke could not bear the thought of marrying someone else. The Chief found out about the secret love affair that was harboring between the two and ordered to kill Kai. So late that night Kai and Kupaloke decided to elope in his small fishing boat; escape to the next island and live happily ever after. Out of the sky came big bolts of lightning and claps of thunder as Kai's prayers were answered and a heavy storm fell upon the seas, with waves crashing the Chief's boats and sending his men back ashore. Kai and Kupaloke managed to escape and live happily together." Kupaloke as told by Olivia Larson of LaFleur by Livvy
Thanks to the generosity of Olivia Larson of LaFleur by Livvy we have one 5 ml Pink Mini sprayer of LaFleur by Livvy Kupaloke for one registered reader in the US or Canada. The random winner is NiceVULady. Please email michelyn at cafleurebon dawt com with Kupaloke 5 ml Pink Mini as your subject and your mailing and phone details by February 9, 2018 5 PM EST. This is a deadline and no exceptions if you are late or misspell CaFleureBon. Please use your email from your comment so we know it is you. A kind thank you to Olivia Larson of LaFleur by Livvy would be much appreciated in your email.
PLEASE NOTE THAT THE LOG-IN AND REGISTRATION FOR CAFLEUREBON SITE IS ON THE UPPER RIGHT
We announce the winners only on our site and on our Facebook page, so like Çafleurebon and use our blog feed…or your dream prize will be just spilled perfume.