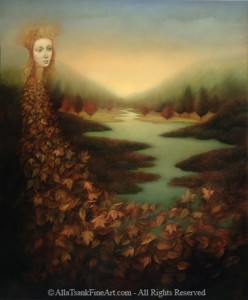 Autumn Fairy by Alla Tsank
On a sleepy street in Salem, Massachusetts, somewhere between the Old Burial Point Cemetery and the Witch History Museum, there is a small shop where, some say, magic still happens. You can't buy spells or wands or broomsticks there, this is a different kind of magic. As autumn descends on Salem, so do the tourists, and this sleepy street awakens to discover the annual pilgrimage of witches and wizards, ghosts and ghouls, gathering to ring in the Feast of All Hallows. The shop is Aroma Sanctum, purveyor of perfumes, custom blended from natural essential oils, fragrance oil compounds and the soul of Olde Salem.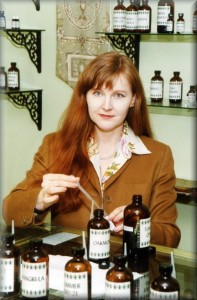 Akuura Kulak
Akuura Kulak, the nose and the brains behind Aroma Sanctum, opened the shop in 1996. Over the years, Ms. Kulak has composed an exquisite line of house blends, primarily sold in ¼ or ½ oz. oil form. One can sniff their way through the thirty-or-so house blends, with names like Darkwoods and Celestial Smoke, or have a custom fragrance created by Ms. Kulak herself. Let's step into the shop and spend some time with a few of her most popular blends…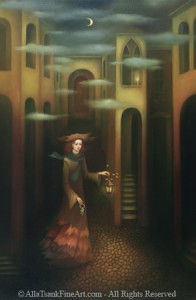 Midnight Guardian by Alla Tsank
October Moon opens with a dark, spicy orange accord laid over a harvest of spices, woods, burning leaves and a heart of patchouli. It's a burst of crimson and gold. When I first discovered Aroma Sanctum about four years ago, I instantly connected with October Moon and took home a bottle. Whenever I revisit this scent, I am transported to New England in the fall.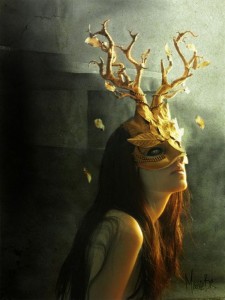 Art by Marcela Bolivar
Witchfire is described by Aroma Sanctum's website as "a ritual celebration of jasmine, woods, spices and incense burning in a sacred fire by the light of a full moon." The gorgeous dominant jasmine note makes one think this will be a 'Witch of the North' fragrance, but the dark incense and the burning woods let us know the "Wicked Witch of the West' is not far away. This is Thierry Mugler's Alien brewed in a cauldron.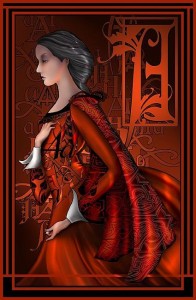 H. Prynne by Kelly Sheridan
Scarlet Letter was inspired by the novel penned by one of Salem's most famous residents, Nathaniel Hawthorne, who, by the way, is a direct descendant of Judge John Hathorne who presided over the Salem Witch trials (adding the "w", Nate, won't fool Wikipedia). This time, jasmine is blended with lily of the valley and gardenia opening up with a bouquet suggestive of a fine French milled soap. As it wears on the skin, and as day turns to night, the tender florals give way to a vanilla so sexy, one may wonder if you're guilty or innocent.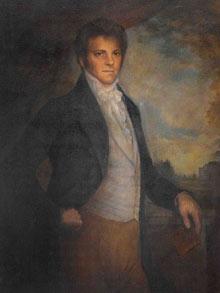 Darcy is Aroma Sanctum's newest creation, released this past September. And yes, Darcy, is that Darcy, the dashing hero of Austen's Pride and Prejudice. Akuura was inspired to create a classic composition evoking the style of a traditional, yet timeless, gentleman's cologne. Lavender and bergamot open the scent, keeping it bright, crisp, and well-mannered, while ambergris and oak moss add body and strength. Darcy, like the character, is handsome and assured.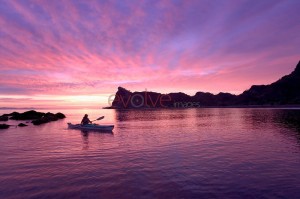 Photo by Michael DeYoung
I returned to Akuura's shop this past summer and asked Akuura if she would work some magic with a fragrance custom-blended just for me. I brought a photograph of a scenic lake that is close to my home and close to my heart. The photo was taken at dusk, all purples and blues reflected on the water. I wanted a bespoke fragrance to capture the spirit of my special place. She was immediately inspired by the idea of purple water and composed a fragrance which incorporates all facets of a lake, both literal (oak moss, water notes) and metaphorical (lavender, patchouli). The full list of notes? They're secret, but let me just say, it smells of purple water at dusk…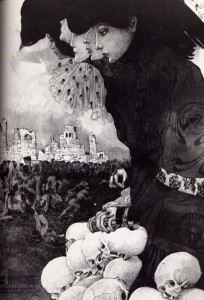 Art by Gustav Adolf Mossa
Whether you're a good witch, a bad witch, or not a witch all, I highly recommend checking out Aroma Sanctum if you're ever in Salem. If your broomstick is in the shop and can't make it there in person, samples and bottles are available on the Aroma Sanctum website: www.aromasanctum.com
Disclosure: Reviews of Scarlet Letter and Darcy are based on samples provided by Aroma Sanctum. October Moon and Witchfire are from the author's private collection.
–Michael Devine, Contributor
Art Direction: Michelyn Camen, EIC