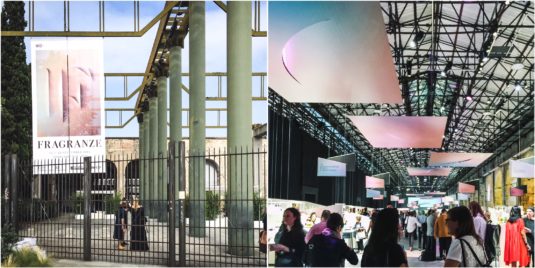 photo by Ermano@
There were so many exhibitors in Florence this 16th edition; we asked Senior Contributor Sebastian Jara of CaFleurebon and Smelling Great Videos what were the noteworthy and new perfumes and happenings at Pitti 2018. Some of the new perfumes at Pitti 2018 were familiar to us: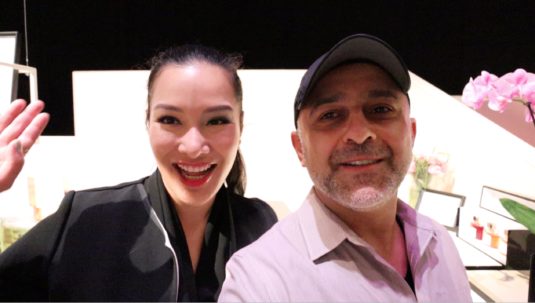 Pissara and Sebastian©
Pissara Umivijani of Parfums Dusita speaks to Sebastian about teaching perfume classes at her new boutique in Paris. We all want to attend!!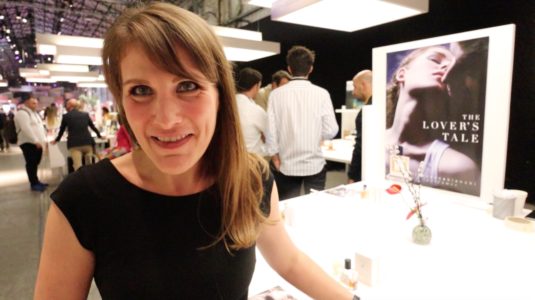 Francescha Bianchi follows up Under my Skin with her new leather, animalic and sexy "A Lover's Tale"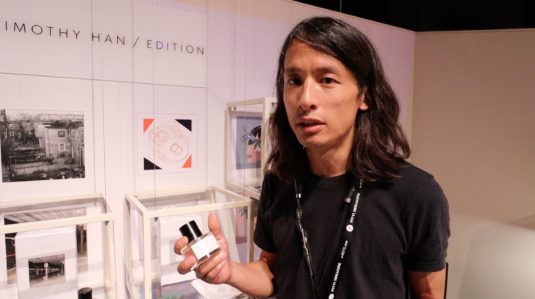 Timothy Han Edition is based on literature launched Against Nature, inspired by a little known novel that was read by Oscar Wilde and was the basis for his famous book Dorian Gray. (why haven't we reviewed more from this intriguing collection before?)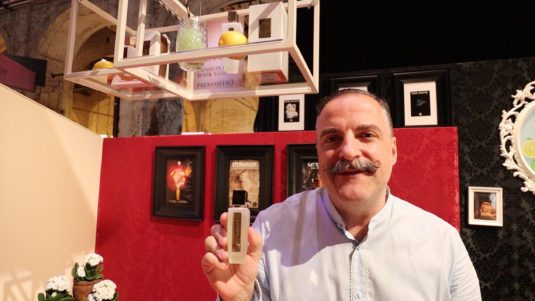 Antonio Allesandria once again gets high marks for his citrus sparkling and mint scented Fara which each of our editors and contributors have written about and love!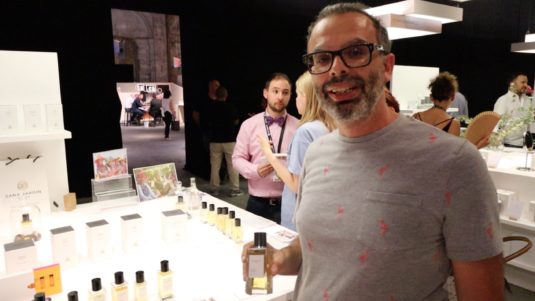 New perfumes at Pitti 2018 with a conscious! Sana Jardin sources its materials locally from Morocco and empowers women.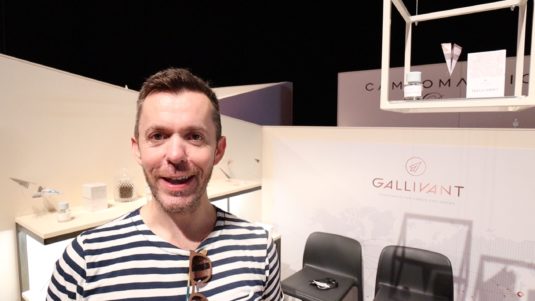 New as an exhibitor and with one of our favorite new perfumes at Pitti 2018 (or elsewhere) was Nick Steward of Gallivant's Tokyo, homage of kodo incense ceremony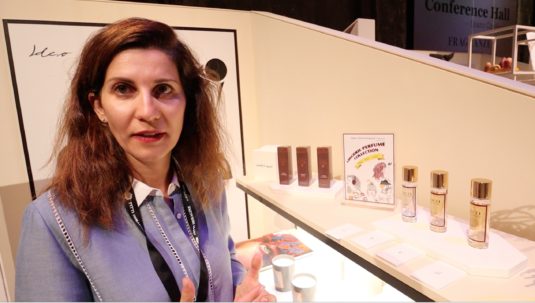 Ideo Parfumeurs is a French Lebanese perfume company that makes scents to be used on lingerie and linens.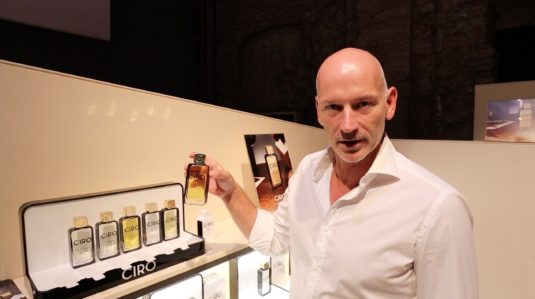 New perfumes at Pitti 2018 we have covered is Ciro which has six reinterpreted fragrances from its renowned past.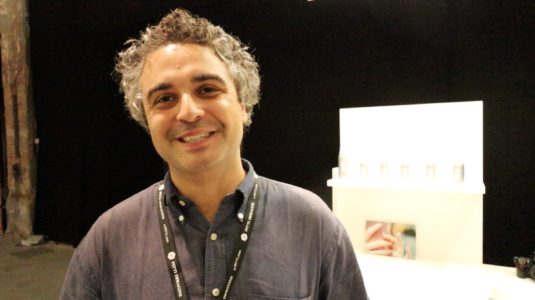 New perfumes at Pitti 2018 that will certainly get our writers' attention include Giovanni Sammarco's new white floral Daria Mellichomeide, with its sumptuous notes of gardenia, jasmine and honey was named for a woman he loves.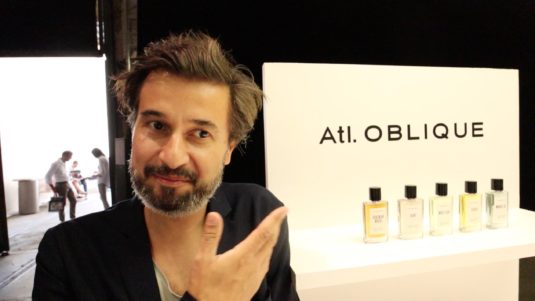 ATL Oblique is a semi-autobiographical brand, telling stories pertinent to the perfumer's life.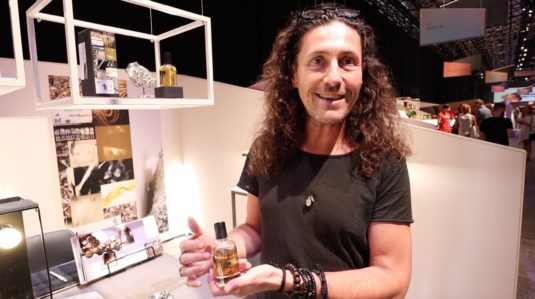 One of our favorite people in PerfumeWorld is Olivier Durbano and the launch of his 14th perfume Pyrit Ana Tra, who also changed the flacon and as always has (all) our hearts.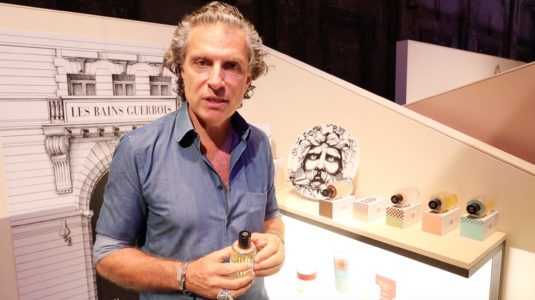 Les Bains Guerbois is a French heritage brand that has been brought back from 1885,and during the 70s the Parisian answer to Studio 54! Their new fragrance is based on Proust.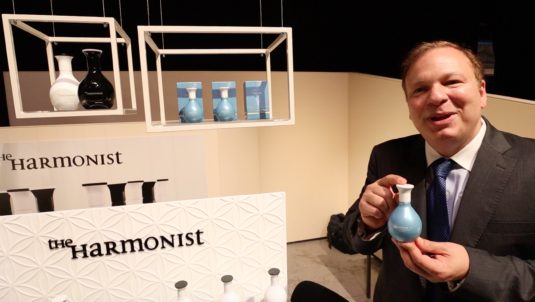 The Harmonist is another of the new perfumes at Pitti 2018, and their 11th fragrance, with a unique calypso orchid note by Givaudan. A new dsicovery for me, the perfumes alluse quality raw materials (and are sold at Barneys New York, who knew?). The line explores Yin and Yang of dualities.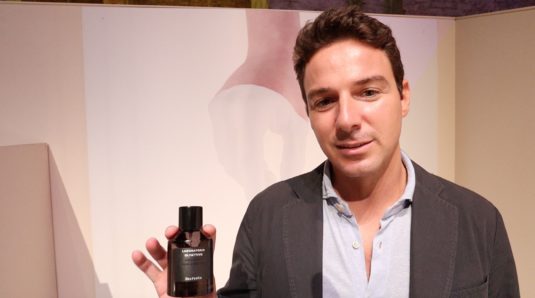 2x Art and Olfaction Winner Luca Maffei introduced the new incense perfume from Laboratorio Olfativvo Sacreste (he signed Nun and Mylo for the house in 2016), This is a line we like and have covered since 2010 and is truly a laboratory of "creativity".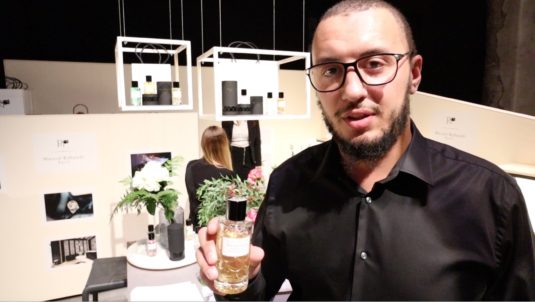 Once again we meet one of the most fascinating of new launches, Maison Rebatchi who introduced fragrances by name perfumers like Bertrand Duchaufour and Maurice Roucel.
–Michelyn Camen, Editor-in-Chief
In this video Sebastian interviews each of the founders, creators or representatives, who put forth their fragrance and house in their own words. What did you think of Sebastian's video of the new perfumes at Pitti 2018?
You can read Ermano Picco's Part 1 here and enter for samples, (stay tuned for Part 2!!!)
Danu Seith Fyr's's recap here