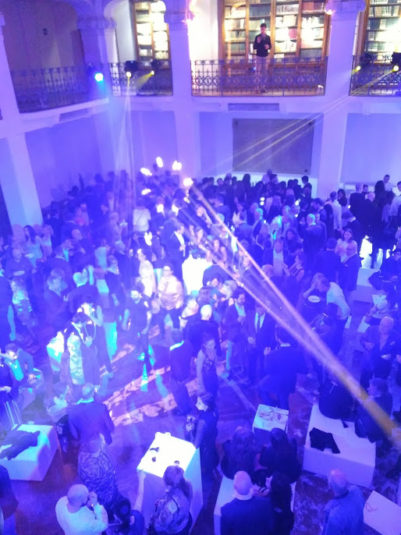 Esxence 10th anniversary party in full swing
Esxence 2018 new fragrances were many things: ebullient, glamorous (where did all those terrifying fashion models come from this year?) inspiring, exhilarating and exhausting. The Expo this year for me, was about cementing nascent relationships and, of course, exploring the huge array talents that leave me breathless with admiration for independent perfumery. But perhaps more than anything, Esxence 2018 new fragrances were about escape. I spoke to quite a few perfumers and creative directors who discussed their new scents as a source of comfort for turbulent times, as salves for the complications and frustrations of everyday. So, while there were still many bold, individualistic fragrances, there was also a discernable trend away from intellectual and remote towards pretty and immediate, from grab-you-by-the-throat fragrances to fragrances that that envelop, that protect, that communicate and comfort.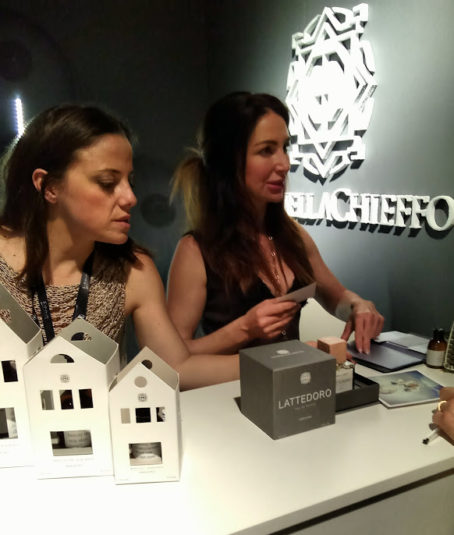 Gabriella Chieffo and Gabriella Chieffo Lattedoro
Personal Journeys: The theme of internal travel rather than to physical destinations was a hallmark of several lines. Wide Society, a second line from The Different Company, focused on travel as a journey away from distraction. Noses Emilie Coppermann and Alexandra Monet created a line of fragrances in bottles and packaging made entirely from recyclables. Suite #6 is a delightful fruity floral dripping with pear juice; Nubes is a leafy, cyclamen sparkler. Other perfumers delved into personal exploration. Angela Ciampagna presented Materia, a sensual warm skin labdanum and sandalwood scent meant to evoke the "smell of the soul." Gabriella Chieffo's Lattedoro's back story was one of escape from marital violence to the healing safety of female friendship. A spicy, milky skin scent, Lattedoro wraps black pepper (one of the star ingredients of this year's Esxence) in chai spices, vanilla and leather to produce a warm comfort scent with just enough bite to let you know this lady's no longer to be messed with.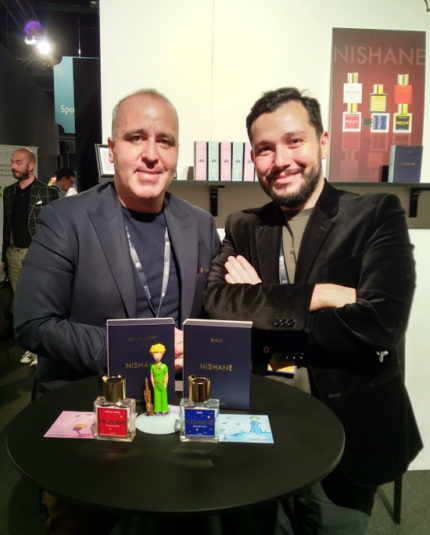 Mert Güzel & Murat Katran of Nishane
Perhaps no journey is more beloved than that tousled-haired space traveler, Le Petit Prince, the inspiration behind Nishane's new Vain and Naïve, a plummy rose with cheeky hits of raspberry, and B612, a dewy citrus, both from perfumer Chris Morris. Parco 1923, whose two fragrances (from Luca Maffei, does this man ever sleep?) offer an intimate stroll through the largest natural park in Abruzzo. Scarpetta de Venere brims with myrtle, rose and herbs, while Parco is a fresh green floral with tree moss, laburnum and honey notes. Platonic, romantic and maternal love turned up in a number of perfumes. Angela Ciampagna's Laetitia, a milky, baby skin scent; Sammarco's sexy new Yael, a peppery, red fruit floral; Australian house Map of the Heart covered the gamut of love, from ecstatic to toxic. Their Pink Heart, a creamy narcissus with oblique notes of shiso and plastic, is a fascinating finalist for Art & Olfaction.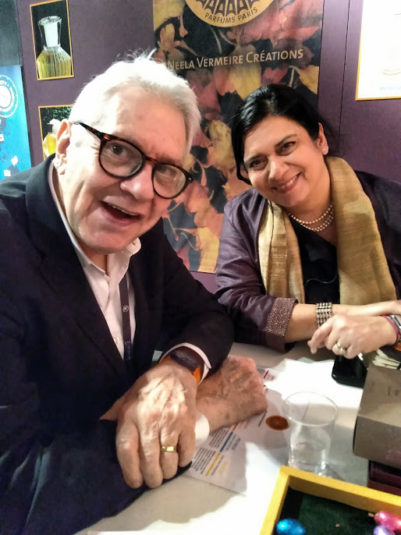 Michael Edwards and Neela Vermeire
Pretty: Many new Esxence 2018 Fragrances were spring-like and blossomed. Neela Vermeire's beautiful, silky, iris tea scent, Niral, which will be on my wrist frequently this Spring; Luca Maffei's elegant Les Insoumises collection for French house Olibere, each inspired by a different woman with an important place in French cinema; Berdoues' Peng Lai, a bright, saturated osmanthus using 15% absolute that is like smelling a sunburst.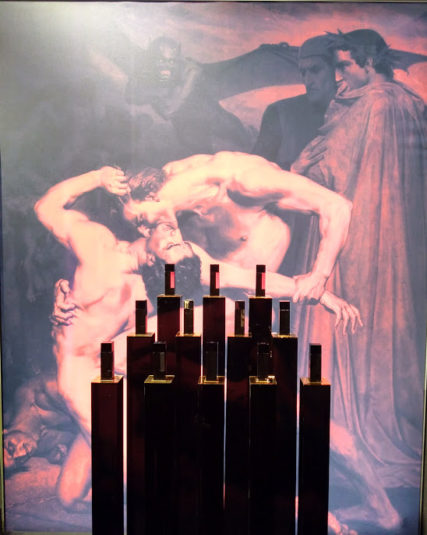 Laurent Mazzone Best Booth
Laurent Mazzone (whose dramatic, modern Renaissance booth takes my award for best display) introduced their lovely floral Radikal line with three scents based around iris, lotus and water lily; and,of course, Jacques Fath's reinterpretation of their legendary Iris Gris, with its cut-emerald vetiver and stunning, multifaceted orris. Fresh from LA is newcomer Regime des Fleurs, which debuted a gorgeous pittosporum perfume called Gold Leaves. If you've ever smelled full-blooming mock orange on a warm spring day, this is it in a bottle.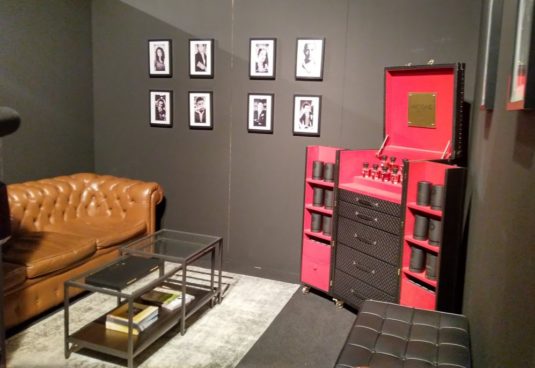 Masque Milano at Esxence
Old Loves, New Additions: Masque Milano went bold with (homage to) Hemingway, a virile green scent by Fanny Bal that uses three vetivers: rooty Haitian, smoky Java and a fractional vetiver that, along with ginger oil and a sparky top note of rhubarb, brings a freshness to the composition. Anatole Lebreton, a phenomenally talented perfumer who should be far better known, presented Cornaline, inspired by the Art Nouveau master Alphonse Mucha's illustration of a woman with carnelian in her flowing tresses. Cornaline, one of the best new fragrances in show, is a fiery geranium with a sexy dollop of ylang that will warm more than the cockles of your heart. Simone Andreoli, a rising star in Italian perfumery, wowed me last year with his Diario Olfattivo series. He adds two new fragrances to this line inspired by California: Malibu, a lime-and-coconut caipirinha for the skin, and Pacific Park, a fruity gourmand.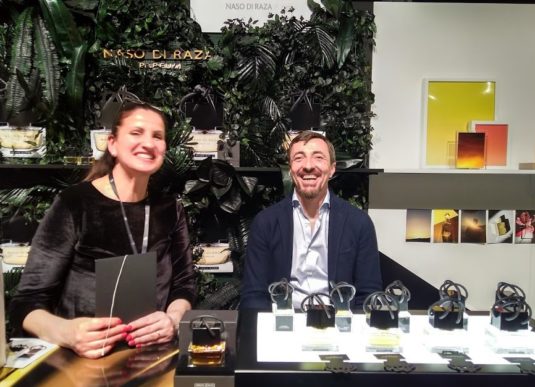 Naso di Raza
New to me, and one of my favourite discoveries of the show, was Italian house Naso di Raza. Using a roster of talented perfumers, Naso di Raza presented six beautifully made fragrances such as Ravi (Cecile Zarokian), a leather and licorice tobacco, and Cher Tetu (Lucia Caserno), a lush saffron rose. Antonio Alessandria highlighted Gattopardo, an extraordinary olfactory mise en scene inspired by the great novel of Giuseppe di Lampedusa: the smell of a 19th-century Duke's study; the wood panels, the expensive scotch whiskey in his glass, the almond and hazelnut pastry that features in the novel's most famous scene.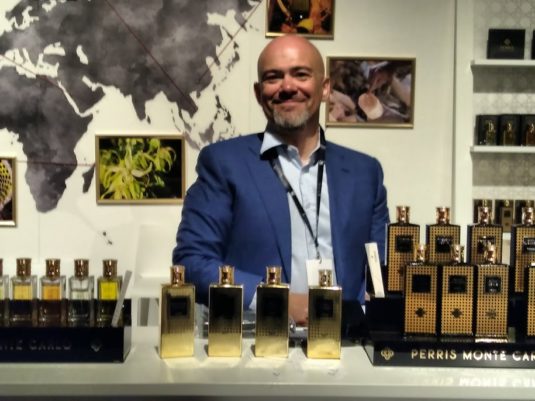 Gian Luca Perris
Another breathtaking discovery for me was the extrait line from Perris Monte Carlo. Their Ylang Ylang and Osmanthe are two of the most gorgeous renditions of those flowers I've ever smelled. It's no wonder this line gets nominated for an Art & Olfaction award year after year. Mark Buxton brought out the smoky, sensual fragrance he created for designer Matthew Miller, with its sly hint of marijuana. Papillon Rouge, which began 10 years ago, is certainly no newcomer, but I had not tried their wonderful perfumes before, each inspired and named for a type of butterfly. Papillon Rouge launched Sorcier at Esxence, a Japanese-inspired scent centered on carnation and tea that glows like a candle.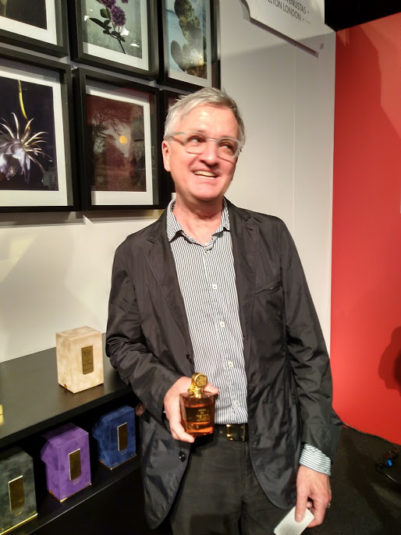 Esxence 2018 New Fragrances: Ralf Schwieger with Aedes de Venustas Musc Ensence
Le Galion brought out the absolutely gorgeous L'Ame Perdu, from Rodrigo Flores-Roux. This is a heady, vintage-modern floral (no one does this style better than Flores-Roux) with a citrus top and spicy middle mixed with a dizzyingly beautiful jasmine sambac. And Aedes de Venustas, courtesy of Ralf Schwieger, added to their stunning house line Musc Ensence, a softly animalic, woodsy musk that is absolutely delicious. And relaunch of the year may go to Ciro, a brand with roots in the roaring twenties, who are reinterpreting several classics using high concentrations of perfume oil. These include green, mossy, Chypre de Nil (Alexandra Carlin) and woody, creamy Chevalier de la Nuit (Alexander Streeck).
My first year at Esxence was like opening the door onto a secret garden, a dizzying, kaleidoscopic olfactory Lewis Carroll world. I was dazzled, overwhelmed, enraptured. This year all that magic was still very much there, but the tenth edition became more about people than Esxence 2018 new fragrances. The wonderfully creative, inspiring community of creative magicians who can move me to tears one moment and elate me the next with the beauty of their work. Year two was my first homecoming. I can't wait for year three.
–Lauryn Beer, Sr Editor
All photos are from Lauryn©
We are offering a selection of samples of Esxence 2018 New Fragrances from to a registered reader in Canada and USA. To be eligible please leave a comment with what you enjoyed about Lauryn's report and which perfumes you are on your must sniff list. Are you noticing themes from Michelyn and Ermano's reports? Draw closes 4/17/2018