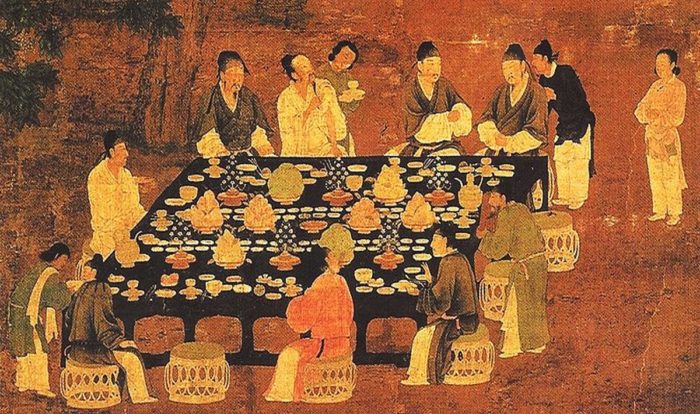 Painting attributed to Emperor Huizong of Song (r. 1100–1125 AD).
Oolong has become something of an obsession for me. These most fragrant of teas can boast an extraordinary range of aromas and flavors, ranging from plums, lychees and orchids to pine, cedar and roasted nuts. Indeed, Oolongs can be every bit as complex and layered as a classically composed perfume. So far down the Oolong rabbit hole have I fallen that my tea assortment is beginning to resemble the sprawling collection of atomizers, bottles and vintage miniatures that clutter my bedroom these days. So this self-appointed connoisseur was skeptical that any fragrance named for my beloved brew could live up to expectation. Happily, Nishane Istanbul's Wulong Cha is every bit as aromatic and uplifting as a gaiwan of Chinese Tieguanyin.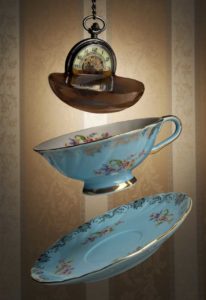 Impossible Things No. 5, photo by Charlie Roach©
The opening of Wūlóng Chá is a bright, gorgeous splash of fresh-sliced, tangy orange juice, which quickly marries with the aromatic bitterness of rind from litsea (a laurel that produces lemony oil). In a few minutes, bergamot kicks in its floral-tonic zing, paving the way for the unusual tea note that rises like steam to the surface.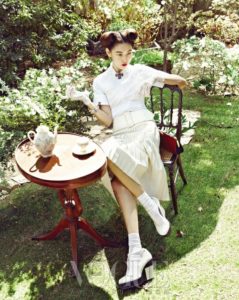 Blooming Memories fashion editorial, Vogue Korea, April 2012
Most tea perfumes I have encountered have summoned the smoky astringency of Keemun or lifted the vegetal mintiness of Matcha. Wūlóng Chá goes a different route, paring down the bitterness of black tea in favour of fruit and dispensing with the grassiness of green. Its tea aroma is slightly plummy and woodsy. In the middle stages of Wūlóng Chá, green fig's unique, lush perfume surfaces for just a moment and spins the tea around before stepping into the background with the citrus top notes.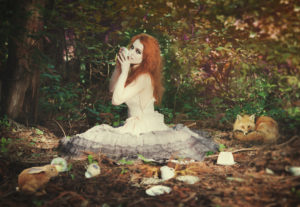 Photo by Elle Hanley©
As time passes, Wūlóng Chá's fruity notes frame the tea, which gradually becomes branchy, bosky, a touch medicinal. It is as if a tumble of vine suddenly wrapped them around an al fresco tea party. A gentle musk glides forward, softening the sharper aromas, and Wūlóng Chá settles down into lovely late afternoon.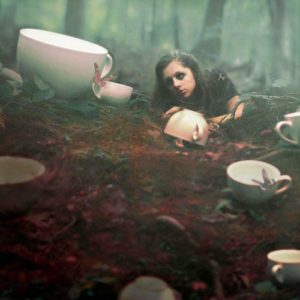 Photo by Nicholas Scarpinato©
Wulong Cha is a perfect scent to turn to when you yearn for August dusk: the citrus has just the right balance between bite and sweet, the tea is embracing, the woods welcoming. So, as the sun's warmth becomes detached and autumnal gusts shimmy the leaves from the trees, pull up a cozy chair, pour yourself a cuppa, spray on Wūlóng Chá and close your eyes. Summer lingers right here.
Notes: Bergamot, orange, litsea, lychee, mandarin, oolong tea, nutmeg, musk, fig.
Disclaimer: Wūlóng Chá provided by KVD NYC, the US distributor on behalf of Nishane – many thanks. My opinions are my own.
– Lauryn Beer, Senior Editor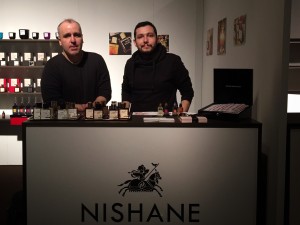 Photo of Murat Katran and Mert Güzel​ by Michelyn at Esxence 2015
Editor's Note: Nishane, Istanbul's first haute Parfumerie was launched at Esxence 2015 by Creative Directors Mert Güzel & Murat Katran with16 parfum extraits (including Wūlóng Chá). Our reviews include from the inaugural collection: Bozporusz, African Olifant, Spice Bazaar, Duftbluten, Munegu and Pasion Choco-M.C.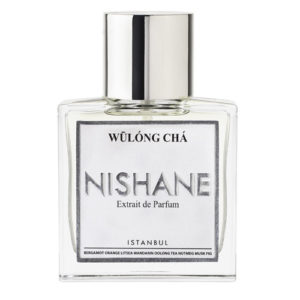 Nishane Wūlóng Chá
Thanks to the generosity of Nishane Istanbul, we have a 50 ml bottle of Wulong Cha for 1 registered reader in the U.S. or Europe; you must register to be eligible here. Please leave a comment saying what appealed to you about Wūlóng Chá based on Lauryn's review, if you have a favourite Nishane perfume, and whether you're a tea lover. Draw closes 9/17/2017
We announce the winners only on site and on our Facebook page, so Like Cafleurebon and use our RSS Feed… or your dream prize will be just spilled perfume