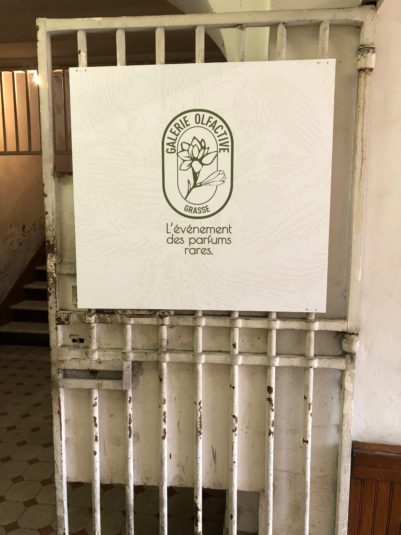 NICOM INTERNATIONAL Galerie Olfactive was held at a Jail in Grasse ( all photos by Sarah Colton unless noted otherwise©)
The NICOM INTERNATIONAL Galerie Olfactive which took place June 7-10 at a former Jail in Grasse, France, much more than any ordinary Jail House Rock, summoned niche perfume players from across Europe, and deployed considerable forces from the Grasse region – all at the service of niche perfumery.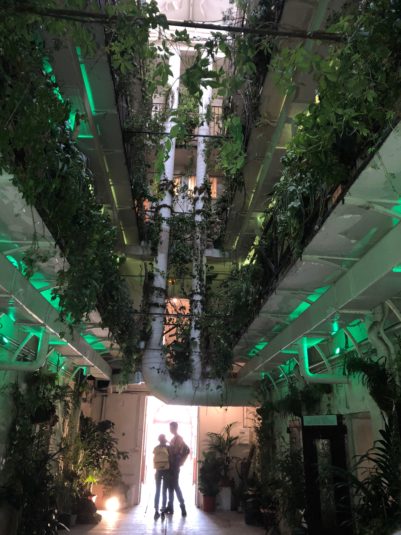 NICOM INTERNATIONAL Galerie Olfactive interior
Brain-child of Mélanie Mugnier and Greg Routier, owners of the former Grasse jail, and Jean-François Laporte, Grasse City Council member, the NICOM INTERNATIONAL Galerie Olfactive is under the patronage of Isabelle Masson Mandonnaud, founder of Sabé Masson.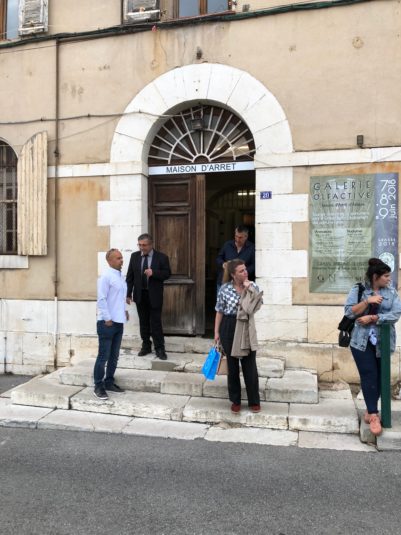 Sarah Baker at the entrance to the NICOM INTERNATIONAL Galerie Olfactive photo by Sarah
Arriving at the jail on opening morning, I was caught up in a bustling 'first day of camp' atmosphere, in which approximately 30 newly 'incarcerated' niche perfume brands and players were putting final decorative touches on their 7-8 square meters cells, and shouting greetings between the three balconies of a central gallery that resembled some kind of funky greenhouse, thanks to plantings along the guard railings.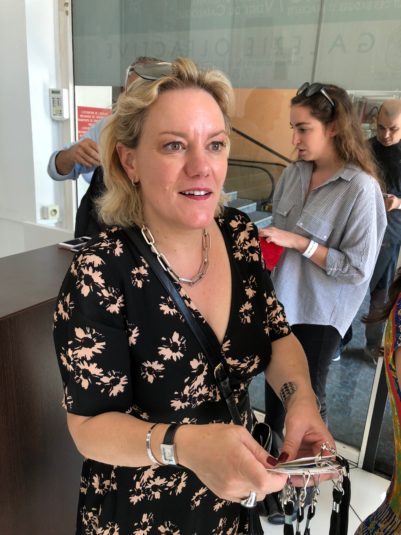 Mélanie Mugnier greeting people and holding badges photo Sarah Colton©
Melanie and Greg gamely directed traffic in the pleasant chaos of new and unusual surroundings. Grasse prison life never was so good!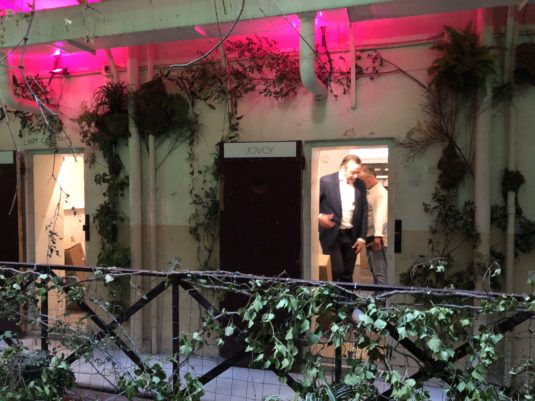 Francois Henin of Jovoy in his cell
Occupying a veritable suite of cells at NICOM INTERNATIONAL Galerie Olfactive, François Hénin owner of Jovoy Parfums Rares, was there with his right-hand man, Clément Hautmaitre and an entourage of people and brands.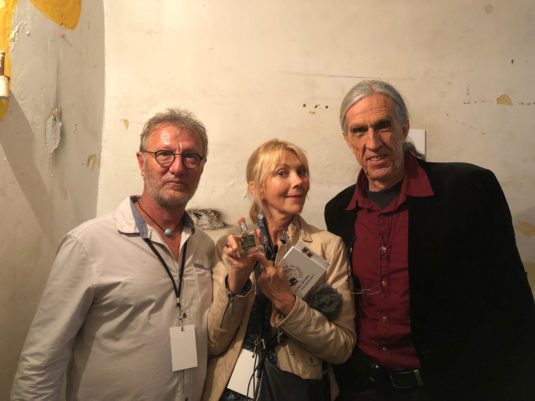 Thierry Bernard, Sarah Colton, Michel Roudnitska Parfumeurs du Monde photo Gwenaella Chauvin©
Cellmates among this anchor Jovoy gang included Thierry Bernard of Parfumeurs du Monde with its 100% natural fragrances; Neela Vermeire of Neela Vermeire Créations and her newest fragrance, Niral. Rania Jouaneh of Rania J fragrances; Pierre Guguen and his L'Orchestre Parfum inspired by musical creations; David Roubinet of the 'easy'ouds brand Amouroud; Jean-Philippe Clermont of Atelier des Ors, inspired by the perfection of gold; and Amalie Jaban of Alexander J.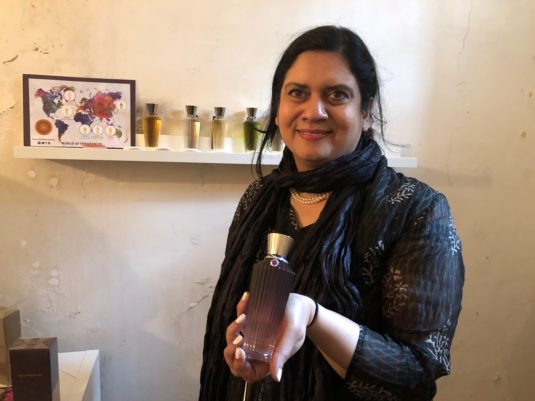 –Neela Vermeire of Neela Vermeire Créations and her newest fragrance, Niral
Upstairs, Jérôme Herrgott, sales and development agent and owner of Spray Conseil, was doing brisk business with his carefully selected fragrance brands, Le Galion, Evody, Room 1015, Abel, and Aether.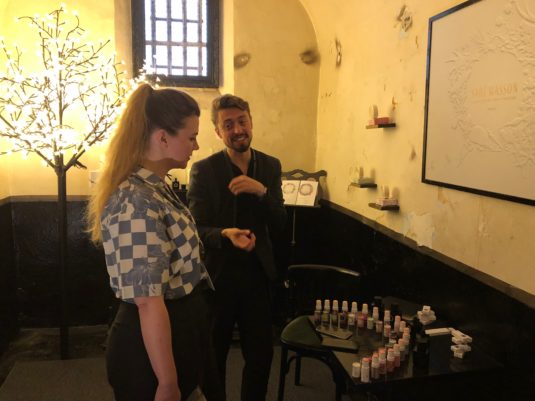 George Mauger introduced us to the Sabé Masson
Down the hall George Mauger introduced us to the Sabé Masson brand and its concept of 'soft perfumes', founded by Isabelle Masson Mandonnaud. Across the way, Raymond Henschen of BeaudO occupied a cell featuring the bizarrely packaged and collectible Schikkimikki by perfumer Andreas Wilhelm.Close by, a team of red-clad Russian women and their interpreter were the face of Perfumery Club Russia, whose purpose is to develop Russian creative ideas and perfume brands. Another niche player at NICOM INTERNATIONAL Galerie Olfactive, Anne-Laure Hennequin owner of Fragrantly Yours, a fragrance and luxury retail and entertainment consultant based in Barcelona, was there with her educational perfume game 'Master Perfumer'. Marie-Hélène Marcelli, General Manager of Carestia Arcade Beauty, supplier of paper and display needs, was surrounded by blotters, displays, and scented envelopes.
Argeville Display
In the adjacent Palais de Congrès (City Hall) with its terrace overlooking the region, residents and visitors felt at home amongst stands for NEZ, Osmothèque, Cinquième Sens, Grasse Expertise, and The École Supérieure du Parfum de Paris. An exhibit of Argeville fragrances and raw materials curated by First Mood Design and Production, offered an airy centerpiece for the event. To complete the picture, several independent brand owners and perfumers were at NICOM INTERNATIONAL Galerie Olfactive as 'observers', testing the waters, sharing ideas, information, and news. Notably, Christophe Laudamiel, perfumer and artist; Stephanie Bakouche, perfumer; Sarah Baker, owner of House of Sarah Baker perfumes in London, journalist, photographer, and judge at the Art & Olfaction Awards; Virginie Roux of Au Pays de la Fleur d'Oranger, and Creative Director of L'Eau de Virginie, winner of the 2018 Art & Olfaction Awards; and Anne-Pascale Mathy-Devalck of L'Antichambre, a perfume brand and boutique in Brussels.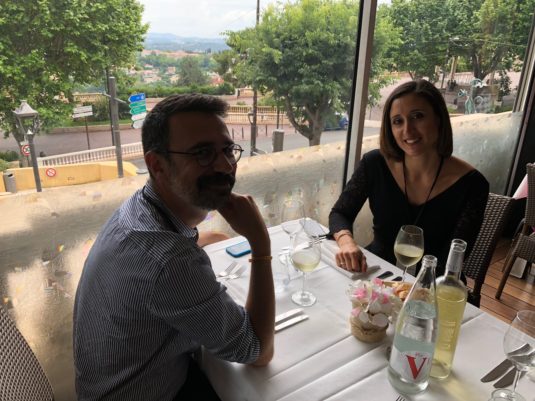 Perfumer Cecile Zarokian and Jérôme Herrgott
Cécile Zarokian, perfumer, presented a succession of programs about her job as an independent perfumer and her personal creative process for fragrances exhibited at the NICOM INTERNATIONAL Galerie Olfactive — Jovoy Private Label and Remember Me, Sabé Masson Après la pluie Le beau temps, Jacques Fath Green Water, MDCI Fêtes Persanes, Jul et Mad Aqua Sextius, and Galerie d'Evody's Tubéreuse Manifeste, Couleur Fauve, and Sens Abstrait.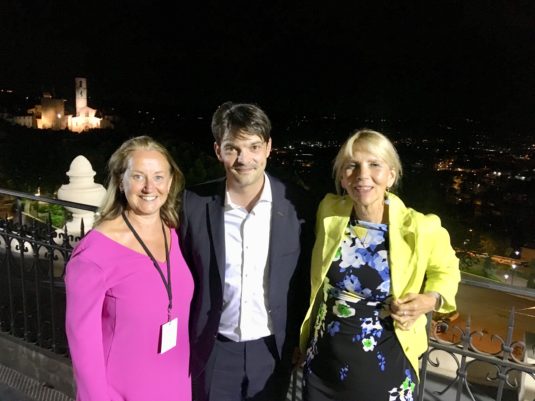 Right Isabelle Férand, Jerome Viaude Mayor of Grasse, and Sarah Colton (Sarah Baker©)
Following lunch on the terrace of the Palais de Congrès, Isabelle Férand of Cinquième Sens presented thoughts and reflections on key fragrance trends; Michel Roudnitska, spoke about the legacy of his father, Edmond Roudnitska, and his own projects as inheritor of this legacy, including Art & Parfum, owned by Olivier Maure, which has helped numerous niche fragrance brands from conception to completion. Grasse Expertise followed with a team of women entrepreneurs representing expert solutions for niche fragrance brands available in the Grasse region. Carole Biancalana of Domaine de Manon, perfume plant growers; Elisabeth Campano Marketing Director of Albert Vieille, an essential oil producer specializing in 100% natural ingredients; Claire Lonvaud, Project Director for Cinquième Sens in Grasse, specialized in perfume eduction and training; Catherine Levray of Catherine Levray Design, and Sylvie Sempels, of the Club des Entrepreneurs Pays de Grasse.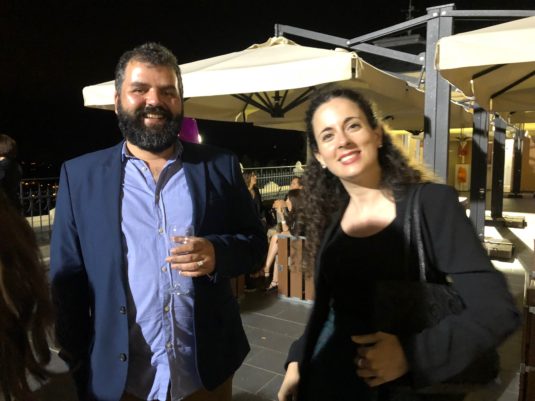 Dominique Brunel of NEZ with perfumer Elena Patricio Mulero
As evening approached, members of the party reminisced on the day's events and anticipated those of the days ahead at a gala cocktail party on the terrace of the Palais de Congrès with its panoramic view of the Grasse, the mountains, and the deep mysteries of the sea in the distance.
–Sarah Colton, Guest Contributor, Author of Bad Girls Perfume and Vice President of the Société Française des Parfumeurs
Thanks to a few of the cellmates and visitors to the NICOM INTERNATIONAL Galerie Olfactive we have 10 carded samples of various perfumes mentioned in this article for one registered reader in the U.S., Canada or Europe. To be eligible, please leave a comment about Sarah's report on the NICOM INTERNATIONAL Galerie Olfactive and where you live. Draw closes 6/19/2018
We announce the winners only on our site and on our Facebook page, so like Cafleurebon and use our Blog feed…or your dream prize will be just spilled perfume