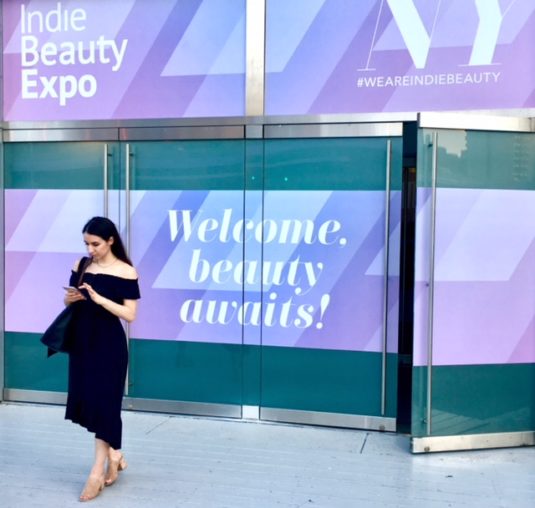 August 22-23rd, 2018
New York Indie Beauty Expo (IBE) now in its third year first launched in NYC and has expanded to Los Angeles, Dallas. It will make its London debut in October and Berlin in 2019. The size and the scope of the event have changed since first attending in 2006 when only 135 brands participated. At New York Indie Beauty Expo 2018 there 250 with the majority being new brands that had not even launched before 2015! The event was moved to Pier 36 (70,000 square feet) to accommodate the increase. Several trends at New York Indie Beauty Expo 2018 were clear to me by days end. A majority of brands I visited were owned and operated by women entrepreneurs."The BIG Trend" in Beauty? There were a full range of products featuring marijuana, ganja, hemp, cannabis, weed (call it what.you want).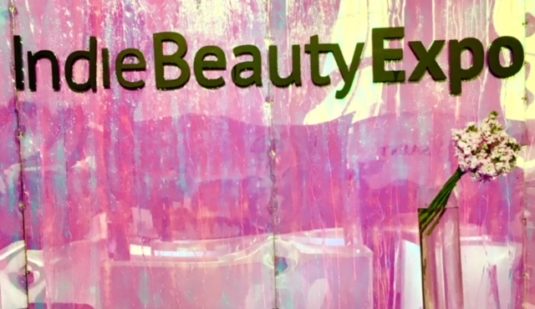 I noticed that a large number of the exhibitors hailed from Canada and Los Angeles. Also, deodorants seem to be on the rise as a stand-alone category. And it would appear that most of the collections have gotten the memo and are a combination of organic, natural, ethically sourced, gluten-free, and animal cruelty free. Soon we won't have to acknowledge it; it will be a given. I also noticed that more and more small companies are "giving back ". New York Indie Beauty Expo 2018 exhibitors may be small but have big hearts.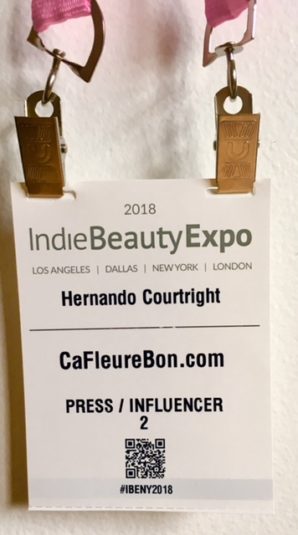 At New York Indie Beauty Expo 2018 I was fortunate to connect with very impressive and passionate brand owners. Most of the brands were unknown to me with a few exceptions. I spoke with many owners and representatives (lost count!) but the following touched me.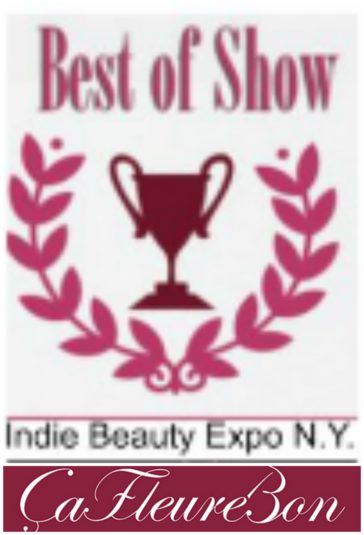 I hope you will enjoy discovering and supporting them. No corporate dollars here; these are true "Indie Brands"! The following are our"Best in Show".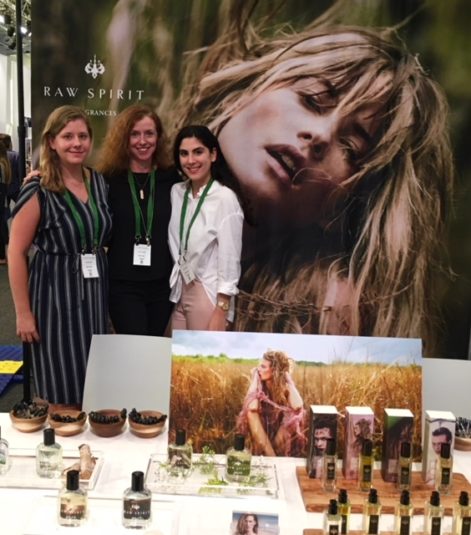 Joyce Lanigan, CEO Raw Spirit and team
RAW SPIRIT is a favorite fragrance brand of mine and I made it my first stop. Always happy to see Joyce Lanigan, CEO, (who has been a friend to Michelyn and CaFleureBon ever since she shared her wi-fi at Esxence 2016 so Michelyn could live blog)! She gave me a preview of new fragrances slated for late Spring 2019 release. Joyce also presented the Wild Spirit Fragrances Walmart collection. The eco-friendly line just launched last month. Ralf Schwieger and Patricia Choux are the perfumers.
VILLA OF THE MYSTERIES Founder Paula Polvino
A pleasant discovery from last year's IBE was Brooklyn's VILLA OF THE MYSTERIES. Founder Paula Polvino's inspiration came from her grandmother who owned an apothecary and a perfumery near Naples, Italy. Sourcing local and being all organic and/ or natural is the brand's ethos. Her latest fragrance, the sixth made its debut at New York Indie Beauty Expo 2018. With an fitting title, Arcana Imperii (State secrets) is a dark, smoky scent with earthiness was one of my favorites from the show. All of the fragrances are made in her turn-of-the-century studio.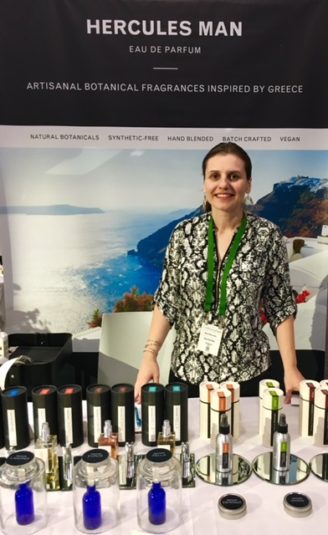 Hercules Man Founder Maria Mavromatis
HERCULES MAN is an artisanal botanical fragrance line inspired by Grece that launched with four EdP fragrances in 2018- Evros (my favorite), Pella, Lakonia, and Mykonos. Named for regions in Greece, they are targeted toward the luxury male fragrance market. Founder Maria Mavromatis uses only natural essential oils, resins, and extracts in organic grain alcohol. Hercules Man debuts soon with subscription sample service Birchbox. Committed to supporting one of the most precious resources on the planet, the forests, every fragrance purchased equals 3 trees that will be planted by the National Forest Foundation's Trees. Kudos!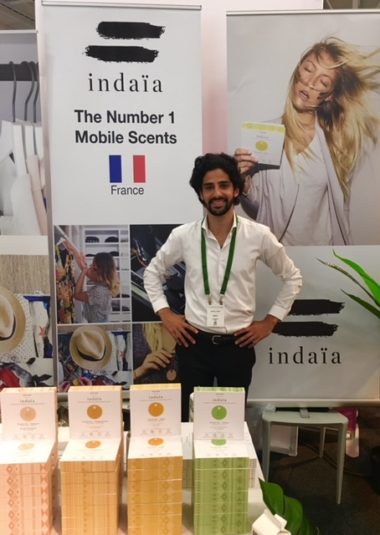 Indaïa Raphael Cohen Operations Manager & Co-founder
Raphael Cohen, Operations Manager & Co-founder of Paris based portable scent disc company Indaïa, informed me that they are a 100% eco-friendly brand that provides a user-friendly experience with quality products at affordable prices. Indaïa refers to "courageous women" in the Native American culture which works with the properties that the Native Americans associated with smells to give the fragrances their full effect. Their scented discs (9) add fragrances your closets, suitcases, handbags, cars and where ever else you like. A bi-monthly subscription service is also available.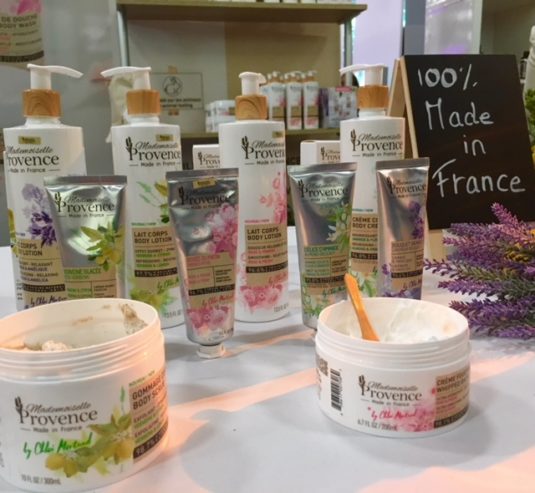 Mademoiselle Provence is Mademoiselle Chloe Mortaud, Co-founder & Director of Communications.The Franco-American model and former Miss France's line is made in Provence, France. In collaboration with acclaimed Robertet perfumer Mathieu Nardin, they created scents of Almond & Orange Blossom, Rose & Peony, Verbena & Lemon, and Lavender & Angelica for the collection of Moisturizers, Hand Creams, Body Scrubs, Body Lotion, and Balms. Chloé is a co-founder of "Les Bonnes Fées." (the Good Fairies) with fifteen other Miss Frances to offer "magic wand tricks" to those who need it the most. Très bon!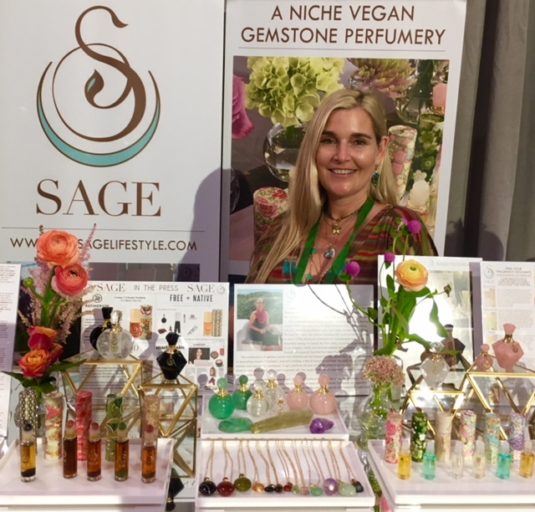 Sage Machado Owner, Founder & Designer SAGE
SAGE is a vegan Gemstone Perfumery from LA. Sage Machado Owner, Founder & Designer has been a jewelry designer for 25 years. Perfume Oils (rollerballs), Candles, Jewelry are part of The Sage Lifestyle. Michelyn has been a fan since the early 2000s (Onyx and Pearl perfume oils) when she bought them on Beautyhabit.com. Everything is handcrafted locally using only the finest quality of natural ingredients which has brought her a large celebrity clientele. Sage Pearl and Garnet were my two favorites and look for reviews soon. Sometimes the best gems are ones we rediscover.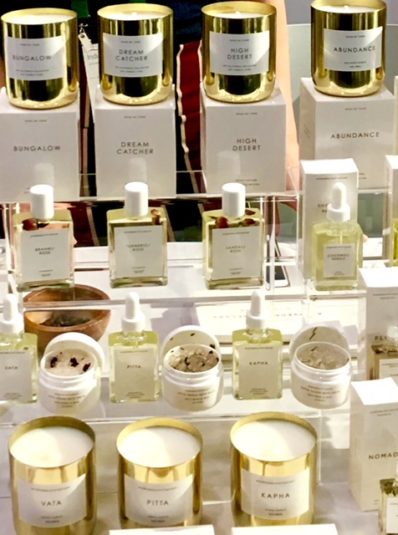 Made By Yoke
Venice Beach, CA-based Made by YOKE is an Ayurveda Apothecary line that carries perfume oils, cleansing bars, and body oils. The name Yoke is taken from the classical definition of yoga meaning to unite, join, or merge. The beauty line features candles (6), perfume oils (9), and cleansing bars and bath and body oils.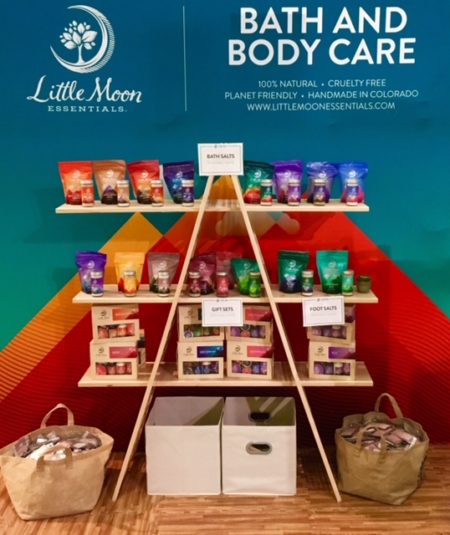 "Made by the phases of the moon," the Steamboat Springs, Colorado-based brand Little Moon Essentials uses raw herbs like ginger and arnica and base oils such as sesame and olive oil on the day of a new moon and lets them soak a complete moon cycle before extracting the herbs on the next full moon to place in merchandise. The line up includes deodorants, lotions, body scrubs, and body oils. All are carefully sourced and formulated with 100% pure and organic ingredients. Heavenly!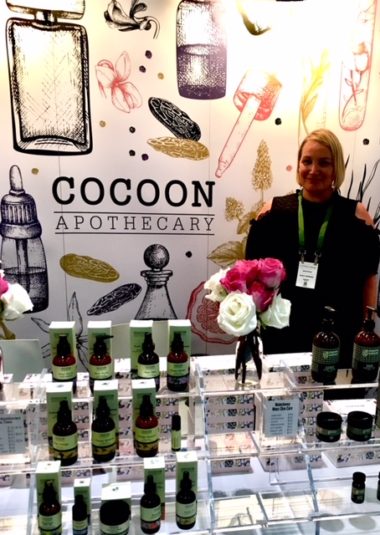 Cocoon Apothecary and Jessica Burman President
Jessica Burman, President started Cocoon Apothecary to create products that perform on the sensitive and aging skin. The plant-based line is vegan, biodegradable, and made with ethically-sourced ingredients. Using top suppliers, everything is made in small batches, averaging at about 250 bottles at a time. Men's shaving and grooming line was added in 2015 for the sensitive and mature male skin. New York Indie Beauty Expo 2018 is not for women only!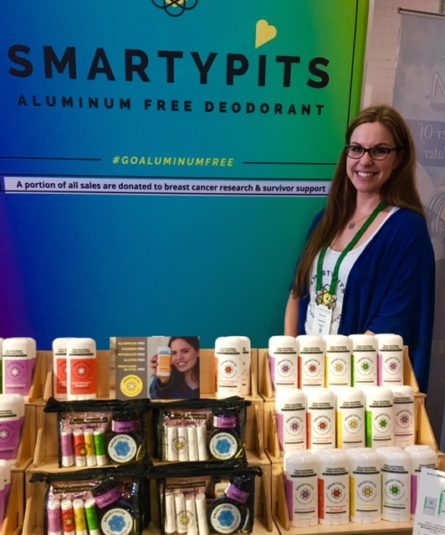 Smartypits Stacia Guzzo co-founder formulator "Deodorant Queen"
Smartypits's co-founder, formulator, and Deodorant Queen Stacia Guzzo's mission is helping the world go aluminum-free, one stick at a time. Made with plant-based butter, oils & powders, it's paraben-free, phthalate-free and the natural deodorant is also infused with prebiotics. With every SmartyPits sold, they donate a portion of the sale to breast cancer research and survivor support. A stand out at New York Indie Beauty Expo 2018.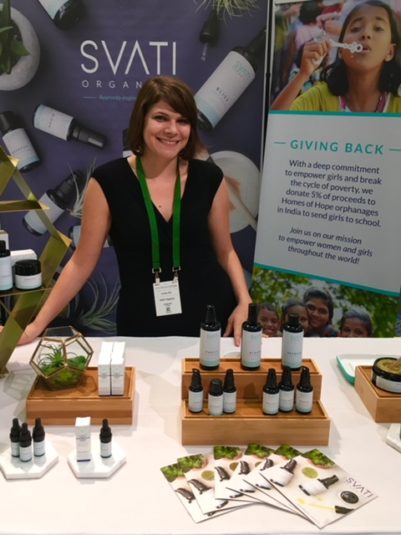 SVATI Organics Lindsay Wolf Founder & Director
New York-based SVATI Organics's motto is Ancient Indian wisdom meets modern beauty. Clinical Aromatherapist, Founder & Director Lindsay Wolf founded the Ayurveda-inspired brand produces formulas with high-quality sustainability sourced ingredients indigenous to the area. With a deep commitment to empowering girls and breaking the cycle of poverty, we partner with Homes of Hope Orphanages in India to help educate orphaned girls. Their Facial Serums and Bare Body Butter and Awaken Body Polish are both Healing Lifestyle Earth Day Beauty Award Winner 2018.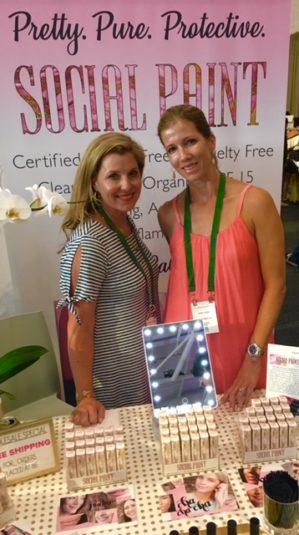 Social Paint Founder Kristen Wallace Tostado (on right)
SOCIAL PAINT'S Kristen Wallace Tostado, diagnosed with Celiac Disease in 2004, researched all ingredient lists looking for gluten and was saddened to discover how many harmful chemicals are in our daily products. She founded the LA-based brand in 2017 with lip glass only using the safest non-nano zinc oxide to give it an SPF 15 rating. Natural and organic it's Gluten Free Certified, Cruelty-Free, and NO TOXINS. A portion of the proceeds is donated to worthy social causes, consistent with the healthy and socially-conscious principles which guide their company.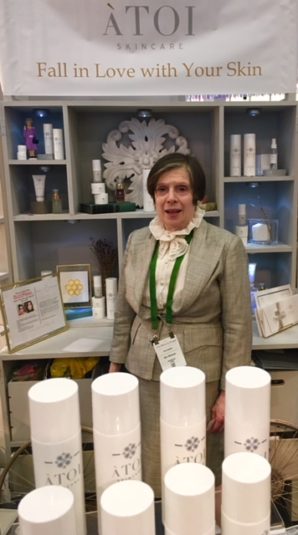 ATOI Skincare Tova Hanfin Founder & President
ATOI Skincare wants you to "Fall in Love with Your Skin". Tova Hanfin, Founder & President explained that they only use the finest French ingredients in their skin care products. Start by choosing a collection based on your skin type, then use the two-part plan ESSENTIALS and QUINTESSENTIALS program. Creams, masks, lifting serums, and toners are some of in the line-up.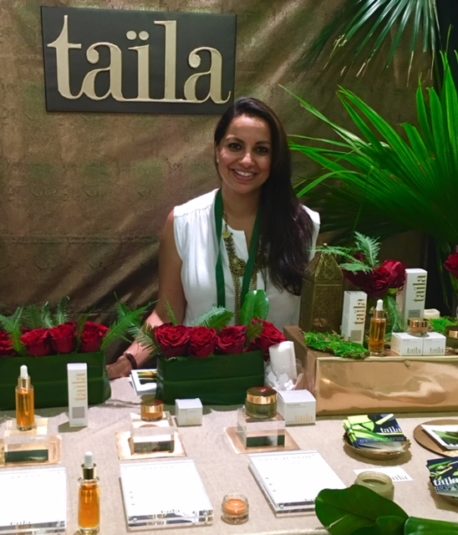 Sharoh Punnapuzha Founder & CEO
Brooklyn based Taila Skincare's Shadoh Punnapuzha Founder & CEO explained how they harness the knowledge of traditional Indian medicinal practice of Ayurveda to bring skin back into harmony. Carefully selected organic, wildcrafted, and biodynamic ingredients from sustainable sources are used for their Toning Mists, Face Oil, Eye Balm Masks, and Cleanser.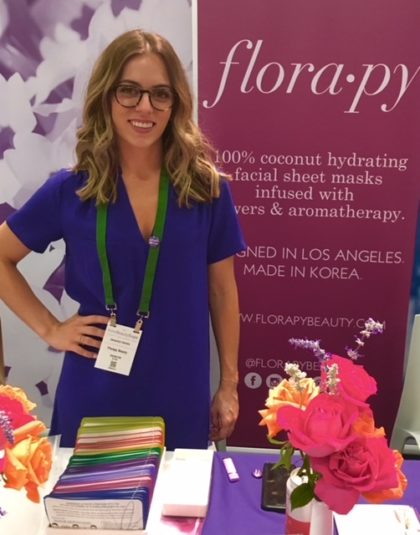 Launched in 2015, by Kristen O'Connell, Flora•py Beauty is a collection of eight flower and essential oils therapy one-time-use hydrating aromatherapy sheet masks. Inspired by the healing powers that blossom in nature they are vegan-friendly, paraben-free and never tested on animals.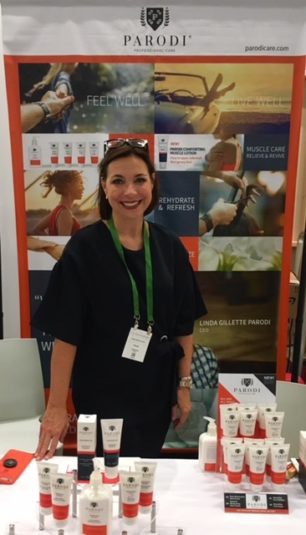 LINDA GILLETTE PARODI CEO
PARODI Professional Care is a favorite from my first introduction to the line at Beautypress. Launched by beauty industry professional, Linda Gillette, the line has NO parabens and NO Phthalates. In Italian, the word "parodi" means brave, valiant, bold and undaunted protector. Their Hand and Foot creams are excellent. The newest release is a Comforting Muscle Lotion.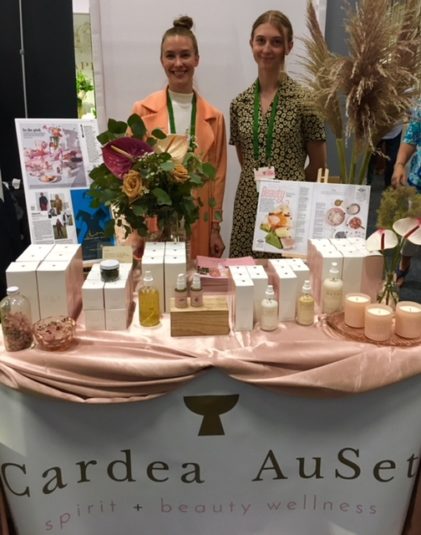 Cardea AuSet Jennifer Bonato and Taylor Williams Co-founders
Ontario, Canada's Cardea AuSet is all about Spirit and Beauty Wellness. Jennifer Bonato Co-founder explained the name, Cardea is a Roman Goddess, protector of the home and AuSet is an Egyptian Goddess of wisdom, renewal and motherhood, and eldest daughter of Earth and Sky. The line-up includes candles, body products, and essential oil mists.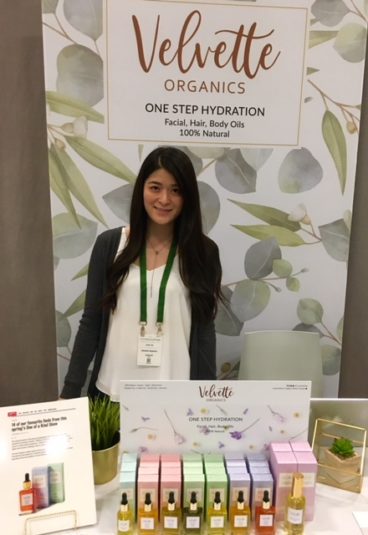 Velvette Organics Jenny Tse co-founder & CFO
Velvette Organics from Calgary, Alberta, Canada brings ONE STEP HYDRATION for their Facial, Body, and Hair Oils. Jenny Tse Co-founder & CFO, along with her sister Jenny, went backpacking through Asia, where they discovered the incredible properties of plant oils. Using Joyce's Chemical Engineering they did research to create the right oil blends for skin and hair, which focuses on the characteristics of each oil and their benefits.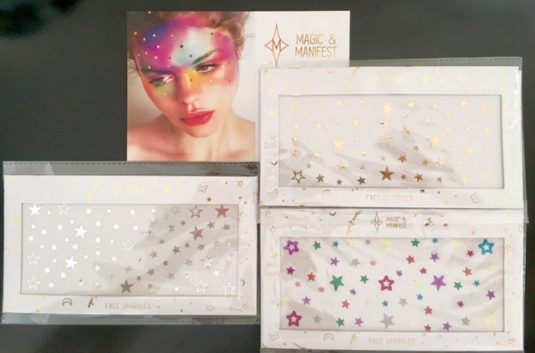 Magic and Manifest, is the Beauty and Lifestyle Brand of Heather McAvoy. No time for makeup tutorials or toxins led them to create Makeup Stickers. Just peel and stick or cut for a custom fit. A collaboration with Free People for their Face Sparkles and created Floral Iridescent and Amber Rhinestones that easily peel off and stick on for them.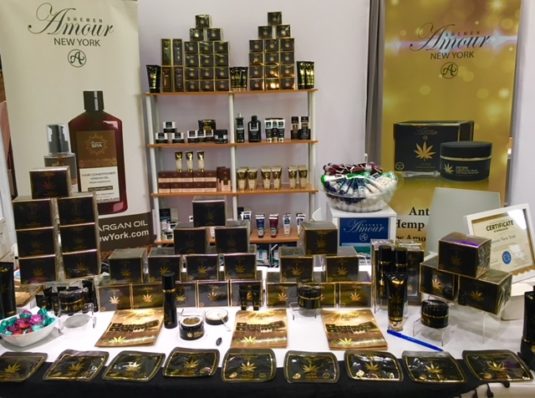 Amour New York l Shemen Amour Dead Sea might be more widely known in Israel and Europe, but if New York Indie Beauty Expo 2018 is an indicator, Amour has made inroads in the American market. The women-owned company offers high quality "Certified Original" Israeli Dead Sea Face, Body, and Hair Care Products for women and men. Their Hemp line includes Lifting Serum for Eyes and Face, Masks, Night Creams Hand and Foot Creams. Manufactured in Israel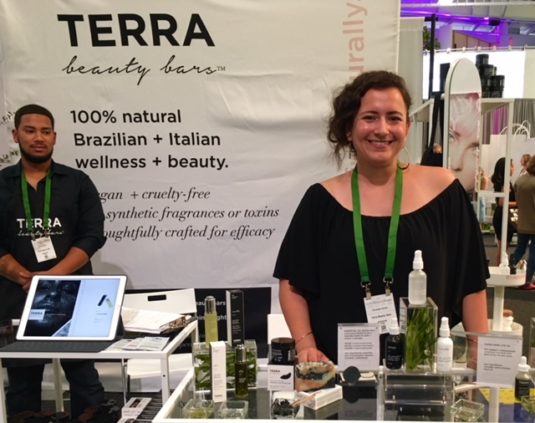 Terra Beauty Products Fernando D. Gomes Crafter. CEO
Terra Beauty Bars, founded by three sisters with roots from their farm living in Brazil and Italy is a PETA cruelty-free & vegan licensed cosmetic brand manufactured and formulated in-house with 100% natural ingredients and essential oils. Proud Veteran, Female-owned and operated. Products include Beauty Bars Facial Care, Shampoo Bars, and Hair Care Cleansing Grains. The company empowers women and children through charitable contributions with every sale.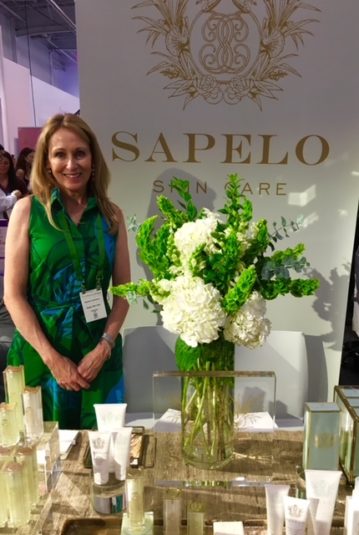 Stephanie Duttenhaver Co-founder Sapelo Skin Care
Founded in 2015, Savannah, Georgia's Sapelo Skin Care Co-founder Stephanie Duttenhaver told me how the rivers and creeks that swell with high tides twice each day inspired them in creating their line which is a twice-daily ritual that soothes and replenishes—bringing surges of nourishment and hydration for healthy cell development. Focused on helping older women looking for alternative anti-aging solutions everything is formulated without fillers, silicones, parabens, sulfates or petrochemicals, and are cruelty-free.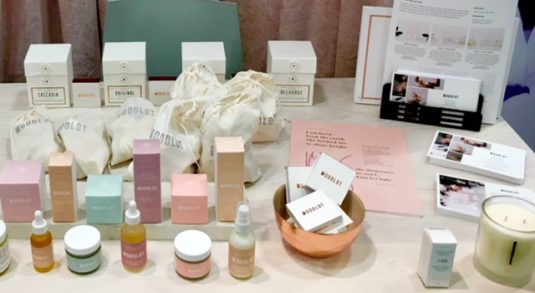 Partners Fouad Farraj and Sonia Chhinji founded Woodlot out of their home 2014. The Vancouver Canada based company focuses on premium natural plant-based products for home and body rooted in ancient methods. Their mission is to inspire replacing toxic body products out of your home. Products include Essential Oils, Candles (12), Soaps, and Lotions, and Palo Santo.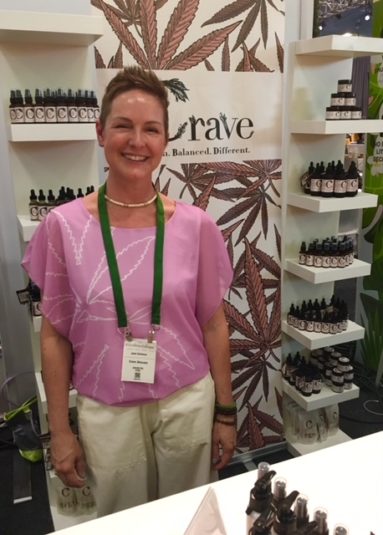 Crave Skincare Janet Schriever, Founder
Crave Skincare's Founder Janet Schriever's obsession finding a "fix" for her Rosacea led her to her to create her own company. A self-taught alchemist, she took courses in Cosmetic Science at UCLA and the Society of Cosmetic Chemists. Founded in 2017, the LA-based Crave Skincare products are made with Love and Hemp from Kentucky. In order to be sold legally in all 50 states, the CBD they use is grown in compliance with the 2014 Farm Bill. Virgin Skin Serum and 40 Winks Eye Serum were attracting crowds at New York Indie Beauty Expo 2018.
–Hernando Courtright, Senior Event Contributor and Brand Ambassador with Contributions from Michelyn Camen, Editor-in-Chief
All photos of Indie Beauty NY 2018 by Hernando Courtright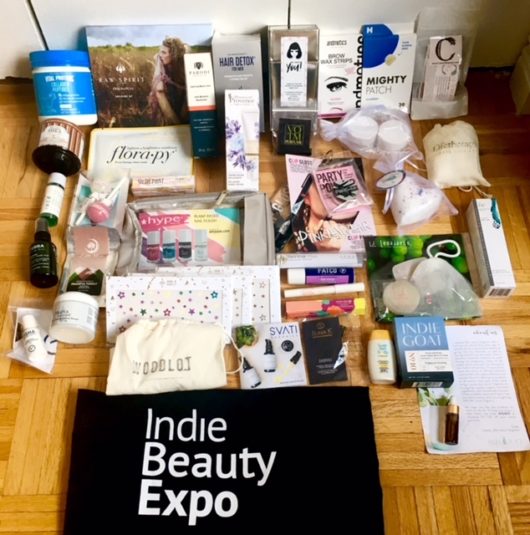 Thanks to the exhibitors at New York Indie Beauty Expo 2018 we have a ginormous swag bag representing at least 20 brands, including full-size products for a registered reader in the CONUSA. You MUST register click here. To be eligible please leave a comment with which products from our New York Indie Beauty Expo 2018 Best of Show you want to try, best trends, or what you enjoyed about Hernando's report. Draw closes September 5, 2018.
We announce the winners only on site and on our Facebook page, so Like ÇaFleureBon and use our Blog feed…or your dream prize will be just spilled perfume.