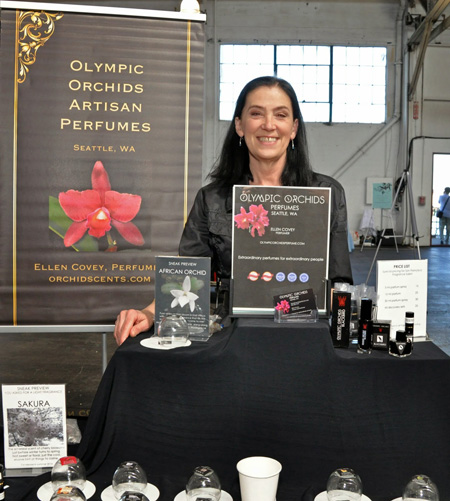 Ellen Covey at the Taste TV SF Artisan Fragrance Salon in March 2014
Seattle-based perfumer Dr. Ellen Covey of Olympic Orchids Artisan Perfumes has unveiled two new fragrances, Sakura and African Orchid, for spring showcasing the two very distinct aspects of this season. Having a degree in chemosensory studies and an active botanist, her impetus to perfumery was a desire to recreate the diverse and delicate fragrances of these magical flowers into wearable perfume. (Click here to read Dr. Covey's Profile in American Perfumery). Her practical and artistic approach to perfumery and her use of 75-90% naturals, augmented obliquely with man-made materials "to add uniqueness", render consistent quality and craftsmanship. These two perfumes are as different as night and day, yet both function equally well as versatile vernal choices.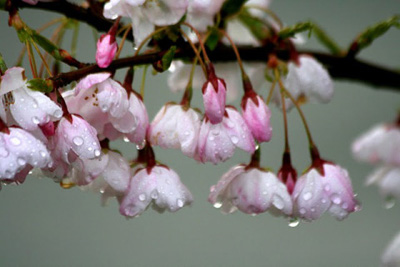 "Cherry Blossoms After Rain" by Rosemary
Before the spring buds split open a few things are needed: warmer longer days and plenty of rain, most importantly. As with other flowers in previous perfumes, Dr. Covey breathed new life into the petals of Japanese cherry trees. Sakura develops from a tender opening, under overcast skies and intermittent drizzle, to full sun-warmed floral embrace before exhaling its last musky breath, as it echoes petals falling gracefully through the air to rejoin the earth. The scent of cherry blossoms is uplifting and full of optimism, maintaining softness and sweetness. Sakura echoes its namesake, bidding my nose to return to my wrist like a nectar-starved honeybee making repeated trips to the same plant.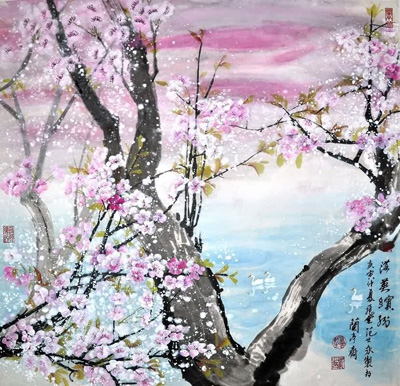 Fan Shi Yong
Sakura captures a cool humidity, wet wood and damp earth in its opening. Rain-soaked trees welcome the sun's rays as bare limbs transform, becoming covered with new foliage before bursting forth in rich blooms, seemingly overnight. This unique opening is unlike anything I have experienced in a floral perfume. Just as this begins to fade, and without any citruses, Dr. Covey makes the sun appear to coax a veritable explosion of pollen-dusted fruit-tinged petals from lifeless branches. Sakura wafts playful whimsy through most of its lifespan, pausing occasionally to exhibit an almost Zen-like meditative quality. This unusual dichotomy is echoed in the denouement of mineral firmness and cottony muskiness clinging to skin, magnificently reflecting the cooler floral beginning of this season, before warming with promises of longer days and hint of temptation from sweet fruits to come. Sillage: average. Longevity: good.
Notes: Airy notes, cherry blossoms and light musk.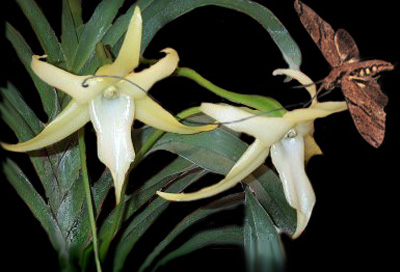 Hawk moth (proboscis visible) and angraecum orchid, photo by bernabu
Orchids are one of the most erotic of flowers. . African Orchid, the newest in her line of orchid-inspired scents, celebrates two varieties that grow in Eastern Africa, giving forth their intoxicating essence only after night falls. The Angraecum and Aerangis genii are spotlighted here, and are unusual as the nectar pit is so deeply hidden that only the hawk moth has a proboscis long enough to harvest its rich sweetness and is solely responsible for their pollination. Though this flower is white, it's not your usual white floral. African Orchid fuses provocative sexuality with a touch of tenderness enhanced by a light fruity timbre and hints of spice; this perfume is a perfect choice for spring into summer evenings.

"Purple Orchid" by Drazenka Kimpel
Beginning with an orchid core, reinforced with creamy jasmine grandiflorum and ylang-ylang blending silkiness of petal with naughtiness of aroma, African Orchid carries the warmth of day into dark of night. The fusion of passion fruit, sweetly juicy yet tartly tropical, with a hand-crafted accord radiates a tantalizing ambrosia-like aroma from within, wrapped ever so gently with smoky birch and spiced with the bite of clove. The base is softly oriental. A restrained blend of musk settles over sandalwood, adding strength and stability to the balmy aura lent by Madagascar vanilla beans. Ellen Covey has captured this nocturnal bloom in all its glory, an exotic mélange of notes that seriously seduces. Sillage: good. Longevity: very good.
Notes: Orchid, jasmine grandiflorum, ylang-ylang, nectar accord, birch bark, cloves, passion fruit, woody musk, New Caledonian sandalwood & Madagascar vanilla.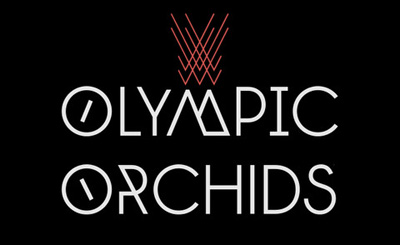 Dr. Covey continues to earn my respect as an artisan perfumer, and a fellow fragrance aficionado. Both perfumes are most welcome, after the "winter that wouldn't leave", warming the heart while delighting the nose. I wore both scents, multiple times, over the last week when high temperatures in the northeastern US ranged from 40°- 80° F (4°- 26° C). Both performed well no matter the weather and can easily be worn by both men and women.
Disclosure: Reviews based on samples sent to me by Olympic Orchids Artisan Perfumes.
John Reasinger, Senior Editor and Natural Perfume Editor
Author's note: Both perfumes will launch May 4 at the second annual Taste Tv Artisan Fragrance Salon in Seattle and are available as pre-orders on the Olympic Orchids website. Just select the desired size, add to cart. Orders made prior to launch date will begin shipping the week of May 5, 2014. Both scents are available in sizes ranging from 5 to 30 ml. Sakura is an EDP and African Orchid is perfume concentration. New streamlined bottle pictures are not yet available, but will look similar to to the photos below.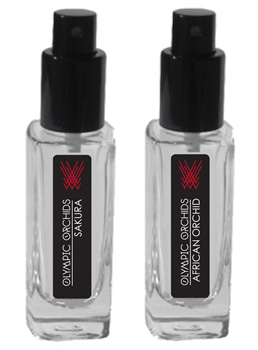 Through the eternal kindness of Olympic Orchids, we have one 30 ml bottle of each perfume to give away to two readers in the US. To be eligible, please leave a comment stating you're a US resident, your favorite Olympic Orchids fragrance (or one you've been longing to try) and your choice of either Sakura or African Orchid perfume, should you be one of the winners. Draw closes April 30th, 2014.
We announce the winners only on site and our Facebook page, so like CaFleureBon and use our RSS option…or your dream prize will just be spilled perfume.