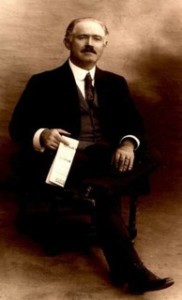 Theodore Cabanel
Téo Cabanel is an historic perfume house that was resurrected in 2005. Originally established in 1893 by doctor Théodore Cabanel, it was based near Algiers. In 1908 Théodore relocated to Paris and found success with his scented products. He passed his knowledge of the perfumery trade to his daughter Edmonde and under her governance the perfumes from the house became sought after. Clientele included The Duchess of Windsor who purchased vast quantities of Julia and Yasmina, the former of which is available today.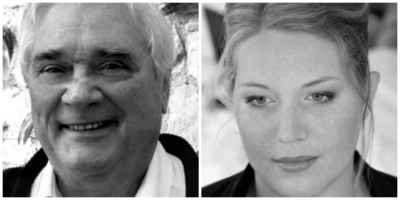 Jean – Francois Latty and Carolina Ilacqua
Edmonde Cabanel had no children and the company was bequeathed to her goddaughter's daughter Carolina Ilacqua. With little experience in the perfume trade but a keen interest to develop the business, Caroline enlisted the help of Jean – Francois Latty who created Eau Dynamisante (Clarins) and Jazz (Yves Saint Laurent) to become Téo Cabanel's perfumer and voilà the house was given a fresh breath of life. To date there are eight perfumes in the collection. My favourite is Alahine, the jewel in Téo Cabanel's crown. It's a sensual amber with a mesmerising touch of ylang ylang. Also well worth a try are the two rose scents. Early Roses is the lighter take on rose, it's dewy and fresh and is very well done. Oha is a floral chypre, with a touch of modernity and is a gorgeous blend of dark rose and jasmine, with a slightly posh feel. For a spicy trip to Morocco, Barkhane will be your poison.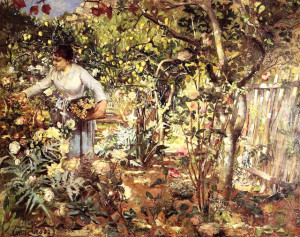 Henri Edmond Cross Corner of the Garden in Monaco
Téo Cabanel's perfumes have a signature sense of luminism. Téo Cabanel make use of a high proportion of naturals and this shines through loud and clear. There's a distinct lack of bite, screech or scratch that I often get from perfumes that are heavy handed on the aroma chemicals.If you are attracted to well made and beautifully constructed perfumes thata re easy to wear than you might find a fragrance to love in their collection which has a broad range to choose from, in that indomitable French style.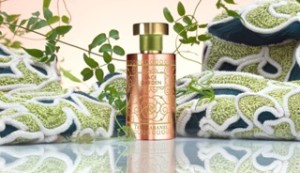 Téo Cabanel Lace Garden featuring designs by Iris Cantabris
Lace Garden is the most recent release from the house and its inspiration comes from ornamental French gardens and the intricate laced designs of Iris Cantabri, a French fashion designer. I'm smitten by this delicate scent.
Jaconde Henri Edmond Cross
Lace Garden is a subtly seductive feminine perfume. There's no bling or artifice here. It has an understated softness that unfurls at a leisurely pace reminding me of the style of art known as Neo-Impressionism, tiny points of color that are illuminated and come together to make a whole. A creamy ylang ylang and a twist of lemon provide the opening notes before the floral heart settles.
Henri Edmond Cross Le bois ou nu sous bois
The stand out flower in this perfume to my nose is a buttery tuberose that is lovingly constructed stroke by stroke until it blends with the composition. It's a different proposition to the more showy tuberose scents that have a screechy, venomous sting in their tail. The supporting white florals provide a counterpoint to the tuberose and of these, orange blossom is the one that I notice the most, although magnolia and jasmine are also present. The florals are subtly blended and weave together carefully like silk on skin that whispers quality. Vanilla wears gracefully in the background. This perfume would be a perfect accompaniment for spring and summer moments, when you want to be caressed by scent and not overpowered.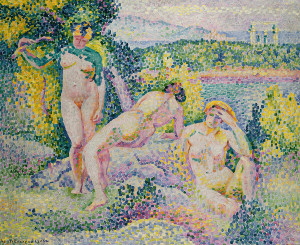 Nymphs Henri Edmond Cross
Lace Garden evokes a day coming to life, fresh with light and optimism. If you've heard Beck's Grammy Award winning album Morning Phase (the one that Kanye was notably not a fan of re outburst), the last song is called Waking Light and perfectly evokes this perfume . It's quietly beautiful and affecting. Listen to this track and you'll get a sense of the direction that this perfume takes.
"When the memory leaves you
Somewhere you can't make it home
When the morning comes to meet you
Open your eyes with waking light"
Disclosure : My sample was provided by Téo Cabanel for review
Sr Contributor, Megan Paki and Editor of the French lifestyle blog, Megan In Sainte Maxime
Editor's Note: Henri-Edmond Cross, a well known neo Impressionistic painter was at his height at around the same time as Theodore Cabanel, late 1890s. I chose his artwork to illustrate Megan's review of Lace Garden for the French sensibility and relation to the composition of the perfume
We have a 2ml sample of Lace Garden for a reader in the EU or USA. To be eligible please leave a comment with why you would like to try Lace Garden, where you live and if you have a favorite Téo Cabanel fragrance. You must be a registered user of CaFleureBon to be eligible for all draws going forward. Draw closes 4/16/2015
We announce the winners only on site and on our Facebook page, so like Cafleurebon and use our RSS option…or your dream prize will be just spilled perfume