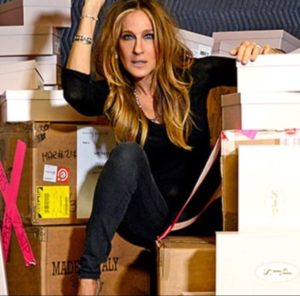 Sarah Jessica Parker photo USAtoday.com
To say I was excited about the new STASH SJP fragrance was pretty much an understatement. Am I a particular fan of Sarah Jessica Parker you might ask? The answer is no, but I do believe she has an excellent nose and I have been quite taken with several of her previous scents. I am still a huge fan of Lovely and I really believe Covet was underrated in many respects. Personally, they both exuded an air of elegance that I found rather appealing. Neither were over the top – they both fit into a special range of products that's appealing to fashionable celebrity everybodies and the fashionably unfashionable nobodies alike. In other words, they were (still are) celebrity scents that had more merit than many run of the mill dime a dozen celebrity scents.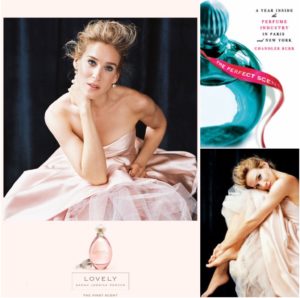 It's no secret that Sarah had a very key role in the development of Lovely. Chandler Burr did a wonderful job of documenting this in his book, The Perfect Scent. If you haven't read it, I would highly recommend it. It truly is a fascinating look into Sarah's perfume psyche. It's very clear that she gives a damn about what her name is representing. To that end, she formed her own company, SJPBeauty to better represent where she wanted to go with her fragrances. The first of the fragrances is unisex… Stash which launched at Ulta.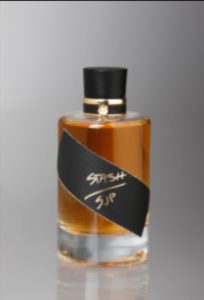 Stash SJP bottle
Let me start out by saying that the bottle for the perfume is stunning. The weight and shape of it is very complimentary to what it contains. The typeset of the gold handwriting on a black label gives an air of being personal and when light catches it a certain way it really pops. The moment I picked up the bottle I was impressed. When I made that first spray the entire heart and soul of the perfume became immediately evident. One is immediately presented with a slightly boozy like and "cedarcentric" (my own term for cedar heavy fragrances) aroma that is woody to the extreme. There is a slight hint of grapefruit, but it is drown out with dark cedar woods that it is almost imperceptible after a very few minutes.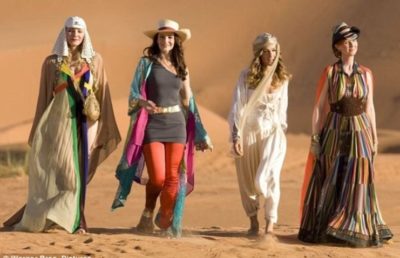 The Desert Scene from the Sex In The City 2 Movie Samantha, Charlotte, Carrie and Miranda
The overall impression is warm and dry…very, very dry. I mean so dry as it could almost catch on fire dry. Imagine being in the desert with a bunch of cedar planks in dry wind with sagebrush blowing around adding their sharp sweet bitter odor to the air.

Sarah Jessica Parker wearing a Comme des Garcons tartan skirt
As the mid starts to develop a peppery aspect comes into play, which again, adds to make for a hot and dry experience. However, the main aspect of the fragrance with no doubt whatsoever is Cedar. It is very reminiscent of the famous cedar accord used by Comme Des Garcons in a pretty good number of their fragrances. I read somewhere that Sarah is a fan of the house and judging by what I am smelling, I am not surprised. That vibe is definitely here and done well. In particular it reminds me Comme des Garcons for H&M, but amped up considerably. I am also reminded of the wonderful Tumulte pour Homme by Christian Lacroix. For those lamenting the loss of those two, rejoice! This will fit in very well. That said, I find this fragrance leaning more toward traditionally masculine than feminine. Still, we all know how subjective that issue is…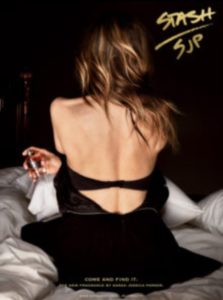 Sarah Jessica Parker ad for Stash SJP courtesy of sjpbeauty.com
The drydown remains dry as a bone. Vetiver makes its presence known in the mids, but when the cedar finally starts to pull back it's all about vetiver. There is a slight patchouli looming in the backrgound, but it certainly isn't as potent as I would like it to be. To my nose, it could have used a bit more to balance out the ever present cedar and vetiver. There is also a musky aspect that is reminiscent of the musk in Lovely, but presented in a completely different manner. Here it much more understated, but present enough to give a dirty effect that adds to the character of the composition.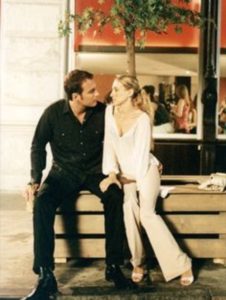 Carrie Bradshaw with Aidan Sex in The City Season 4 Episode 11 Coulda Woulda Shoulda 2001
Overall, the fragrance is satisfying to the senses. As mentioned earlier it is very "cedarcentric" in that cedar makes up the vast majority of the fragrance. I think that for many of us, this ultra woody cedar has already been visited a little much. However, there is no arguing this is a great scent and it certainly has the potential to introduce a huge group to the market that may not be familiar or have easy access to similar cedar laden offerings from Comme des Garcons or any other similar creation.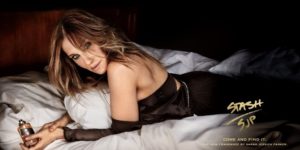 Sarah Jessica Parker for Stash SJP courtesy of sjpbeauty.com
I can easily see Stash SJP gaining many fans in the mainstream and still keeping perfumistas happy. Yes, indeed, she's done it again.
Top Notes: Grapefruit Zest, black pepper, sage; Mid Notes: Cedarwood Atlas, patchouli, ginger lily pistachio; Base Notes: Olibanum, massoia wood, vetiver musk
Available in three sizes: Stash SJP EDP 1.7 oz/ $75 Stash hair and body Elixir 1 oz /$50 and .034 rollerball $25.00 at Ulta Beauty and SJPBeauty.com in 100ml, 50 ml and 30 ml
Disclosure: I sampled this at Ulta Beauty
Aaron Potterman, Contributor and vintage perfume expert
MC art direction
Thanks to a kind SA at an Ulta Beauty store in NJ , we have a draw for a registered reader in the USA, EU and Canada of 5 ml of Stash SJP. To be eligible, please leave a comment with what you thought of Aaron's review of Stash SJP, if you like Cedar, where you live and just for fun if you had a favorite Carrie Bradshaw moment in Sex in the City. Draw closes September 13, 2016
We announce the winners on our site and on our Facebook page, so Like Cafleurebon and use our RSS option…or your dream prize will be just spilled perfume