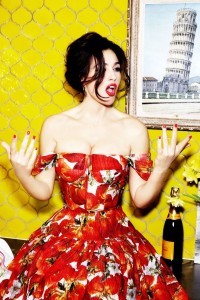 Italian actress Monica Bellucci
Bewitching is the woman who has perfected the art of making a grand entrance. She arrives at the party fashionably late, whisking off her wrap, revealing deep cleavage, and handing it to a hapless bystander in one fluid motion reminiscent of a toreador. She is immediately surrounded by a circle of suitors. All eyes are drawn to her, all other conversation ceases, all in the room want to know her name. If you don't possess this skill naturally, one of the ways to approximate it is with a fragrance that does. It is my great pleasure to introduce you to Sonoma Scent Studio's newest scent, Yin and Ylang, which perfectly fits the bill for a glamorous perfume that turns heads.
Ying and Ylang is the product of a year's collaboration between our own glamorous Editor in Chief Michelyn Camen and the exceptionally talented perfumer Laurie Erickson; the full tale of how it came about can be found here. Key inspirations for the fragrance were photographs of Italian bombshell Monica Bellucci, a desire to make ylang ylang the centerpiece, the concept of yin and yang and the duality of a woman.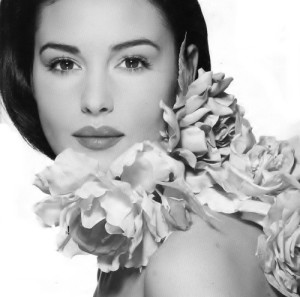 Monica Belluci floral scarf
Ylang ylang can be a difficult note for many people and Laurie and Michelyn set out to address that issue head on, showcasing its beauty while minimizing its abrasiveness. They have succeeded wildly, creating a work I can only describe as a femme fatale. In film and in real life, femme fatales fascinate because of their juxtaposition of extreme femininity and aggressiveness, a trait we commonly think of as masculine. They are alluring but dangerous and that is a great part of their appeal. You might not think of yourself as a femme fatale, but Yin and Ylang will indulge your fantasies.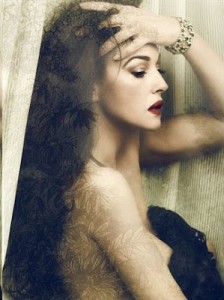 Monica Belluci Vanity Fair 2012
Yin and Ylang opens aggressively on me, with bright top notes of bergamot, blood orange, and aldehydes. It is a mirthful beginning that tickles like shared laughter magnified by champagne bubbles.Top notes dissipate after about half an hour, which is when the scent's unique beauty really begins to shine through. The heart of Yin and Ylang is a warm, soft, sensuous floral, the kind that lures you in with a purring voice and then enslaves your imagination. Ylang ylang, jasmine sambac absolute and an exquisite tuberose absolute provide an animalic, tropical lushness. Beeswax absolute adds a hint of pollen, reminding one of the process of blossoming, and a touch of sweetness smoothes out the sharp edges. The room is getting warmer as the party goes on, and the femme fatale is slowly shedding layers to show more skin.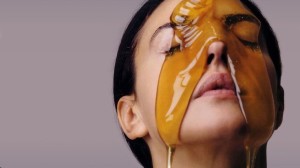 Show me the honey! Monica Belluci
It's been said that you can't truly be beautiful without great bone structure; the bone structure of Yin and Ylang is a classic French style chypre, but it carries unmistakable signs of both Michelyn's point of view (mixing vintage and modern, her love of feminine fragrances) and Laurie's artisan imprint that identifies her fragrances as some of the most loved among aficionados. Base notes of mysore sandalwood oil, oakmoss absolute, patchouli, amber, vanilla and musk add a golden hue to Yin and Ylang, like honey dripping on treasured memories. What I think of as Laurie's signature (a smooth, creamy, velvet wood) is happily discernable, though very subtle in this work.
Yin and Ylang only gets more delightful as the hours go on. As a scent with a high percentage of naturals, it has excellent sillage that gets me compliments every time I wear it, and for me, longevity is excellent; the gorgeous drydown is still noticeable overnight. In order to be memorable, one needs to know not only how to make a grand entrance, but how to linger in the mind after departing. Yin and Ylang accomplishes both beautifully, leaving me always wanting more.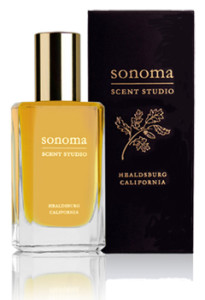 Thanks to the generosity of Laurie Erickson, we have a 15 ml bottle of Yin and Ylang to offer to one reader in the United States. To enter, please comment stating your favorite Sonoma Scent Studio fragrance, or your favorite femme fatale. Draw ends April 21, 2014
Disclosure: Review based upon sample provided by Sonoma Scent Studio.
— Nancy Knows, Editor and EIC of the fragrance blog Make Perfume, Not War
Art Direction: Michelyn Camen, Editor in Chief
We announce the winners only on site and on our Facebook page, so Like Cafleurebon and use our RSS option…or your dream prize will be just spilled perfume.