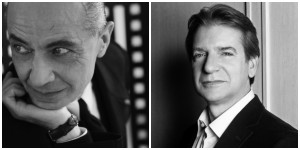 Serge Lutens and Christopher Sheldrake
Serge Lutens is undoubtedly a master of creative story telling through images, makeup and perfume. He is a man of immense talents who loves an intriguing story as inspiration for his perfumes that magician Christopher Sheldrake brings to life. Lutens has traversed the heated, spiced Moroccan terrain and is now hiking through chilled landscapes with more recent releases; the glassy, sharp post modern Laine de Verre (2014) , the icy L'Eau, (2010) and the unusual meditative L'Orpheline (2014). Serge Lutens latest offering is La Religieuse, which in French means "the nun".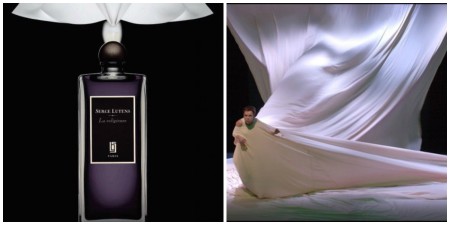 Serge Lutens La Religieuse Perfume; Adapted from Diderot's The Nun a scene directed by Anne Théron with Marie-Laure Crochant
When I first read that La Religieuse would be a jasmine centric perfume it piqued my interest and worried me as well, as the line already has two beautiful jasmines in the collection. The luminous A La Nuit is jasmine at its zenith. It's a beauty that's loud, screamingly bright, and sunny. It lifts the soul with its radiance and sparkle. The other is Sarrasins, an altogether different beast. Somewhat darker in mood and flecked with leather, it's a suave and sophisticated take on the flower.When it was intimated that the perfume would contain incense and civet, my mind wandered and imagined a gorgeously ripe smoky jasmine in full bloom that would unleash disturbance, chaos and sleepless nights; the nun who was having an illicit affair perhaps. I entertained a nagging doubt, howeve, that this might not be the route he would take due to his recent creative terroir. (Am I alone in thinking that Lutens loves the stories and visions perhaps more than the fragrance these days? Only he is capable of a back-story that fascinates or repels, intrigues or baffles. Either way, it's never less than interesting even when the narrative doesn't quite mesh with the perfume).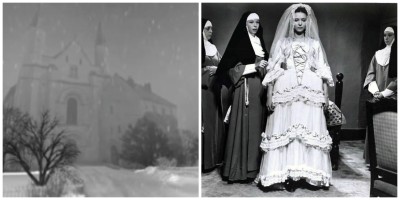 From Serge Lutens Video and Anna Karina in the 1966 movie La Religieuse
For La Religieuse there is much talk of snow, the colours black and white and of course religion. "Deliver us from Good! Jasmine petals are as white as snow. Black is my religion" (says Lutens on the website). But there's more. In a recent interview, the master elaborated on this theme. "Nuns for me are like snow: there is always something astonishing and magical about a pure blanket of snow yet it simultaneously provokes in us the desire to walk all over it and thus ruin its perfection."* Perhaps he had read the 18th century book by Denis Diderot with all its horrors of convent life or the unsettling and for its time shocking movie adaptation starring Anna Karina. That would fit the narrative.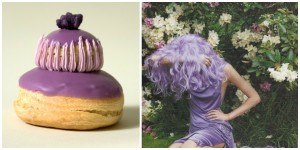 La Religieuse Patisserie image Kriblogs and Tim Walker A Play of Watercolour Vogue Italia 2000
La Religieuse also refers to a delicious patisserie composed of two choux pastries – one larger on the bottom, the smaller on top. Both are filled with crème pâtissière. This configuration is said to represent a nun and her habit, figuratively speaking. For me this is a more fitting comparison.La Religieuse has a fragrantly sweet opening that paints an image in my mind of the La Religieuse patisserie rather than snow. The initial floral folds appeal the most. There's a touch of hyacinth and perhaps a sprig of mimosa. The jasmine is not quite what I expected. It lacks the confident strut of A La Nuit or the allure of Sarrasins. It's of a much gentler, slightly candied persuasion and tiptoes through the scent, timidly shedding its petals as the scent stays on skin. As the perfume meanders, the flowers are dialed down a notch and they're cocooned in a musky, fluffy haze that adds a plush softness. There's also a luxurious soapy quality that lathers around the edges.
La Religieuse is characterised by a simplicity that sets it apart from A La Nuit and Sarrasins. It may however become the more popular jasmine in the line as it is easy to wear. I confess if I had not read the narrative my expectations would have been different. I'm still pondering La Religieuse, which has grown on me over time. This happens with some fragrances especially Serge Lutens; I wrote about Douce Amère and my change of heart with that beguiling bittersweet fragrance. Only time will tell whether I will come around to the purple hued La Religieuse.
Editor's Note. Serge Lutens trademark and brand was aquired by Shiseido (and it all comes full circle as he was hired by the House in 1980). He created the legendary Nombre Noir in 1981 and masterpiece Feminitie du Bois in 1992, the last release under the Shiseido name.
* Interview with Serge Lutens featured on the website scentury.com by Helder Suffenplan
-Sr. Contributor, Megan and author of the French Lifestyle blog Meganinsaintmaxime.com
Thanks to Twisted Lily Fragrance Boutique we have 3 samples of La Religieuse for three US readers. To be eligible please leave a comment with why you would like to try Le Religieuse and your feelings on the Serge Lutens narratives and your own expectations of the perfume. Draw closes 4/7/2015.
We announce the winners only on site and on our Facebook page, so Like Cafleurebon and use our RSS option…or your dream prize will be just spilled perfume.