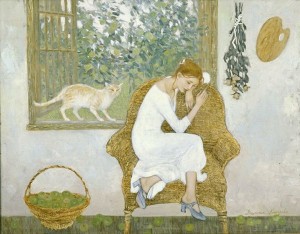 painting: Russian Artist Valeria Kotsareva
In my work as a fragrance writer I have the pleasure of smelling many perfumes. As my experience grows and my nose becomes more carefully trained, it can be easy to slip into a rather methodical process when sitting down to review a scent. I find myself searching through the fragrance for different notes; systematically working through the developing stages and building creative imagery around the twists and turns to be found through the hours that it lasts on the skin. Every so often, I stumble across a perfume that simply bowls me over. A perfume that takes hold of my carefully drafted process, screws it up in a ball and demands that I just enjoy it. Puredistance WHITE is such a fragrance.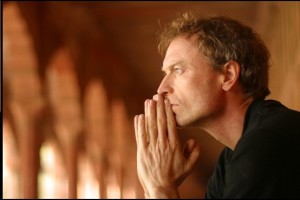 Creative Director Jan Ewoud Vos (photo copyright)
The company was founded in 2002 by creative director Jan Ewoud Vos. Based in the Netherlands, Puredistance fragrances are all of extrait strength and the aim is to create timeless perfumes by master perfumers with a soul and a signature. Alongside Master perfumer Antoine Lie (who also composed BLACK), WHITE, the latest release took over a year to develop and is due to launch at the end of this month. "The main idea behind the creation of White has been to produce a perfume so beautiful and positive that it gives the wearer an instant flow of happiness."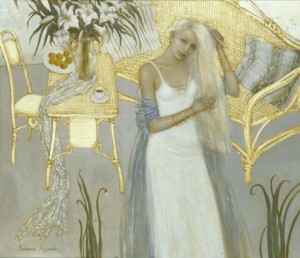 Russian Artist Valeria Kotsareva
In my haste to experience WHITE I joyfully ravaged the parcel and had been drifting around in a haze of bliss for half an hour before I went back to read the accompanying press release. And I couldn't have put it better myself; Puredistance WHITE is indeed an instant flow of happiness, one that finds me with my nose permanently attached to my wrist, devouring it's smooth, pale beauty.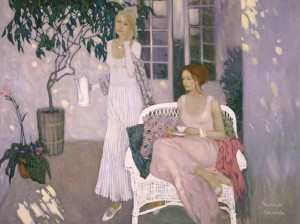 Russian Artist Valeria Kotsareva
Using notes of Rose de Mai, Tonka bean absolute, Orris, Sandalwood, Bergamot, Musk, Vetiver and Patchouli, WHITE seems to float out of the bottle and onto the skin like a silk scarf. The opening is a little sparkling, like champagne bubbles fizzing to the top of a crystal flute. A slight citrus zing is present but doesn't cut through too sharply, instead emphasising the wonderful honeyed, freshly unfurling petals of Rose de Mai. The sweet delicacy of the rose, buttered up with heavenly orris and tonka absolutes is where I really lose myself. The rest of the development is so smooth and seamless that I find myself unable to distinguish between the notes listed after the first few minutes. The effect is complete; a drift of pale light, dewy nectar and snowy soft textiles.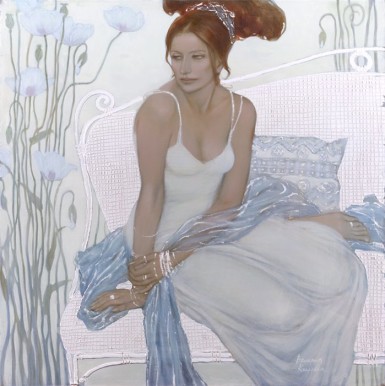 Russian Artist Valeria Kotsareva
Imagine waking slowly from a restful sleep, the kind that only happens when the bed cocoons your bones into total relaxation. The room around you is soft with filtered sunlight and a breeze moves the white drapes at the window like the softest of whispers. The sheets are pale silk and slip across bare skin with a shiver of pleasure. The light and the gentle breeze are enough to wake you completely, but there is no urgency to rise from the warm embrace of the bed. An enormous bouquet of overblown cabbage roses droop and swoon in a vase on the table beside you, filling the air with sweetness. Your mind is quiet, you body so relaxed it feels fluid. The warmth of your own skin could lull you back to sleep, should you so wish, or you might wander to the window and see what lies beyond the drifting veils of fine linen… That's where Puredistance WHITE takes me. But everyone's happy place is different, so you may end up somewhere else blissful. Wherever you want to be, I would highly recommend taking this particular trip. For a dose of pure happiness in a world where blissful moments seem too few and far between, why wouldn't you?
Disclaimer- sample gratefully received from Puredistance. Opinions my own.
Susie Baird– senior contributor and editor of Epiphany.
Art Direction-Michelyn Camen. The paintings of Russian artist Valeria Kotsareva show women whose soft dreamy beauty portray quiet sensuality. Ms. Kotsareva is not affilliated with Puredistance and I chose her work because they spoke to me personally.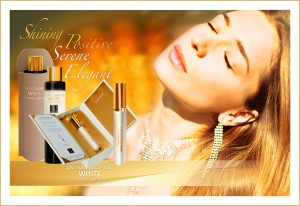 Puredistance White Ad
Thanks to Jan Ewoud Vos we have three 2ml samples OF PUREDISTANCE WHITE for CaFleureBon readers worldwide. To be eligible please leave a comment with why you need WHITE in your life, where you live and if you have a favorite Puredistance perfume. If you want your comment to count twice, either "like" Puredistance on Facebook, OR follow on instagram (make sure to use the #pdwhite @cafleurebon for instagram) OR follow on Twitter "@puredistance" #pdwhite @fifthsensenyc. Draw closes March 12, 2015.
We announce the winners only on site and on our Facebook page, so Like Cafleurebon and use our RSS option…or your dream prize will be just spilled perfume