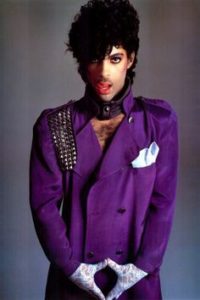 Prince by Richard Avedon
"I only wanted to one time to see you laughing
I only wanted to see you
Laughing in the purple rain.' -Prince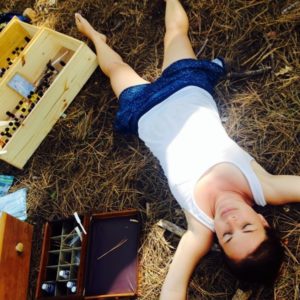 Irina Adam photo Irina Adam
New York based Irina Adam of Phoenix Botanicals is blooming again since Peach Tree Garden was a top ten finalist in 2016's Art & Olfaction Awards (Irina also was an exhibitor at the AIX: Artisan Independent Experimental Scent Fair).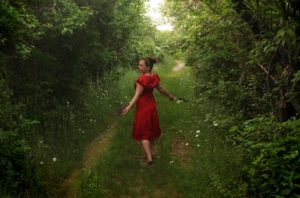 Irina Adam
She is a force, a sage, and a woodland wandering witch (a good witch); the perfumer of Lilac Rain; a creation inspired partially by a long, wet spring and the lilacs it brings, a dream she had of a purple blooming clove tree- complete with foggy mountain top and also as a tribute to Prince's passing on April 21, 2016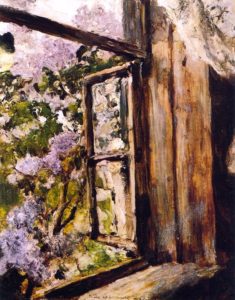 Open Window, Valentin Serov, 1886 Lilacs
Opening with straight up lilac (syringa vulgaris), there is a moment when that is all there is, and my brain is split: on the one side, I just want to enjoy this perfection… on the other, I am scrambling to disassemble the accord- except Irina has found a "rare and precious locally grown Lilac flower absolute." It's true, if it exists- you can find it in New York. The lilacs involved are from a farm upstate New York where they are enfleuraged. This enfleurage travels to South America to be processed into an absolute. Although this process seems laborious, the essence from a lilac is still rather rare and obviously difficult to produce. Much like her Ella perfume, Lilac Rain hinges on a unique and rare oil which makes the supply limited and precious.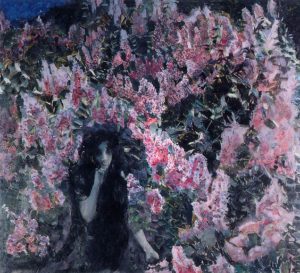 Mikhail Vrubel. Lilac (a fragment from the original painting). 1900. Oil on canvas
With body heat, Lilac Rain has moments of soft citrus, if only to usher in the next moment of floral bliss, and the most interesting clove. There is a metallic quality to some cloves, and while I usually find this off putting- Irina uses this to her advantage- making the clove tree of her dream a clear, but softened voice. It is not hard to imagine the purple blossoms she described. This quasi-aldehydic clove escorts more florals with jasmine, magnolia and an apple suggestion which brings me back to my childhood on an orchard.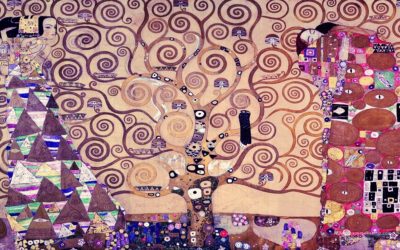 Gustav Klimt Tree of Life 1905
The dry down offers a "vintage" feel, although I would suggest it is simply more mature and grown up than we are used to: tobacco, mushrooms and vetiver are a spiced earthen accord that, while is not a petrichor, will remind you of freshly showered earth and the same sense of renewal: of having hope raised high as if Irina's Lilac Rain brought out the rainbow in your heart.
notes: yellow mandarin, lilac, jasmine, clove buds, spices, tobacco, mushrooms, vetiver, benzoin.
*disclosure: my sample was provided by Phoenix Botanicals for review.
-Einsof, Natural Perfume Editor
Art Direction Michelyn Camen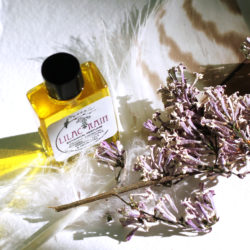 Thanks to the generosity of Phoenix Botanicals we have a 5mL bottles of Lilac Rain for a registered reader worldwide, (you must do this to be eligible) Please leave a comment with what you enjoyed about Einsof's review of Lilac Rain and where you live by 8/24/2016.
We only announce winners on site and on our Facebook page- so like Cafleurebon and use our RSS feed option … or your dream prize will be just spilled perfume