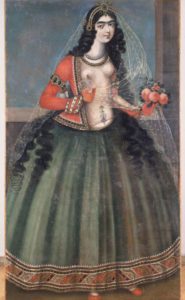 Woman Holding A Rose Qajar Persia, early 19th Century
"Because thy garden is a thief of hearts
The spring is in thy debt
For flowers stay fresher in thy hand
Than on the branch." – Tãleb Ãmoli (17th century Persian poet)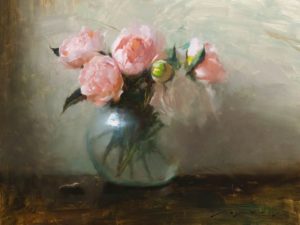 Jeremy Lipking©
Recreating the realistic and fresh fragrance of flowers, especially of roses, has been the elusive goal of perfumers for centuries. Even with the aid of today's sophisticated technologies and our current understanding of how enzymatic activity affects the chemical composition of scents, capturing the olfactory image of a perfect rose remains a challenge worthy of the most talented of noses. Not only the scent of the flower itself, but also the temperature, the time of day, the general atmosphere and environment of the garden, are all part of the scented experience that perfumers strive to convey with a soliflore.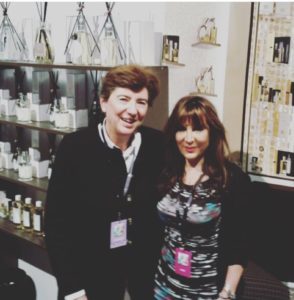 Patricia de Nicolaï with Michelyn at Esxence 2017
Patricia de Nicolaï and her son Axel have managed, with their new Parfums de Nicolaï Rose Royale Eau de Toilette, to capture all the freshness and vitality of a newly opened rose, suggestions of the delicate, ephemeral nature of the petals and impressions of the air, the hour and the spirit of the rose garden. Patricia de Nicolaï has this to say about her new Rose Royale fragrance that impressed Michelyn, (who is not a rose fan usually) so at Esxence: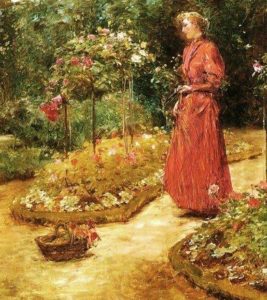 Frederick Childe Hassam (1859-1935). Woman Cutting Roses in a Garden.
'In the perfume industry, rose is limitless. It's a theme that I will never be too bored to explore. Last spring, when I arrived in my new lab located on the rue de Montpensier next to the Palais-Royal, Axel and I really wanted to pay a tribute to this unique spot, not really well known…even among Parisians! In June, the gardens of the Palais-Royal fills with floral scents. For the happy few who pass, no car, no bus…only borders of flowers, a proud central water jet and rose bushes with so many colours. I love garden roses! And it's this specific scent that I wanted to catch and keep in one of my vials from the lab. Like its fragile petals, the delicate rose scent is short-lived… However, it is exactly what Axel and I wanted to get for our new fragrance! After months of intense work and evaluations, we offer you Rose Royale. A natural and fresh rose with a hint of fruity notes like the rose at the end of its stem. Dressed up by coriander and ambrette seeds, the 'rosé' heart of the fragrance opened up with delight. Woody notes protect this heart in order to give a great look and long lasting style' –Patricia de Nicolaï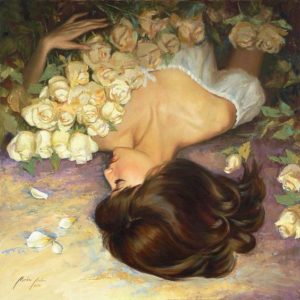 White roses ~ Andrei Markin©
Defining the perfect rose, like choosing a single favorite fragrance, is, for many of us, impossible. There are literally thousands of fragrant rose hybrids and varieties and dozens of perfumed rose species to choose from. Rose scents can be divided into at least twelve categories. The blooms often smell like, of course, roses. They can also scent the air with odors similar to nasturtium, orris, violet, apple, clove, anise, tea, mint, musk, a general fruitiness or citrus. Parfums de Nicolaï Rose Royale is a fragrant photograph of one of my favorite rose scents – the perfume of the wild rose, Rosa multiflora; I love the perfumed sprays and clusters of these simple white flowers.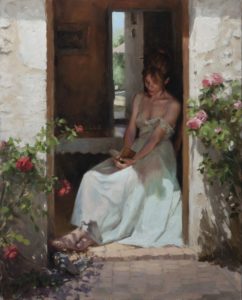 Vicente Romero Redondo©
Rose Royale opens quite "rosy" but with a green coolness, perhaps the effect of black current buds and, like the blooms of Rosa multiflora, with a breath of citrus and spice. If the sweet profile of average rose waters and rose oils is too much for you, the opening of Rose Royale will surprise and please with its youthful, bright and delicate qualities. As Rose Royale warms on my skin I am enveloped in an aura of late spring, of woodlands and the scent of the wild roses, a fresh green and spicy effect created by coriander, ambrette and bergamot.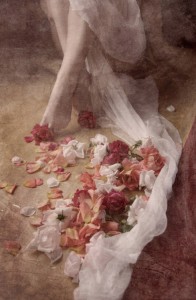 image via googlesearch
The heart is suffused with Turkish rose, never too rich or sweet. Rose Royale remains crisp for hours. With time the straw-like, honeyed effect of immortelle suggests the dried and slightly dusty rose petals I use as an ingredient in my own version of the Persian spice blend called "advieh". Rose Royale's beautifully natural rose fragrance is grounded in sandalwood, a touch of guaiac and musk and lasts for at least 8 hours on my skin and days on clothing. It may be an EdT, but it has the longevity of EdP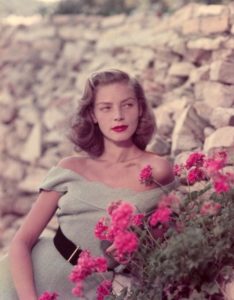 Lauryn Bacall 1940s
The sillage is noticeable but never intrusive. Rose Royale is a fragrance very much like the perfume of the real, living flower and, as Ralph Waldo Emerson said of the rose "…perfect in every moment of its existence." For all its freshness, realism and vitality, this new perfume could be my own perfect rose! Notes: Black current buds, passion fruit, bergamot, Turkish rose, coriander, ambrette seed, immortelle, sandalwood, guaiac wood and musk.
Disclaimer: I would like to thank Parfums de Nicolaï for the bottle of this beautiful Rose Royale EdT. My opinions are my own.
Gail Gross – Editor
Art Direction, Michelyn, Camen, Editor in Chief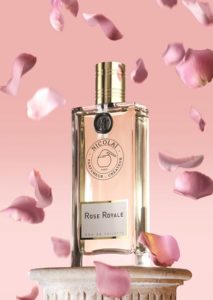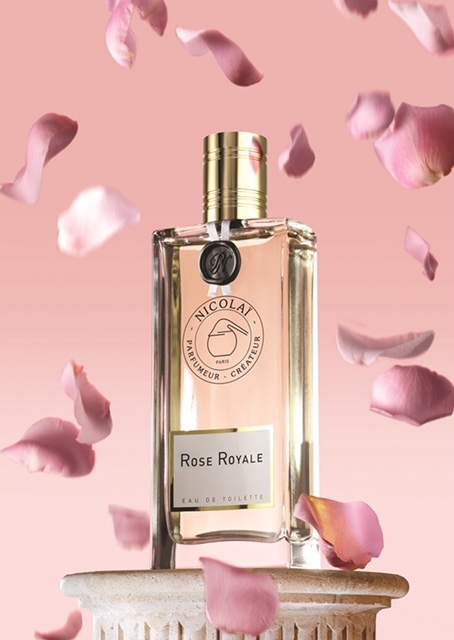 Thanks to the generosity of Parfums de Nicolaï we have one 30 ml bottle of Rose Royale Eau de Toilette available to one registered reader worldwide.(be sure to register or your comment will not count). To be eligible please let us know where you live, tell us what appeals to you about Gail's review of Rose Royale and if you have a favorite hybrid or species rose plant that you grow or simply enjoy and of course your favorite of Parfums de Nicolaï. Draw closes 4/20/2017
We announce the winners only on site and on our Facebook page, so Like Cafleurebon and use our RSS feed…or your dream prize will be just spilled perfume.