Corcovado (Quiet Nights of Quiet Stars) by Antonio Carlos Jobim – sung by Frank Sinatra, João Gilberto and his then wife Astrud Gilberto, Stan Getz on the sax.
..Quiet nights of quiet stars
quiet chords from my guitar
floating on the silence that surrounds us
Quiet thoughts and quiet dreams
Quiet walks by quiet streams
and a window that looks out on Corcovado
Oh, how lovely… From Quiet Nights/Corcavado (Antonio Carlos Jobim 1960)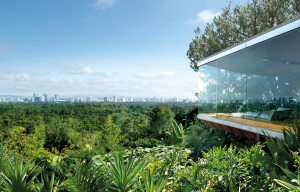 Miguel Sandinha Photo for Panorama (A Best of Scent 2015 -Top 25 CaFleureBon)
Olfactive Studio's Panorama by Clément Gavarry was one of the most astonishing fragrance launches in recent years. I included it in my 2015 Foxy round up of scents that dazzled me after reviewing it originally for ÇaFleureBon in April last year describing it as 'a gasp of wonderment, the juxtaposition of verdancy with glassy transparency and woody invitation…. a wasabi effect …mixed with bamboo leaf, fig leaf and lemon….dripping with real citric joy.'' I wrote how I had come to Olfactive Studio slowly with a series of mixed and ambiguous reactions to the earlier perfumes. Then Creative Director Céline Verleure and her team seemed to switch gear; her 'Perfumers' Proofs', the distinctive trademark collaboration of photograph/image and nose that to me had originally seemed a little gimmicky suddenly felt vital and creative. I bought the sticky shadowed smoky ambience of Ombre Indigo and wore it lavishly and Selfie, a zeitgeist aroma of powerful styrax, anise, cinnamon and toasted maple was a gorgeous if tenuous nod to a modern chypré.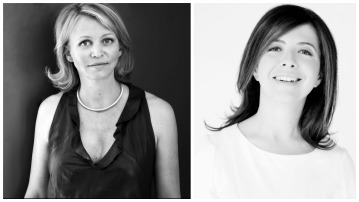 Céline Verleure and Dora Bagriche-Arnaud
Now we have Still Life in Rio, created by quiet perfumer Dora Baghriche-Arnaud who while hardly a prolific creatrix did compose the very beautiful and unusual Caligna for L'Artisan Parfumeur in 2013, as part of their erratic Grasse Collection. The thing that impressed with Caligna was the subtle assembly and detailed use of strong materials such as an heady clary sage keynote and a unique jasmine marmalade accord Dora created using orange, apricot and basil. Again with Still Life in Rio, Olfactive Studio's first city destination specific scent, it is Dora's ability to control and infuse a complex aromatic palette of immensely evocative and sensual materials that makes this new release such a rush of immediate olfactory pleasure.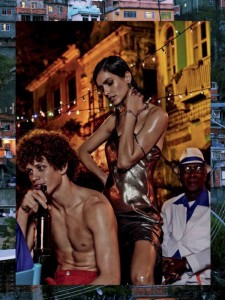 Aline Weber, Amanda Wellsh by Giampaolo Sgura for Vogue Brazil November 2014
As with all the Olfactive Studio fragrances since the early crowdsourcing days, it the touchstone relationship between the photographic image and the perfumer's interpretation that still forms the all-important crux of the scented artistry. The original Still Life was also created by Dora, a glittering essay in the transparencies of peppers and the floral charge of yuzu, powered by a whopping dose of airy Ambrox. The image of photographs of glitterballs and confetti is reflected in the bright, freewheeling freedom Dora allows to flow in and out of her notes. Still Life is cold though, it smells oddly abandoned to me, an overlit room, the party moved on. The Rio incarnation is a more lush, atmospheric and boozy affair. Not boozy in a dark, fireside, whisky in a glass way, but in a fiesta, carnival, Cachaça shots at midnight kind of way.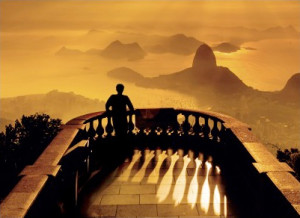 Photographer FLÁVIO VELOSO
The photographer Flávio Veloso is renowned for his sun-soaked images of Brazil, particularly of Brazil's vibrant city life and the surrounding urban nature. The image for Still Life in Rio is at once dramatic and intimate, a figure standing on the viewing platform on the peak of the Corcavado, looking out over the Tijuca National Park and Guanabara Bay towards the distant iconic shape of Sugarloaf Mountain. In classical still life painting, the use of light, be it artificial, flame, candle or sun is all-important as it imbues the objects being portrayed with shape, tone, form and shadow. In Veloso's romantic shot, the scene is drenched in warm apricot and tangerine tones, the sky beginning to kindle and glow with the glorious promise of breaking day. The figure could be standing on the balcony of a house; such is the calm implied, rather than standing in the shadow of a 98m tall art deco figure of Christ.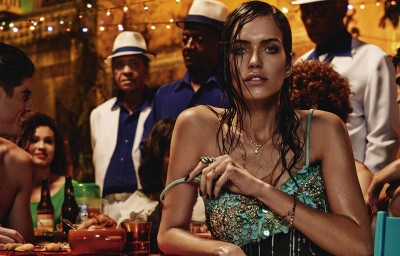 Aline Weber and Amanda Wellsh by Giampaolo Sgura for Vogue Brazil November 2014
Still Life in Rio opens like a citrus plunge pool with a huge thirst quenching blast of Dora's beloved yuzu muddled with icy mint, mandarin and lemon. It is a fabulous opening; I was really blown away by the wasabi pea green verdancy top of Panorama when I first smelled it as well. It is significant feature I feel of Olfactive Studio scents that the strong overtures, rather than deceiving or masking the body of the scents like a lot of more pedestrian perfumes actually announce intent, signaling themes to follow. With Rio, the massive shock of cocktail zing and drench segues into a trio of peppers: Jamaican, pink and black. These heart spices are soaked in coconut water that reinforces the breezy carefree sensation of Dora's work. Interestingly in the original Still Life, she placed a trio of pink, Sichuan and black peppers in the top rather than the top and dark rum in the base so there are delicious echoes and reflections across the duo of Still Life formulations.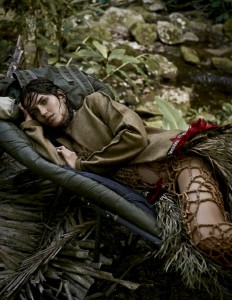 Aline Weber and Amanda Wellsh by Giampaolo Sgura for Vogue Brazil November 2014
As Still Life in Rio develops, the key element for me is the copaiba balsam mixed into the base with rum and soft white leather accords. Copaiba has beautiful forceful fixative properties with a really warm, golden sense of lacquered calm and comfort. It is the counterpointing of the vivacious samba infused top with this glowing tropical base that demonstrates Dora Baghriche's thoughtful and exuberant production of what could in less intrigued olfactory hands have been a generic cocktail crowd-pleaser but instead is something very stylish, sensual and instantly addictive.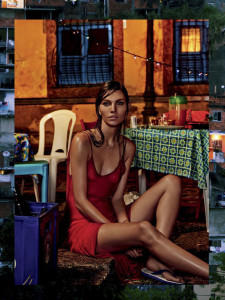 Aline Weber and Amanda Wellsh by Giampaolo Sgura for Vogue Brazil November 2014
Now, each new launch from Céline Verleure's exciting house seems to be something just a little bit divergent, moreish and of course always exquisitely made. From Flashback and Ombre Indigo, through Panorama, Thomas Fontaine's hypnotic Selfie and now Still Life in Rio, the once vaguely artsy and gimmicky image/nose/house collaborative process is paying seductive sophisticated dividends. Every new release from Olfactive Studio begs for skin and careful sensual attention.
Disclosure: Bottle of Still Life in Rio very kindly supplied by Céline Verleure at Olfactive Studio. Many Thanks. All opinions my own.
–The Silver Fox, Guest Contributor and author of The Silver Fox
Art Direction Michelyn and TSF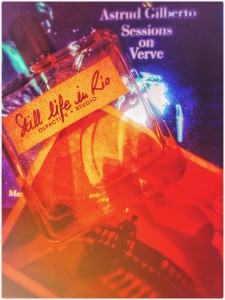 Still Life in Rio Photo by TSF
We are thrilled to offer an avant premiere worldwide draw for a registered reader of 50 ml bottle of Still Life In Rio courtesy of Céline Verleure.. To be eligible please leave a comment with what moved you about The Silver Fox's review, why you would like to win, where you live. If you have a favorite Olfactive Studio Perfume we would love to know. Draw closes 2/13/16
We announce the winners only on site and on our Facebook page, so Like Cafleurebon and use our RSS option…or your dream prize will just be spilled perfume.