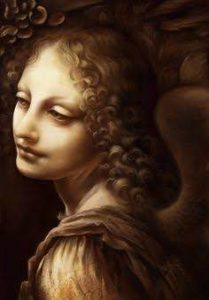 Detail, Virgin of The Rocks, 1508 de Vinci
The divine adornment of humanity. The qualities of your capacity to love, your spirituality, delicacy, radiance, sensitivity, creativity, charm, graciousness, gentleness, dignity and quiet strength. James E Faust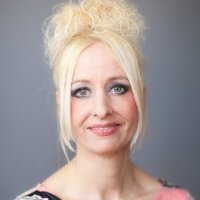 Nanne Bailey
Those of us who undertake explorations into sensorial delights, finding ourselves in the realms between worlds, the very essence of perfumery is to touch us in ways that are different to our everyday states, a leap out into the stretches of time and memory beyond the mundane. German perfumer Nanne Bailey is a woman of absolute faith, following her beliefs in her love of fragrance and devotion to Angels. In the true fashion of belief, she appeared in my life by just sending some very powerful words at precisely the right moment. Since then we have conversed quite a few times and I now explore her first creation avidly. The perfect introduction.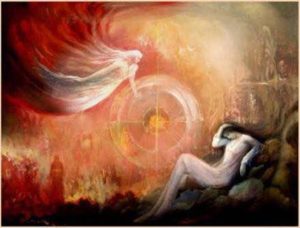 The Call of the Muse, Frydoon Rassouli©
As our conversations progressed I learnt that her absolute faith in the presence of Angels and passion for perfumery had led her to the creation of her own brand which was released at Esxence in Milan last month. It is an embodied Muse in a bottle, the fruition of a woman's journey from her heart and the Muse whispering in her ears, directing her intentions into form. Mi2, created from the Heart, Intoxication of Purity. ' Inspires and invites to establish a reconnection and touchability between heaven and your heartland, to improve the world with human qualities.'-Nanne Bailey.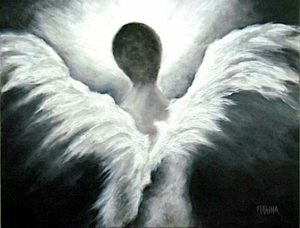 Compassion, Mariana Petro©
The Angels, Guardians unseen and those that keep us under their protection throughout our lives are prevalent the world over, as small children we are told that each one of us have a guardian Angel, a protector that has accompanied us since before birth, the one that presides over us as we sleep and through the dark night until dawn. Angels, Angelic beings are Universal, found in all cultures that in times dire need and distress they attend us.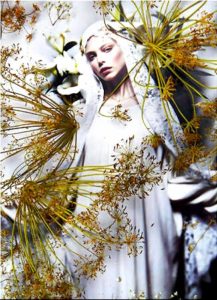 Ave Maria, Danil Golovkin 2010
It is the presence of a the knowing inner voice that whispers guidance on our human journey. of nor striving or struggling with something alone, in the darkness that can pervade our lives at times yet it manifests in so many facets of existence.Not just presence of some invisible force beneficent in our direction, but in certain people we meet who exude a similar force of compassion and with a glance or a smile can lighten your day.Angels, perhaps in a guise more familiar than the Archetype.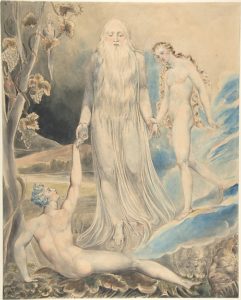 William Blake Angel of Divine Presence
This Angelic expression surrounds us in all things that radiate Truth, Beauty and Goodness in natural phenomenon, in people, in place, in nature and in devotional practice, inspiring in us the heart and soul qualities. Facets within this fragrance that demand us to be true without compromise to our humanity, to find that same clear expression. 'For Mercy has a human heart, Pity, a human face: and Love, the human form divine, And Peace, the human dress.' The Divine Image, William Blake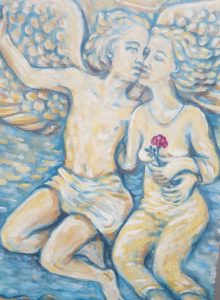 Over The Storm, Cindy Alger 2003 ©
Mi2 is total immersion from the moment it leaves the bottle and alights on the skin, Swathed in a protective envelopment, safe in our vulnerabilities, visceral in its beckoning. it has depth, descending through the layers of our lmmortal existence and yet it achieves this as subtley and silently as the brushing of a lovers lips on skin and it never waivers throughout its unfolding, there is a clear and sonorous holding of tone, as a note of pure perfection from the voice of a Diva. Richly refined, rarefied yet substantial. Just as the Archetypical Angels have been envisioned throughout time in various guises, gentle and adminstering, a softness from the Heavens and a sword wielders of justice and Truth, slicing through illusions.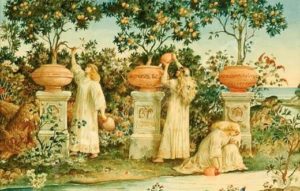 The Hesperides – Ricciardo Meacci
'Hesperidic prelude' is how the opening top notes are described; it's akin to breathing in with relief, alert, sun bright air of a morning kissed with blossoms of citrus flume, white and yielding, ozonic dew kissed leaves, herbal flowers and the earthy heat radiating from ancient stone walls as with lighter feet you are bidden to enter the walled orangery, a place of sanctuary from the world. Marble white statues and fountains play with water and light, beckoning you into retreat. Here you can rest a while to sit in Beauty, regain balance and sense of wonder, the steps back to your human self-imbued with divinity.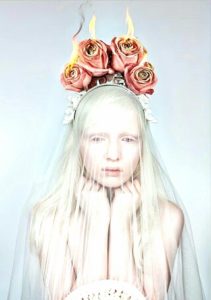 Fiery Floral 2010, Danil Golovkin
Resting back in this state, bright stars of jasmine spark into the heart notes, Rose and Sandalwood rise as a phoenix through the garden immersing me in a warmth and protection that flushes the skin with comfort as a traveler in the snows finding shelter by a roaring hearth. The glow manifest in heart as well as on flesh, sustenance to the Soul. This Rose is unique; I am not usually a fan of Rose fragrances unless they are distinctive. The Rose at its heart underpins everything; the scent of the Rose has often been present when the presence of Angels or those of Spirit are around us. Nanne writes, "The rose, known as the queen of flowers, is also associated with a very special angel, the angel Barachiel! He is the angel of blessings and miracles!"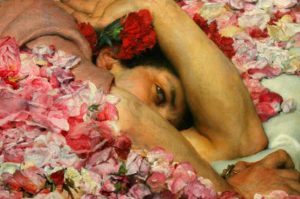 Roses Of Heliogabalus, detail 1888, Lawrence Alma- Tadema
Mi2's base exudes slowly and with intention to unveil its foundations of sacred resins and musk, a religious experience to heighten and elevate the rose at the heart, as we must elevate our senses to discern that of beauty and worth in a modern world whilst retaining a sure footing. It is a journey back to ourselves, to compassion, love, peace, virtue and kindness by first finding it in ourselves and invited by the wearing of this creation to extend it outwards to others. A fragrance of the direct transmission of Love, born of authenticity.
Notes:Clove, Grapefruit, Cinnamon, Bergamot, Mandarin, Rose,Jasmine, Sandalwood, Musk,Amber, Incense, Benjoin, Vanilla
Samples gratefully received from Nanne Bailey, opinions my own
Danu Seith-Fyr, Contributor
Co-Art Direction Danu and Michelyn
Thanks to the generosity of Nanne Bailey Parfums we have a 100ml bottle of Mi2 for 1 registered reader anywhere in the world. To be eligible please leave a comment with what appeals to you about Mi2, where you live, and if you believe in angels. Draw closes 4/27/2017
Please follow Nanne Bailey on Instagram @nanne_bailey_parfums and follow us @cafleurebon
We announce the winners only on site and on our Facebook page, so Like Cafleurebon and use our RSS FEED…or your dream prize will be just spilled perfume