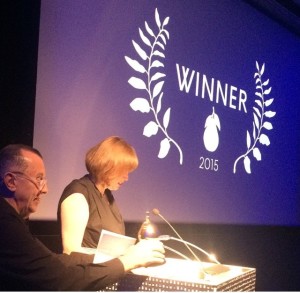 Isabelle Michaud accepting her 2015 Award: Photo by Stevie Wilson of LA Story
In 2015, perfumer Isabelle Michaud of Montreal's Monsillage Perfumes, won the prestigious Art & Olfaction Award in the Artisan category for her now-iconic Eau De Celéri. This spring, she debuts Pays Dogon which transports us to West Africa; to an inland area of Mali known as.Pays Dogon (Dogon country).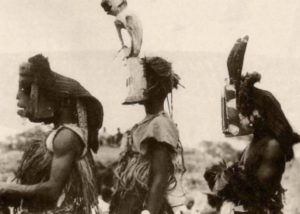 Dogon Masks Mali 1934 photo by Michel Leiris©
I suspect you've noticed that certain geographic regions and cities have a certain "signature" scent. I always think of London as being redolent with the smell of cold winter, petrichor, leather taxi seats, overheated rooms, and Indian take-away. San Francisco is all eucalyptus, fog, Chinese markets, and the Bay. Paris is just "Paris" (how does one even describe the smell of Paris)? For Pays Dagon, Mme. Michaud has created a scent which transports her (and us) to a magical time spent in an other-worldly place.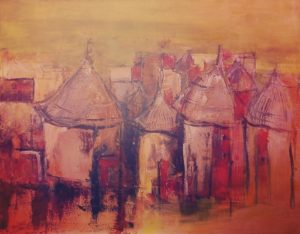 Mali le Pays Dogon via Landraud © and apped by MC
The Dogon people have been living in this sub-Sahara African area for more than a thousand years following their refusal to convert to Islam.This diaspora allowed them to keep their own religion, culture, and language which according to historians, bear similarity to ancient Egypt and Judaism. Dogon culture, the people, the stark landscape and the village markets are the inspiration for Pays Dogon.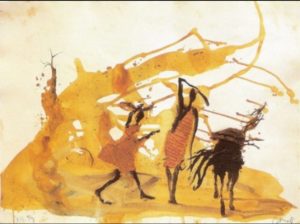 Dogon painting via Dogon Tmblr
"In Mali, amidst the vast Sahelian plains, lies an impressive escarpment called the Cliff of Bandiagara which extends for almost 100 miles. This geological formation creates a micro-climate, humid and arid, allowing for lush vegetation amidst a quasi-desert setting. It is the area surrounding the cliff that is the Dogon country, inhabited by the Dogon people many centuries ago who took refuge there from persecution for their animist-centered beliefs."-Isabelle Michaud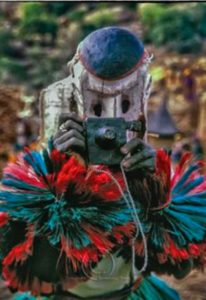 A Dogon Man imitates white tourists in a masked dance. He carved the camera from wood. Photo Rosemary Sheel 2000©
Monsillage Pays Dogon is a sun-seared and dazzling study in classical contrasts acting as a sort of olfactive map of the Dogon region. At times dry and parched as a desert landscape, then suddenly cool and verdant green, a calm oasis of crystalline water and electric jade or leek-green date palms whispering overhead. The pepper notes along with the ginger, date, and hibiscus bring in the feeling of a small village market that could just as well be on the African continent as on an island in the middle of the Mediterranean Sea. Underneath it all that same desert dry and sand-scoured wood scent combined with the bite of the vetiver and the beautiful mellow sandalwood give depth, roundness, and a true sense of place. A place far removed from our winter-weary lives in the west.
Notes: Green oasis, black pepper, pink pepper, ginger, hibiscus flower, guaiac wood, cypriol, sandalwood, patchouli, vetiver oil, and date.
Disclosure: Many thanks to Isabelle Michaud and Monsillage for supplying the sample. The opinions are my own
Robert Herrmann, Sr. Contributor
Art Direction: Michelyn Camen, Editor-in-Chief
Editor's Note: Monsillage is another brand that we believe deserves wider distribution. Our first review was in 2011 for Aviation Club, homage to the 60's when flying was fun and glamorous and when Isabelle spent all night playing poker. You can find Isabelle's beautiful fragrances in the USA at Twisted Lily in Brooklyn and Indigo Perfumery in Lakewood, Ohio
Thanks to Isabelle and Monsillage we have a 50 ml bottle of Pays Dogon for a registered reader in the USA and Canada. Please be sure to register if you have not done so. To be eligible please let us know what appeals to you about Robert's review of Pays Dogon, what scent or fragrance you asscoiate with your town, (Michelyn says NYC smells like Le Labo Santal 33 and Paris smells like EDLO Rien) and where you live. Draw closes 5/3/2017.
We announce the winners only on site and on our Facebook page, so like Cafleurebon and use our RSS feed…or your dream prize will be just spilled perfume.