Mojo Magique Inspiration book (photo John Kennedy)
Most of us who consider ourselves olfactory-obsessed are aware of recent studies suggesting that scent can cause intense reactions in us because it activates the parts of the brain that process emotion and memory. I have also noticed that many of my favorite perfumes are those that were inspired by memories, and I have a beautiful new fragrance to add to that list: Mojo Magique Belle. Belle is signed by perfumer Laurent Le Guernec (Bond No 9 fame) for Mojo, a boutique in West Monroe, Louisiana that began as an art gallery and has expanded over the years to include apparel, jewelry, house wares, and accessories of all kinds. Anything that comes from Mojo has a unique and distinctive style, and their fragrances are no exception. Belle is one of four fragrances that follow their debut scent Mojo Magique and includes Seer, Voodoo Child and Pixie Rose. Each are unique with a touch of Southern Gothic and composed by well known perfumers such as Pascal Gaurin, Jean Marc Chaillan and Carlos Benaim.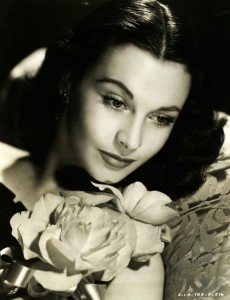 Studio Photo Vivien Leigh
Belle was born in childhood memories of the Deep South, specifically New Orleans, where the intoxicating scent of gardenia is prevalent and almost impossible to miss. Mojo Magique's co-founder John F. Kennedy explains "at our grandfather's farm, where air-conditioning was a rare treat, he would leave all the windows open to the house on summer days. As you were napping in any of the bedrooms with the breezes wafting throughout the house, you would catch a hit of the Gardenia and a bit of Jasmine riding the air from outside. He had Gardenia at the entrance to his food garden and also on the back corner of the home so literally the entire house was filled with the beautiful scent."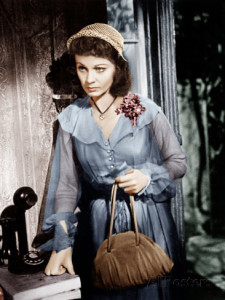 Vivien Leigh as Blanche DuBois " A Streetcar Named Desire" (1951)
Belle introduces herself with a cheery burst of citrus, but she's mostly all about the gardenia and it isn't long before that Grande Dame takes center stage. The gardenia is rich and lush, supported by a very bright, crisp jasmine, and brings to mind a taffeta bodice above a velvet skirt. There's some black pepper in the mix, too, and having been marinated in gardenia and jasmine it has softened a bit, but it certainly hasn't been tamed; it weaves in and out like an organza ribbon, adding still more texture to the fragrance. Belle remains gorgeous for hours, eventually coming to rest on a soft bed of sandalwood and very clean moss. It's the vetiver, a little dirty that lingers on the skin.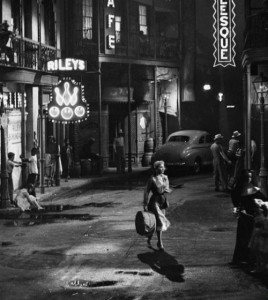 Vivien Leigh Streetcar Named Desire
She may look like sunshine but she arrives after dark. She is confident, sultry, dramatic, captivating, soft yet bold, lively and seductive, immediately bringing to mind actress Vivien Leigh in the role of Blanche DuBois in the 1951 adaptation of Tennessee Williams play (1947), "Street Car Named Desire".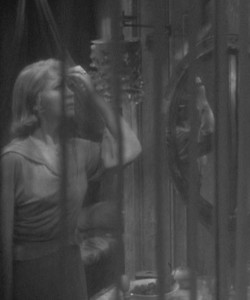 Vivien Leigh Streetcar Named Desire
On the surface she is a proper southern belle, pearls and gloves but underneath she is demanding and seductive. She is a perfume with a past shrouded in the mystery of New Orleans on a steamy summer night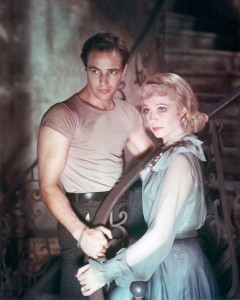 Marlon Brando and Vivien Leigh Streetcar Named Desire
As my grandmother used to say, a lady never makes a scene, but she often causes them, and I am pretty sure that if you happen to be wearing Belle under a full moon on a hot August night, anyone standing within three feet of you is going to be yours for the taking.
Notes: black pepper, orange blossom, mandarin, lime; gardenia, jasmine, orris, vetiver, moss, sandalwood and patchouli.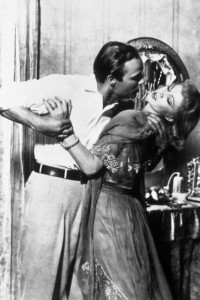 Marlon Brando and Vivien Leigh
DISCLOSURE Belle was provided to me gratis for review by the wonderful folks at Mojo Boutique, opinions my own and I'd have loved her at any price!
Tammy Schuster, Contributor
Art direction and theme Michelyn Camen
Thanks to John of Mojo Magique we have a draw for 3 registered readers as follows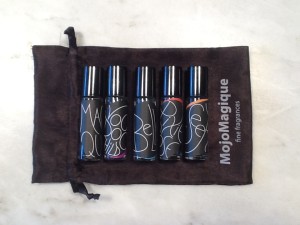 Photo John Kennedy for ÇaFleureBon
2 WORLDWIDE Readers: 5 X10 Ml of all five Mojo Magique fragrances: Magique, Seer, Pixie Rose, Voodoo Child and Belle. This is a special set made for ÇaFleureBon as the roller ball scents are sold seperately.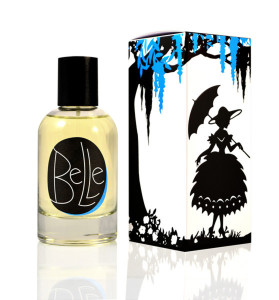 USA: 100ml of Belle
To be eligible please leave a comment with what appealed to you about Tammy's review, if you have seen A Streetcar Named Desire or visited New Orleans, where you live and your choice of fragrance should you win. Draw closes 3/13/2016
We announce the winners only on site and our Facebook page, so like CaFleureBon and use our RSS option…or your dream prize will just be spilled perfume