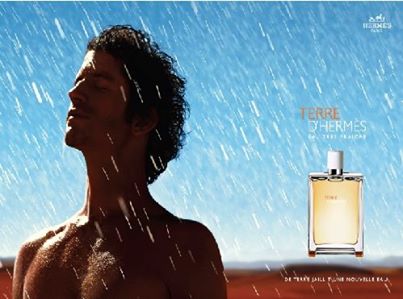 Hermès in-house perfumer Jean-Claude Ellena has once again picked up his perfumed pen and has rewritten one of his fragrances Eau Très Fraîche, the next chapter of the fragrant Terre d'Hermès saga. Released in mid-March and following the warmer woodier iteration of Terre d'Hermès Parfum (2009), this version is true to its name as it features more eau de cologne vitality.
Where Hermès Terre d'Hermès 2006 concentrated more on the symbiosis of mineral, spice and sky (described by Hermès as "a dialogue between bitter orange and woody notes and a clash between the solidity of earth and the freedom of citrus") and the Parfum version focused on the terrestrial woody and mossy aspects of Terre d'Hermès, Eau Très Eau Fraîche is inspired by the water hiding beneath the soil of a bitter orange tree. The opening of this scent differs from the original and is more vibrant, evoking warm sun and fresh air through a hazy veil of ocean brine. It is at the cedar and woody drydown where Terre d'Hermès Eau Très Fraîche shares a page from Terre d'Hermès.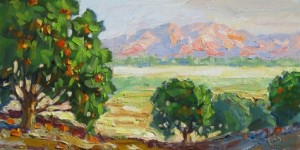 Thomas Brown Orange Grove Plein Air
M. Ellena's signature is instantly identifiable. Terre d'Hermès Eau Très Fraîche is a warm, joyous scent and feels familiar to me, reminding me of the many of the citrus fragrances that M. Ellena does so well throughout his stellar career (Pamplemousse Rose and Eau d'Orange Vert Concentree for example). A hint of cardamon and cumin spice, peak through and the scent has a nice salty aspect that keep things interesting. Eau Très Fraîche is aptly named as it should be splashed liberally as it does not last all that long on me, but you may have a different experience. If you are looking for an office friendly scent and one to enjoy wearing in the heat of summer, Terre d'Hermès Eau Très Fraîche is a great choice.
Notes: bitter orange, grapefruit, water notes, geranium, cardamon, vetiver, patchouli and cedar
Sillage: good, then moderate. Longevity: slightly below average.
Disclosure: Review based on tester sample sent to me by Hermès, Paris USA.
John Reasinger, Senior Editor & Natural Perfume Editor.