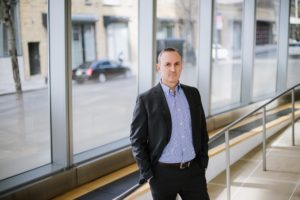 Chandler Burr (photo Chandler Burr)
You or Someone Like You, the newest release from Etat Libre d'Orange, has been on my mind (and wrists) a lot lately. You or Someone Like You, like almost every fragrance I've tried from Etat Libre d'Orange, fascinates me for a number of reasons. I love the ethos of the house: "…luxurious, provocative, sometimes ironic, often subversive, and always elegant." With You or Someone Like You I am especially intrigued by the fact that Etienne de Swardt, founder and creative director of Etat Libre d'Orange, handed over complete creative and artistic control of the project to journalist, author, perfume critic and curator of olfactory art, Chandler Burr. I consider Chandler's Burr's fragrance books, The Emperor of Scent (2003) and The Perfect Scent: A Year Inside the Perfume Industry in Paris and New York (2008), to be required reading for anyone interested in the art of olfaction and fragrance.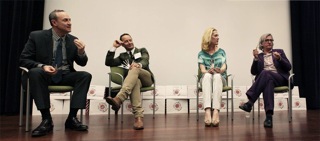 Chandler Burr, Etienne de Swardt, Mx. Justin Vivien Bond and Ralf Schweiger February 8, 2013 at Museum of Art and Design NYC (photo: Etat Libre D'Orange)
Chandler Burr is well-known for his reviews as perfume critic for The New York Times (2006 – 2010) and for founding the Department of Olfactory Art at the Museum of Art and Design in New York City in 2010 to name a few of his accomplishments. The fact that Chandler Burr has written about hundreds of fragrances and has an intimate knowledge and understanding of the world of perfumery made me even more interested in what he would bring to a fragrance of his own.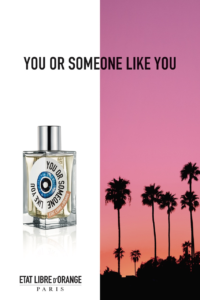 I was eager to experience the work of Chandler Burr and perfumer Caroline Sabas and was challenged by what Chandler Burr, in the role of creative director, had to say about You or Someone Like You: "The raw materials are completely irrelevant. The work is the work. If you need to know what it's made of, don't wear it; You is not for you."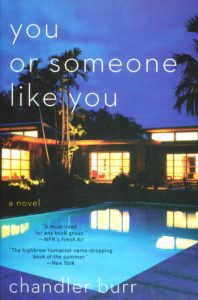 You or Someone Like You Book Cover
In 2009, Chandler Burr wrote the novel You or Someone Like You set in the Hollywood Hills of Los Angeles, CA. The female protagonist and central character of the novel, Anne Rosenbaum, is the muse for the new eponymous fragrance. Although I did go over the press release for the perfume I have not read the novel. I approached You as I approach most of the fragrances I review, purposefully avoiding lists of perfumer's notes before taking my first sniff. With an "open mind" and few preconceived notions or expectations, I believe I am more likely to judge the work for what it really is (to me) and not for what it is suggested to be.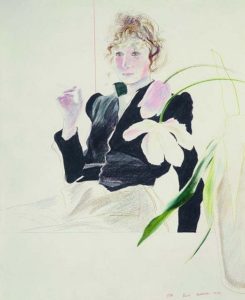 David Hockney, Celia in a Black Dress with White Flowers, 1972 ©
So what is You to me? I noticed that there was something pleasantly familiar about You. You or Someone Like You smells very much like someone I know and love. But who? You has all of the sparkling and confident characteristics of a strong, self-assured woman (or man). You projects an ethereal and joyous quality that makes me reach for it again and again.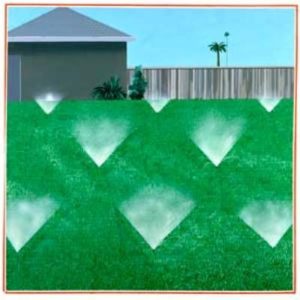 A Lawn Being Sprinkled, 1967 David Hockney©
You or Someone Like You opens as a cool, crisp, vaguely green herbal cologne and develops into a veil of mint, translucent white flowers and perhaps wet rose leaves or buds. Mint can be a very tricky note in fragrance, as it can recall the scent (or flavor) of toothpaste, chewing gum or a variety of personal care products. In You, though, the mint effect is simply – for lack of a better word – exquisite. After about an hour the mint (or whatever it might be) morphs into something like eucalyptus and pepper, eventually drying to a honeyed jasmine or perhaps dilute, delicate honeysuckle over a wet, clean, slightly rosy musk.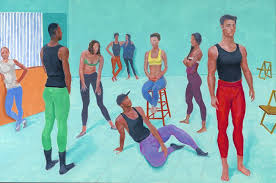 The Group XI 1984, David Hockney©
You or Someone Like You is never overwhelming and lasts for about six hours close to my skin. While You is not always me, You or Someone Like You is a fragrance I enjoy any time of the day or nightand feel comfortable wearing anywhere. I believe that many of you will too. Listed Notes: Rose, mint and herbs.
Disclosure: I am grateful to Etienne de Swardt of Etat Libre d'Orange for the generous lab sample of You or Someone Like You. My opinions are my own.
Gail Gross – Editor
Art Direction: Michelyn Camen, Editor in Chief -I chose the art of David Hockney, often called the father of British pop art who moved to Hollywood Hills in 1984.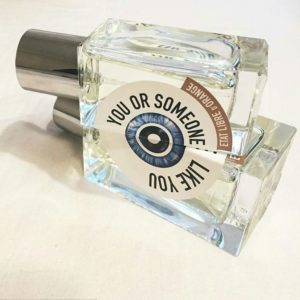 Thanks to the generosity of Etat Libre D'Orange we have one 50ml bottle of You or Someone Like You for one registered reader in the US, Canada or the EU (be sure to register or your comment will not count). To be eligible, tell us where you live, your favorite fragrance from Etat Libre d'Orange or your favorite book by Chandler Burr. Do you think that You could be for You – or someone like you? Draw closes 3/17/2017.
We announce the winners only on site and on our Facebook page, so Like Cafleurebon and use our RSS feed…or your dream prize will be just spilled perfume.