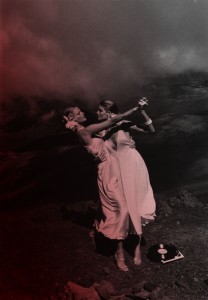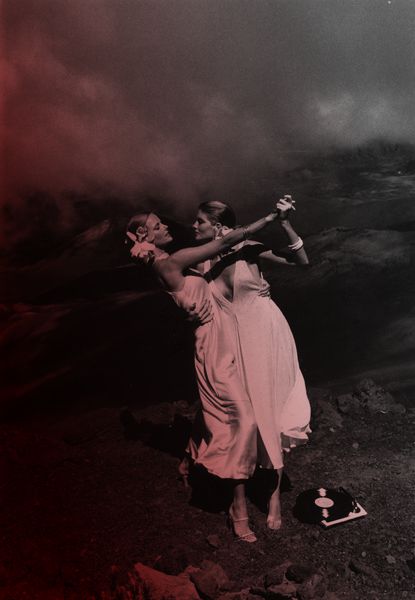 Fashion shoot for Vogue Cheryl Tiegs and Renee Russo Helmut Newton
Great perfumes are all about temptation. When people talk about buying perfume to get compliments, or to fall in love, they are asking the scent to speak the words they cannot or will not themselves. And each perfume has its own hidden phrases the wearer needs it to say. But as the fragrance world becomes larger and more commercialized, somehow the hidden voice of perfume has gotten smaller and more predictable, until temptation no longer has its own tongue to speak for us. Until now.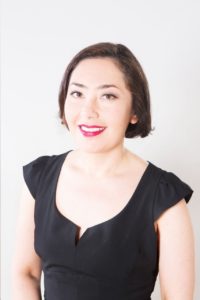 Barbara Herman: Author Of Scent and Subversion, Yesterday's Perfume Blog and Creative Director for Eris Parfums
Barbara Herman's new line of perfumes, Eris Parfums, created in collaboration with Master Perfumer Antoine Lie, defy every safe convention in perfumery and, in her partnership with iconoclastic perfumer Antoine Lie, has created a stunning trio of daring, sensual and suggestive perfumes.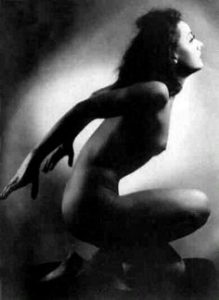 A young Greta Garbo Nude (photographer unknown)
Eris is a line made for people who demand to have their boundaries broken, and their personal protective space replaced by a darker curiosity. Her love and detailed history of the vintage perfume world led her in 2014 to begin work on creating her own line of scents, one that would recapture and re-energize some of the daring feel of her favorite perfumes from the past. The line takes its name from Eris, the Greek goddess of troublemaking and disruption.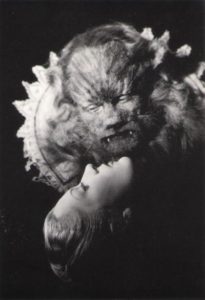 Jean Marais & Josette Day – La Belle et la Bête, Jean Cocteau
French Cinema is another leitmotif for two scents in the collection. In her press copy Barbara shared: "At the end of the 1946 premiere of Jean Cocteau's "La Belle et la Bête," when the Beast transforms into the handsome prince, Greta Garbo is said to have cried out from the audience, "Give me back my Beast (ma Bete!) It's an allegory for my discovery that vintage perfumes had this dark, erotic, emotional element that I felt was missing in most contemporary perfumes and that I wanted to put back in," says Barbara. "Antoine Lie and I have reimagined the intensity and eros of perfumes of the past for a contemporary audience. We wanted to bring back the emotion of animalic perfumes."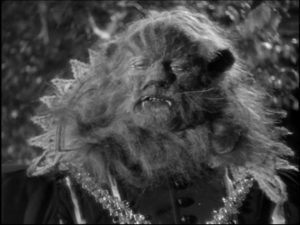 Jean Marais La Belle et la Bête, Jean Cocteau
And in Ma Bête , (My Beast), they have done so in dramatic fashion. Billed as a "collision between the floral and the animal", Ma Bête wastes no time on pleasantries. There's a brief hint of Tunisian neroli at the start, which is instantly subdued by a 50 percent massive OD on animalic accords. This perfume is an enormous wolf whose pelt is soaked to the bone in sweat, heat and rain. The light, faint neroli here is absolutely swallowed up in its black, muscular shadow. It also happens to be so blatantly sexy that your breath will catch in your chest. Temptation has most definitely found its voice again, and you will feel its hot breath in your ear, the pulse in its throat, and the weight of its pelt on your skin. You don't wear Ma Bête ; you submit to it.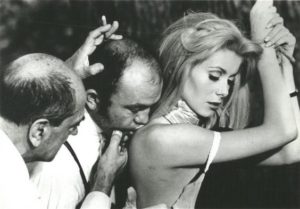 Luis Bunuel, Michel Charrel and Catherine Deneuve on the set of Belle de Jour, 1967
The other two scents in the trio, are not as feral as Ma Bête but that doesn't mean they aren't just as intense in their own way. Belle de Jour (named for Luis Bunuel's Surrealist French film starring Catherine Deneuve) is a demure orange blossom and jasmine floral that is torn asunder by a pronounced seaweed absolute accord. Night Flower is a cardamom-spiked, suede-wrapped tuberose scent that perforates the traditional powdery aspects of tuberose with safety pins pulled from a gutter punk's jacket.
All three of these scents can be worn by women and men and are calibrated to make undeniably strong statements when worn. The notes are deeply embedded and the sillage is moderate to strong.
Pam Barr, Senior Contributor
Disclosure: I received my samples from Eris Parfums
Art Direction: Michelyn Camen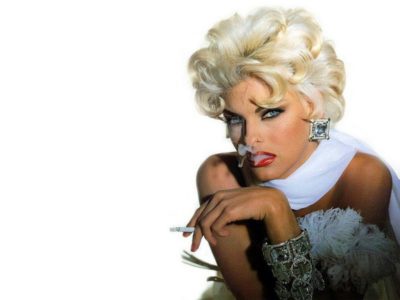 Linda Evangelista by Patrick Demarchelier
Editor's Note: Barbara met Antoine Lie while researching her book Scent and Subversion. In an email conversation with Barbara she wanted to covey to our readers that these fragrances are not yesterday's perfumes, but what she calls neo-vintage. I was at Sniffapalooza when Barbara presented Eris Parfums I was immediately captivated by Night Flower, which I found narcotic, erotic and more of a femme fatale fragrance than Pam's description. I have trouble with tuberose in many pefumes as we fight each other for attention. She usually wins. Not here. While Barbara envisioned Kate Moss at 3:00 AM dressed in vintage fur smoking a cigarette, the click click of her Louboutins echoing behind her, I had a different experience. This brought to mind another 90s model Linda Evangelista in all her Glamazon glory, not getting out of bed unless she was paid 10 grand for a shoot. She's wearing a leather sleep mask, not yet showered so her skin gives off a musky floral scent, a trail of the fragrance she wore to a party last night floats around her. For me "La Belle" tamed Ma Bête into submission. -Michelyn Camen
Thanks to Barbara Herman and Eris Parfums, we have a draw for a sample set of Ma Bête, Belle de Jour and Night Flower for a US registered reader. To be eligible, please leave a comment with what you enjoyed about Pam's review of Ma Bête and Michelyn's Mini review of Night Flower. If you have read Scent and Subversion and which of the three Eris Parfums appeals to you. Draw closes 6/8/16.
We announce the winners only on site and on our Facebook page, so Like Cafleurebon and use our RSS option…or your dream prize will be just spilled perfume