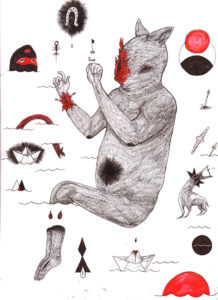 Figa by EduardoTaborda ©
No matter where you are in the world one click of the T.V. remote to the news station will show substantial proof that we are currently living in a time where evil prowls about like a lion seeking whom it may devour. From political issues to global warming concerns and the audacious moves of large corporations exiling indigenous peoples from their homelands to exploit the natural resources evil is every where. How do we keep hope alive in such a time of peril? Where do we turn for comfort and reassurance that everything will be ok in the long run?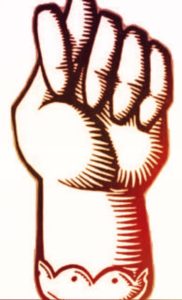 In the past our ancestors used long forgotten stones, tablets, and amulets for protection against evil spirits, and in the lands of Spain, Portugal, Italy, and Brazil the Figa talisman was commonly used to protect individuals from evil doers and to empower them to overcome any of life's trials and tribulations. Shelley Waddington of En Voyage Perfumes chose to draw inspiration from the powerful closed fist with the tip of the thumb poking out between the index and middle finger for her fragrance submission for ÇaFleureBon Project Talisman.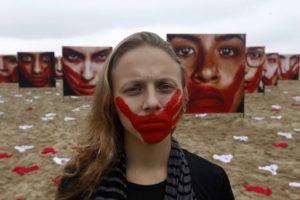 Photographs by Marcio Freitas of models portraying women who are abused are displayed on Copacabana beach with 420 pairs of underwear at a demonstration against violence against females on June 6, 2016 in Rio de Janeiro,
"Figa is slyly political in the face of tough contemporary political issues, and is specifically designed to wear for personal protection from evil, be it from people or governments." Shelley Waddington, En Voyage Perfumes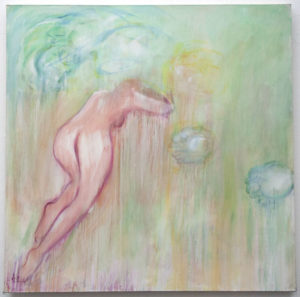 Dreamers, by Natasha Wright
Figa eau de parfum is the fragrance equivalent of the powerful Figa amulet and each precious oil it contains is a celebration of strength, vision and success and reflective of their ritualistic uses. The opening to Figa is strong and bright with bergamot like the powerful glory of a shining savior sent from the skies to help mankind. Soon the freshness of geranium is detected along with the loving affection of rose, sure to remind the user that all hope is not lost and compassion shall be restored amongst society once again. As the fragrance dries down cedarwood imparts its honor and dignity into the heart while patchouli wards off any other remnants of evil and the soothing aromas of amyris and sandalwood continue the healing and restoration process. After the final show down between good and evil is complete the sweet smell of vanilla lifts the spirit and makes a promise of good fortune while labdanum focuses the attention and reminds man that in order for peace to continue on earth we must take responsibility for our actions and be mindful of who we impart power to.
All in all Figa was a wonderful fragrance to experience, the projection is excellent, has a soothing effect and the sillage very good- a fragrance that is perfectly balances. I would say that this fragrance knows no gender and could be worn year round.
NOTES: Bergamot – Geranium – Rose – Jasmin – Violet – Patchouli – Cedarwood – Amyris – Sandalwood – Vanilla – Labdanum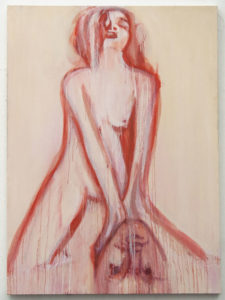 Breathless by Natasha Wright ©
Senhorita Figa by The Nosey Artist
"Senhorita Figa, Senhorita Figa
They don't believe ya
The promises they make,
Come from lips too eager
Senhorita Figa, Senhorita Figa,
Protect me from evil
I'm aware of the stare,
That I get from the people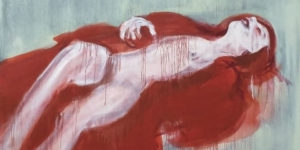 Unfocused, by Natasha Wright©
May your vanilla sooth my sovereign soul,
May your jasmine bring me warm blessings
Let your patchouli protect me from perils,
And your rose essence radiate affection
There's a blanket of evil of that hovers,
Like a cloud that hangs low to the ground
I need your labdanum's power to cover,
Open the eyes of all who are confused and dumbfound
There's a spiritual war that's among us,
Those in office are plotting a plight
Their greed is brooding with hunger,
We need your power to stand up and fight
No one is safe from the terror,
That the thief shall bring in the night
We make the fist and point out the errors,
And united we shout as we fight
Senhorita Figa, Senhorita Figa,
They don't believe ya
The promises they make,
Come from your lips too eager
Senhorita Figa, Senhorita Figa
Protect me from evil
I'm aware of the stare,
That I get from the people"
Disclosure: I received my sample of Figa courtesyof Shelley Waddington of En Voyage Perfumes
Art Director and Creative Director for Project Talisman, A Multi Perfumer Collaboration to Celebrate ÇaFleureBon's 7th Anniversary– Michelyn Camen, Editor-In-Chief. The words Figa and Fica have dual meanings, Fig and women's genitalia. The mana fica connoted to me women's rights although the scent is unisex. Most of the Art is By Natasha Wright a New Zealand fashion illustrator based in New York City.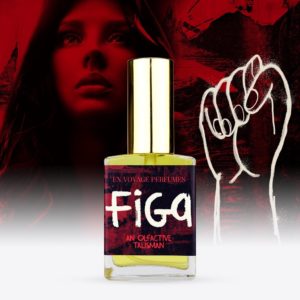 Thanks to Shelley Waddington we have a world wide draw for Figa for two of our registered readers as follows: 1 15 ml bottle for a USA reader and a 5ml (you have to be a registered reader to be eligible). Please leave comment below what you liked aboutThe Nosey Artist's review and rap poetry, where you live and if you have a favorite En Voyage Perfume.
We announce our winners on our site and via our Facebook page so be sure to like CaFleureBon (WE ARE REALLY CLOSE TO 7000 SO PLEASE RECOMMEND TO A FRIEND) and follow our RSS feed or your dream prize will just be spilled perfume.