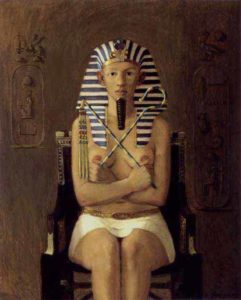 Hatshepsut came to the throne in 1478BC
A radical who broke with tradition, an architect responsible for some of the greatest buildings of the age, a shrewd industrialist who reopened lucrative trade routes, Hatshepsut was also a woman pharaoh – the only woman ever to achieve the throne in her own right — at a time when females could not rule except as regent or proxy. This was Hatshepsut, the first female pharaoh of Egypt.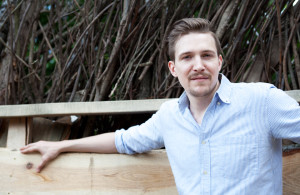 Douglas Bender Image by Hope Youngblood
On a trip to Egypt some years ago, Douglas Bender of Charenton Macerations first heard the history of Hatshepsut. Instantly hooked by her refusal to submit to the expectations of gender norms and the stupendous achievements of her reign, Bender set to work in collaboration with perfumer Cecile Hua of Mane USA on a fragrance concept inspired by the first great woman of known history. This is Charenton Macerations' third perfume; the first was the ground breaking Christopher Street in 2013, created with Ralf Schwieger, a finalist in the 2014 Art and Olfaction Awards and the second Asphalt Rainbow, a multi gendered deconstructed rose inspired by street art.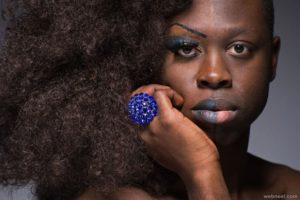 Half man, half woman, photo by Leland Bobbe
This was a woman who understood politics and the potency of symbolism. In a time of divine right, Hatshepsut claimed the god Amun-Ra as her father, who appeared to her mother Ahmose "in a flood of light and perfume." To manage the paradox of a woman king, Hatshepsut also cleverly created a visual iconography of dual sexuality through the hundreds of likenesses she commissioned that show male garb juxtaposed on an undisguised femaleness.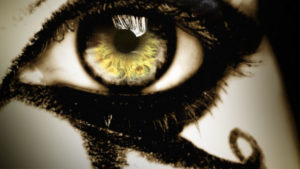 Eye of Horus (kohl eye)
Eye, Hatshepsut runs with this biformity, playing with dynamics of male and female in fragrance. According to Douglas Bender, "We looked for fragrances from Hatshepsut's life through all angles, bringing them together to form the olfactive story of Eye, Hatshepsut." The perfume is described on the Charenton Macerations website as juxtaposing "softer, sweeping floral arcs (lotus, iris) with starker, contrasting resinous edges (kohl, kyphi), blending strength and beauty together against the crystalline backdrop of the Saharan sands."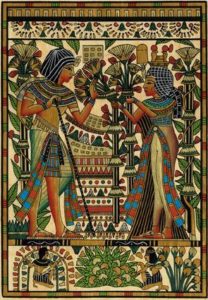 Egyptian Papyrus depicting a man and woman
Eye, Hatshepsut releases its notes in layers that intermingle ancient and modern. It opens masculine, with a sharp, slightly mentholated blast of green papyrus (a plant related to cypress) which could be at home in a new wave fougere. This note fades quickly recedes in favor a dusty, vinous note, like a cask of red wine kept cellared and forgotten. A distinct crayon-y smell of tallow emerges next along with a soft smolder of incense. Airless darkness punctuated by taper light. We have, for a small moment, stepped backward in time.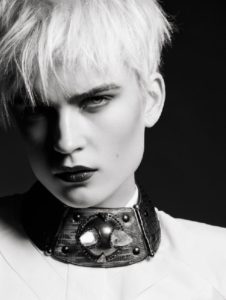 Jana Knauerova for Dolce Vita Magazine March 2011
A full hour later, a barely sweet labdanum and a fleshy lotus surface as Eye, Hatshepsut takes on a more female quality which lasts through the rest of the scent's arc before it is grounded in parched, earthy patchouli. Because the kohl-like note remains a counter-melody over the entire composition, Eye, Hatshepsut achieves the unusual quality of never seeming either truly masculine or feminine, although I would hesitate at giving it an easy contemporary term like unisex. It just doesn't fit a fragrance this off-center. Rather, Eye, Hatshepsut is genderless.


Karnak at night source tripadvisor.com

Hatshepsut wondered at her posterity, engraving her worries on an obelisk in the great temple of Amun at Karnak,: "My heart turns to and fro/In thinking what will the people say/They who shall see my monument in after years/And shall speak of what I have done." An olfactory embodiment of the contradictory imagery of its namesake, Eye, Hatshepsut pays fitting tribute to this most singular of women.
The notes for Eye, Hatshepsut: Papyrus, Blue Lotus, Smoke, Burnt Tallow, Kohl, Cinnamon, Honeyed Wine, Orris Butter, Spiced Patchouli, Incense, Labdanum, and Egyptian Musk. Sillage is average, though the dominant notes last for 6-8 hours.
DISCLOSURE this review was based on a sample sent to me by Charenton Macerations. Opinions are my own.
— Lauryn Beer, Contributor
Editor's Note: Douglas is a guest contributor for ÇaFleureBon and wrote a 3 part series The History of Queer Fashion and The Untapped Potential of Queer Fragrance, which included one of our most read articles of the past three years: Post War, Stonewall Riots and Aids Politics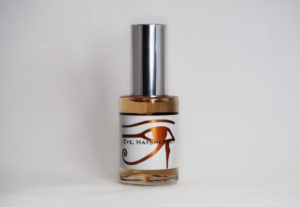 Thanks to the generosity of Charenton Macerations, we have a 30 ml bottle of Eye, Hatshepsut ($100) plus 4 discovery sets for 5 registered readers in the US. The draw for the full bottle will be random, and the sample set includes Christopher Street, Asphalt Rainbow and Eye, Hatsheput To be eligible please leave a comment with what appeals to you about Eye, Hatshepsut based on Lauryn's review, if you have heard of Hatshpsut, or have a favorite female Egyptian Pharoah,and if you have a favorite Charneton Macerations perfume. Draw closes 7/18/2016
Support our indie olfactive artist community … buy samples and bottles from their sites. $6.00??? !!!!
We announce the winners only on site and on our Facebook page, so Like Cafleurebon and use our RSS option…or your dream prize will be just spilled perfume