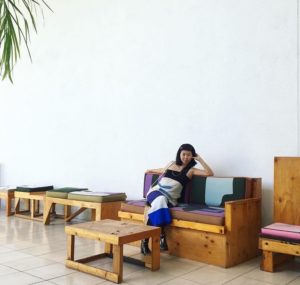 Beau Rhee of Atelier de Geste (photo courtesy of Beau Rhee)
Beau Rhee of Atelier De Geste created Blues, her first 100 percent botanical fragrance in conjunction with Stones, as an artistic expression of her love of natural elements. The fragrance is richly balsamic with a marine opening that reminds one of the smells of drying sea water upon the deck of a ship set sail across the ocean.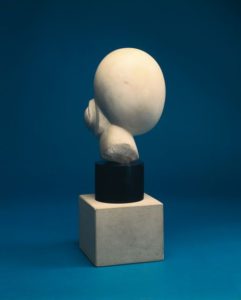 CONSTANTIN BRANCUSI Head of a woman, 1925
An enigmatic chypre, Blues in many ways reminds me of the carved female figure on the bows of ships. The way the woodsy base notes accentuate the marine aroma at the top give way to this illusion and the resins add a spicy element to the floral notes that provide the perfect back drop of warmth and romance. As the fragrance develops and the saltiness of the sea weed fades, making way or the creamy, rich aroma of jasmine that blossoms on top of the oakmoss base. After a half an hour on my skin, I detected a brandy/blood like accord that I found dangerously exciting. Perhaps that was the perfumer's intention with Blues, is to allow the wearer to embark oms a fragrant inner journey- understanding that with bliss there is burden, joy with pain, and with love won with love lost.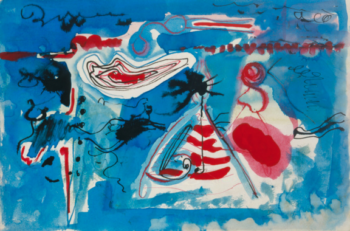 Mark Rothko (The Water Color Series)
Although homage to the color blue, I found that this fragrance to be vivid, with Beau Rhee's signature movement and seemingly painted in abstract watercolors. Sillage is close as one would expect from a 30 percent extrait and longevity is over six hours.
Notes: Neroli, Jasmin, Olibanum, Vetiver, Seaweed Laminaria, Gurjum, Petitgrain,Cedarwood Absolute, Oakmoss Absolute
Disclaimer: I received my sample of Blues curtesy of Twisted Lily
The Nosey Artist and contributions from Michelyn Camen, Editor in Chief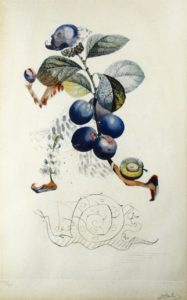 Salvador Dalí, PRUNIER HATIF
Editor's Note:Art direction: Surreal and abstract watercolor and sculptures that I know Beau favors. Homage to The Nosey Artist dream that he was in Spain and tribute to the botanical nature of Blues, Salvatore Dali, the Spanish Surrealist artist born May 11, 1904. Beau was one of the artisan perfumers exhibiting at the recent AIX Scent Fair this past weekend at the Hammer Museum in LA..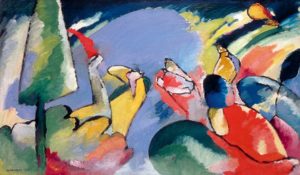 Improvisation 14 Wasilly Kandinsky
In Living Color by The Nosey Artist
(Inspired by a dream I had of moving to Barcelona after I wore Blues before bed)
To feel love in every way,
To see life from different views
Gives my heart a jolt of joy,
I experience different hues
I was once so confused,
Emotionally abused
But I no longer sing the blues,
I experience different hues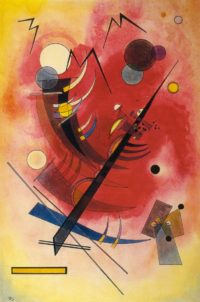 Kandinsky – Inner Simmering (Inneres Kochen), 1925
Reds of romance paint the future that's ahead,
Sun kissed by yellow rays that illuminate my head
Illuminate my mind make my third eye wink,
Send me innocent reminders that we are what we think
I'm tickled pink, my brown skin is now in,
Places I never dreamed from public housing
The mountain side is greener than my envy used to be,
I greet my neighbor's hoping that they'll soon get used to me
A foreign man in a foreign land,
Sitting across a Spaniard that had an orange tan
She asked me about my love life,
I responded with a smile and said, "I love life"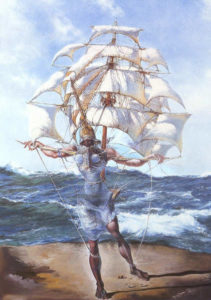 Salvador Dalí, The Ship, 1943
To feel love in every way,
To see life from different views
Gives my heart a jolt of joy,
I experience different hues
I was once so confused,
Emotionally abused
But I no longer sing the blues,
I experience different hues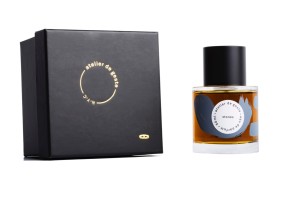 Courtesy of Beau Rhee of Atelier de Geste we have a perfume draw for our US, Canada and EU registered readers (yes you must be registered fragrance friends), for a discovery kit 8ml x 2 of Stones and Blues. Please leave a comment below with what intrigues you about Blues and what you liked most about The Nosey Artist's rap/prose. Draw closes 51/3/2016
We also announce our winners on our Facebook page so like Cafleurebon or use our RSS option…or your dream prize will just be spilled perfume