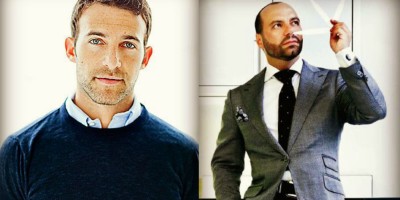 Carlos Huber and Master Perfumer Rodrigo Flores-Roux
Creative Director Carlos Huber of Arquiste Parfumeur has once again enlisted friend and perfume partner, Master Perfumer Rodrigo Flores-Roux for the new House's new fragrance Nanban. The name is a Sino-Japanese word (南蛮, "southern barbarian") originally refers to foreigners arriving to Japan from the south seas and later became a known as a style of art that Carlos Huber describes Nanban's origin story in this way: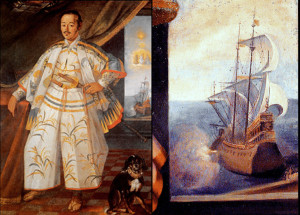 Hasekura Tsunenga sailed through Acapulco and The San Juan Bautitsta (Claude Dereut) 1615
"I was traveling to Japan for the first time in March 2014 – a country that had fascinated me in all the aspects of its culture and that's history intrigued me. By chance, I found out about Hasekura Tsunenaga, the Japanese ambassador, and his journey to Mexico and Europe, the very one that inspired this fragrance. From my own studies of Mexican history, I knew of the famous commercial route from the Philippines to Mexico and then to Spain. One day, I stumbled upon the story of a singular trip that carried the first official embassy of Japanese noblemen to Europe, stopping in Mexico. Wherever they went, they tried securing commercial agreements in order to import goods to Japan. What luck that when I arrived in Tokyo, the National Museum was celebrating the 400 year commemoration of the journey, exhibiting Hasekura Tsunenaga's original portrait.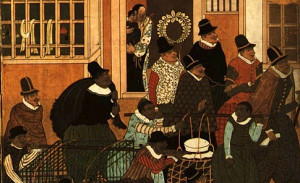 Nanban Screen -Wikipedia
They also displayed Japanese screens painted in Nanban style, meaning 'Western or European" style, since it derived from the foreign traders' influence in Nagasaki in the early 17th century. I was fascinated to discover a story that connected Mexico to Japan, and provided me a way to tell a Japanese story, from the outside, as a foreigner, like the original Nanban".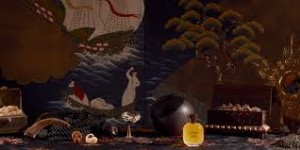 Arquiste Nanban Tableau
This is a deeply personal back-story for both perfumer and Creative Director, who were both born in Mexico City. Perhaps it is this connection that contributes to an outstanding perfume that is rich, complex, daring and absolutely unforgettable.
Portugese carrak in Nagasaki Japan (Nanban), Kano Naizen 1616
Imagine a life at sea. Not one in our age, where you can lie pampered on several decks, or underneath a billowing white sail while sipping white wine. Instead, do this: imagine a galleon, from long ago, rocking back and forth on unchartered waters. In its deep hold in the belly of the ship there are treasures from three continents deep. There are enormous barrels of black tea and orange saffron lurch against hemp bags filled with ripe coffee beans. The aromas are enormously rich, so much so that even the walls of the ship are saturated with them, the hull acting as a reflecting mirror and overtaking your senses.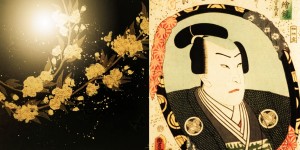 Japanese Osmanthus and Utagawa Kunisada (Toyokuni III), Japan, 1786-1865
You might expect that notes of black pepper and saffron at the top, would overwhelm or sharp but instead all the nose-wrinkling spice has been shaved down to an almost suede-like texture, and stretched out into a gliding sheen. I found myself inhaling as deeply as I could. Nanban is exhilarating and intoxicating, both tenacious and subtle, a difficult trick to pull off in an Oriental scent. There is a marvelous osmanthus note pervading Nanban that holds its own with the more muscular saffron, coffee, black tea and leather that arises like the warm wind that carries the galleon from storm to shore.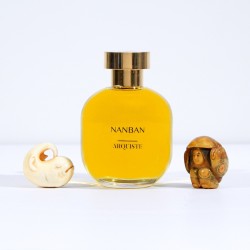 What intrigues me the most about Arquiste Nanban is its perfect orchestration – even if you've never worn perfume in your life, you will instantly be able to smell how all the notes and accords sing together in harmony. There are no hitches from top to heart to base, and no single note dominates. I am particularly impressed by the unexpected combination osmanthus and coffee that strike a perfect balance (such an unexpected combination!), and how the entire composition can carry off an almost incense-like feel while retaining an inner softness and sweetness. This perfume sings. It shines on the skin with a clarity and depth I have yet to smell in any other scent I have written about this year. Nanban is everything a perfume should be. Intoxicating and unique, Nanban is a scent that should be explored as much as worn, just as the mariners on that galleon explored continents far beyond their own. In an already wondrously crowded field, Nanban has made my personal list for Best of 2015.
Nanban has above average longevity, one spray lasted an entire day. On my skin, Nanban went from early morning shower, an hour long workout and then on into the next morning, where it was faint, yes, but still quite present. I seriously doubt I've come across another perfume this year that was this tenacious – it's as if it were built upon an enormous granite throne
Notes: Malabar black pepper, Persian saffron, black tea accord, Chinese osmanthus, coffee absolute, Spanish leather, myrrh, frankincense, styrax, sandalwood, copaiba balsam, cade
Pam Barr, Sr. Contributor
Editor's Note: Architect's Club, composed by Yann Vansier was a ÇaFleureBon 2014 Best of Scent. Master Perfumer Rodrigo Flores-Roux was our Best Perfumer of the Year in 2012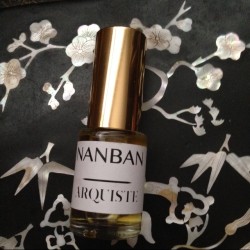 Thanks to Carlos Huber, we have a draw of a 15 ml press pump for a registered reader worldwide. To be eligible please leave a comment with why you want to win Nanban, where you live and your favorite Arquiste Perfume. Draw closes September 13, 2015.
We announce the winners on our site and on our Facebook page, so Like Cafleurebon and use our RSS option…or your dream prize wil be just spilled perfume