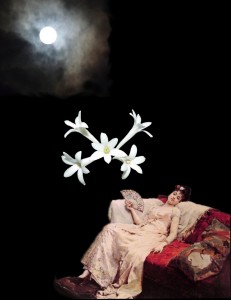 Enticing Collage composed by Anya McCoy – Super Moon over Miami and Tuberose photos by Anya McCoy – Reclining Lady by Raimundo Madrazo
Get ready to be carried along on a journey of carnal desires sought out and satiated with the new release from Anya's Garden Perfumes, Enticing. Enticing binds the sultry white floral scent of tuberose to the intoxicating smell of a lover's warm skin, celebrating the sexiness, sensuousness, and dangerous pleasures that are promised in the lore surrounding tuberose.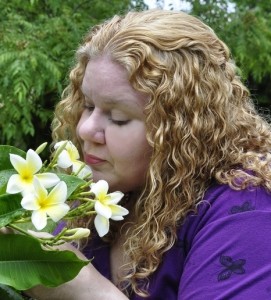 Anya McCoy of Anyas Garden Perfumes
Perfumer Anya McCoy of Anya's Garden Perfumes has built a sophisticated and well-rounded line of all natural perfumes. When the latest spark of inspiration brought Anya to the perfumer's bench, it was by way of two of her early passions: herbalism and ethnobotany. The legends and properties of tuberose inspired her to explore and exalt this "bad boy of flowers" in her new perfume.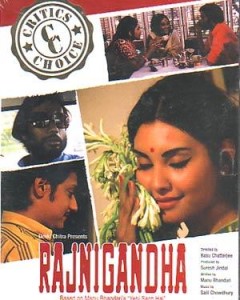 Movie poster for Rajnigandha, (Tuberose)
Anya's ethnobotanical research traced the history of tuberose from its origins in Mexico. It was appreciated for its fragrance, but its nefarious reputation did not begin until it started its journey across the globe in a most unusual way. Unlike cocoa, vanilla, and many other resources from the region that followed a trade route from west to east across the Atlantic, tuberose traveled from east to west through the south pacific and arrived in Indonesia. It spread through India and the Middle East, arriving later in Italy, France, and Spain. It was in the most unlikely of places, in India, that its tale began to grow. India was known for its rich and sensuous resources and practices. From jasmine flowers, sandalwood pastes, and fragrant attars to its collection of erotic texts such as the Kama Sutra, one might have expected India to embrace the captivating and alluring scent of tuberose.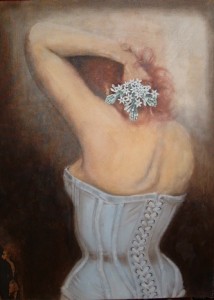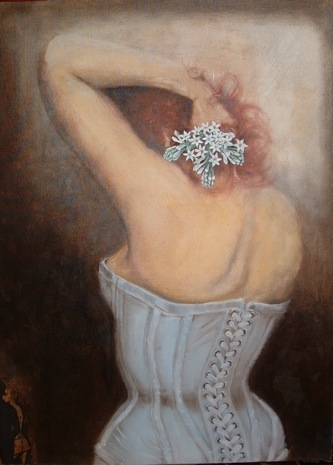 Dangerous Pleasure Belinda Durrant
Instead, it was attributed with bewitching properties and a reputation held by few other flowers, able to compel good girls to abandon virtue and chastity for a taste of erotic enjoyments, leaving them ripe for seduction. A potent evening-blooming flower, its scent would spread through the night air to lead young women astray. Tuberose's scent is multi-faceted and complex, showing shades of green, wafting heady and intoxicating white flower notes, and revealing smooth creamy aromas hinting at pleasures of the flesh. How could such a flower fail to inspire myths, legends, and perfumes?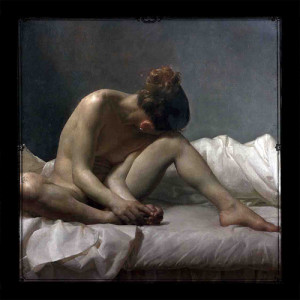 Jacob Collins Seated Nude 2011 artnet.com
In Enticing, Anya explores the many dimensions of tuberose, but truly exalts and embraces the creamy, musky, sexy notes of skin. During her research on tuberose, she began to wonder if there may be some primal, pheromonal effect possessed by this simple looking white flower that fueled young women to such states of desire and want. With a deft and careful hand, without allowing it to becoming harsh or vulgar, Anya combined tuberose absolute with a handmade extract of tuberose from her garden and began accenting and emphasizing the creamy skin scents and fixing them on a warm sultry base including genuine musk tincture.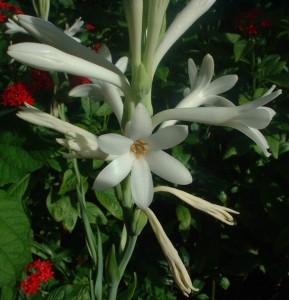 Daytime Tuberose photo by Anya McCoy
Enticing opens with a bright and enlivening green note reminiscent of fresh cut flowers. As this refreshing scent lulls you into a happy comfort, the rich and opulent floral aromas of tuberose begin to assert themselves and Enticing's spell has caught hold of you. The sumptuous, creamy, buttery white flower notes dance in and out of the greens, hypnotically pulling your nose back to it and stoking the fires of the libido. It's easy to relax and let go into tuberose's warm embrace, losing yourself in thoughts of amour. As the fresh cut green recedes, a spicy muskiness begins to blend with the buttery floral notes of tuberose, suggesting a depth and darkness, the nighttime hours when tuberose seduces. It conjures to mind drawing a stem of tuberose flowers along a lover's bare skin. Eased into the spell is a touch of damp, fertile soil that speaks of stealing away to a dark quiet corner of a greenhouse or to a secluded space outdoors under the moonlight to seek out promised pleasures. As the last breaths of tuberose's heady scent fade, the carnal deeds commence, full with musk and earth and sex. The deeds done, this rich musky scent lingers like that of a lover's skin, a memory of forbidden pleasures sated and promises of more to come.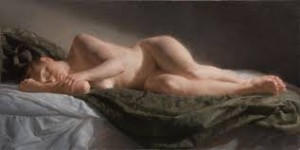 Jacob Collins, Odalisque, 2009 Courtesy John Pence Gallery, San Francisco, California
Enticing is a musky floral tuberose that wears closer to the skin as with many natural perfumes, but shares its scent well with those in close proximity. It has wonderful longevity, lingering on the skin for well past 6 hours. Its scent carries on clothes into the next day. While a strong floral often tends towards feminine, this scent can easily be unisex and is sure to draw much attention to a male wearer.
Perfume Ingredients: Tuberose Absolute, Scented Alcohol extracted from Anya's handmade Tuberose Enfleurage Pomade, Butter CO2, Opoponax Absolute, Clary Sage EO, Terpene Acetate Isolate ex. Cardamom, Beeswax Absolute and Anya's handmade Beeswax Tincture, Patchouli EO, Mushroom Absolute, Siberian Musk Tincture.
–Michael Singels, Guest Contributor
(disclosure: my sample was provided by Anya's Garden Perfumes for review)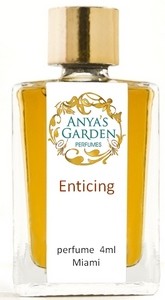 Thanks to the generosity of Anya's Garden Perfumes, we have a draw for a 4ml pure perfume extrait of Enticing for a reader in the USA. To be eligible please leave a comment with why you want to try Enticing, what appeals to you about Enticing and if you have a favorite Anya's Garden perfume. Draw closes 6/1//2015.
We announce the winners only on site and on our Facebook page, so like Cafleurebon and use our RSS option…or your dream prize will be just spilled perfume