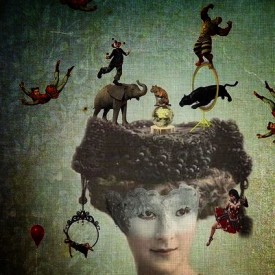 I imagine myself at the circus whenever I'm sent a new release from 4160 Tuesday's. Founder and fragrant entrepreneur Sarah McCartney has her pipettes dipped into so many different projects, I marvel at her ability to be seemingly everywhere at once, she is the type of women who could walk the high wire, wearing a feathered headdress while juggling fireballs and singing at the top of her lungs.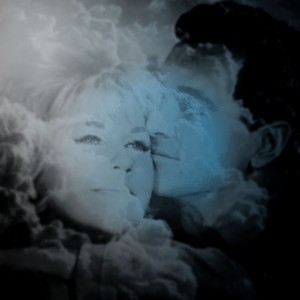 Doris Day and Rock Hudson (digitalized)
Such ingenuity, combined with an insatiable lust for life and fragrance, leads to perfumes that are off-the-wall wacky, with the occasional masterpiece thrown in for good measure. I have a deep appreciation for Centrepiece, a honeyed floral of delicious depth and character. The most recent project, Pillow Talk, has been produced exclusively for Escentual. "Like an intimate embrace, 4160 Tuesdays Pillow Talk Eau de Parfum enwraps skin in tactile warmth. Originally created to be sprayed onto pillows as an aphrodisiac, Pillow Talk is the sensual scent of shared secrets, perfect to wear all over at times of heightened seduction."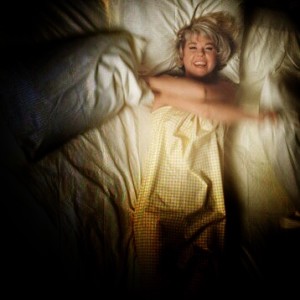 Doris Day under the covers in Pillow Talk
The note listing includes Yuzu, natural bergamot, natural Jasmine, natural sandalwood, natural ylang ylang and orange flower, Cedarwood, vanilla, natural black pepper and musk. For those who have never encountered Yuzu in fragrance, it is a potently zesty Japanese citrus fruit, with sweetly floral undertones. In the opening moments of Pillow Talk, it is this little hum-dinger that provides a sinus clearing rush of freshness, combined with black pepper to warm and spice up the senses. There is sweetness too, an irresistible velvety skin that swells beneath the citrus and caresses it into a different shape. What begins as refreshing, very smoothly and swiftly turns to snuggly comfort.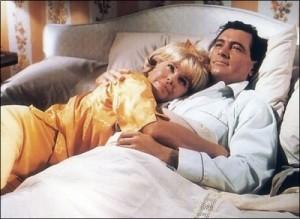 Doris Day and Rock Hudson bedroom scene
There is absolutely no doubt that Pillow Talk has been designed with the bedroom in mind. It is rather simple in its development- which is perfect when one needs a scent to relax into. You could call it a little bit sexy, the black pepper and indolic florals are like a flirtatious peek of bare shoulder beneath the sheets. For me it is primarily a gentle, uncomplicated scent that produces a feeling that I've had with many of the other fragrances in the collection; that of innocent happiness. I really don't know quite how she does it, maybe Ms McCartney just has an uncanny knack of tapping into the emotions we most want to feel. She doesn't work like any other perfumer I've encountered, her production rate is rapid and her ideas seem to burst from seed to flower in the blink of an eye. And yet the fragrances she produces make people feel good. They encompass a vast range of emotions with their witty names and quirky note combinations, drawing people in and inviting them to be a part of the show.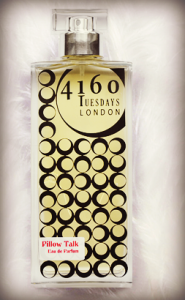 Try Pillow Talk if you love wearbale fragrances that are sweet not cloying. By the end of the development it has an almost lemon meringue fluffiness that will surely please the gourmand lovers. This is a perfume that starts off flirty then spoons you until you fall asleep. Pillow Talk the Movie won an academy award; a good omen for this scent.
Disclaimer- sample gratefully received from 4160 Tuesday's, opinions my own.
Susie Baird– Editor and writer at Epiphany.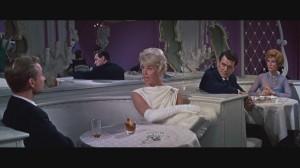 Pillow Talk Still
Editor's Note: Of course the 1959 Doris Day Rock Hudson Rom Com comes to mind. Knowing Sarah she has seen the movie and thought of this witty exchange between the two characters "If I gave you perfume or lingerie that would be personal." Jonathan quips. "Then give me perfume next time." Jane coos back.
Thanks to Sarah McCartney and Escentual we have a 50ml bottle of Pillow Talk for a Registered reader in the EU, US or Canada. You must be registered to be eligible. Please leave a comment with what you enjoyed about Susie's review, where you live and if you have a favorite 4160 Tuesdays Perfume or one what movie would make a great name for a fragrance. Draw closes August 1, 2015
We announce the winner's only onsite and on our Facebook page, so Like CaFleureBon and use our RSS option…..or your dream prize will be just spilled perfume