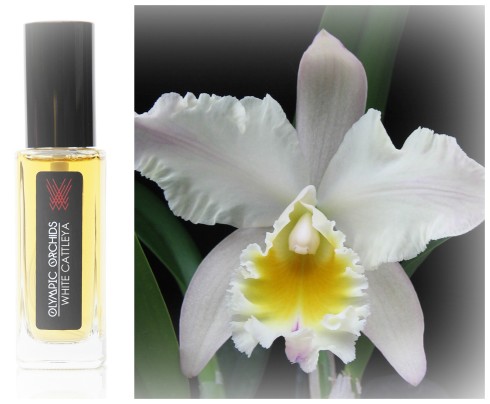 Perfumer Ellen Covey of Olympic Orchids Perfumes, 2015's recipient of Art and Olfaction indie award for Woodcut, is returning to the Company's roots as growers of unusual orchids. Ellen's new fragrance and the seventh in her Orchid collection, evokes the scent of white cattleya orchids.
White cattleya orchids are the quintessential wedding flower. They typically are strongly fragrant, with a scent that combines a characteristic mix of gourmand citrus with an undercurrent of moist petals, vanilla, and musky sexiness. Originally composed for a friend's wedding, Olympic Orchids White Cattleya perfume evokes a bride's white lace dress. Like the gown with its tulle layers, the bright citrus coating and lemon meringue nuances are slowly peeled away to reveal the soft, sensuous, sweet and musky underpinning beneath.
Ellen Covey explains, "Citrus notes are often difficult to work with because they are so overused, and can smell like cleaning products. The challenge in creating this moist, semi-gourmand floral was to make it smell natural and unique, capturing the scent of the white catelya ochid that suddenly bursts into bloom as fall transitions into winter and fills the greenhouse with its unforgettable fragrance".
Notes: Citron, lemon, neroli, jasmine, heliotrope, orchid accord, light vanilla and musks.
30 ml spray $65; 15 ml screw-top bottle $35; 5 ml travel spray $18. All are Parfum concentration. Available online December 15, 2015 http://olympicorchidsperfumes.com
via Ellen Covey of Olympic Orchids
Michelyn Camen, Editor in Chief