8th major arcana tartot card of the Rider-Waite deck-STRENGTH (and a white queen!!)
Today is International Fragrance Day. It is also the eve of March 22, 2018, ÇaFleureBon's 8th Anniversary. I have done Anniversary posts before where I have introduced the work of brilliant American artisan perfumers who have creates a special fragrance to commemorate the occasion, notably our 1st birthday with Dawn Spencer Hurwitz Lautrec, Amanda Feeley Little Black Dress and Anya McCoy Timeless, 4th anniversary Laurie Erickson of Sonoma Scent's Yin and Ylang and the seven American perfumers (Amber Jobin, Angela St. John, Christi Meshell, Dawn Spencer Hurwitz, Ellen Covey, Patrick Kelley and Shelley Waddington) who composed the perfumes for Project Talisman our 7th year celebration. This year I went in a different direction, highlighting the work of two European Olfactive Artists- Olivier Durbano who lives in Grasse (I have known Olivier for 8 years) and Sarah McCartney of 4160 Tuesdays who lives in West London.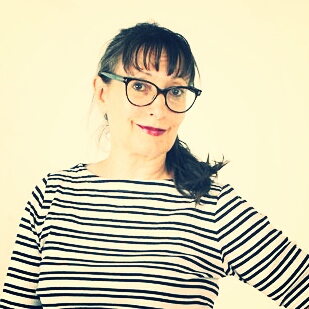 Sarah McCartney of 4160 Tuesdays
Sarah McCartney is prolific and much in demand; she has collaborated with some of the best creative directors, aficionados (Eau my Soul and Maximilian Heusler) and retailers in the world. I chose Sarah to create 4160sTuesdays White Queen because she is talented, multi- tasking, and just as the Tarot card for 8 is symbolic of strength; she is a strong perfumer with a unique sensibility–Michelyn Camen, Editor-in-Chief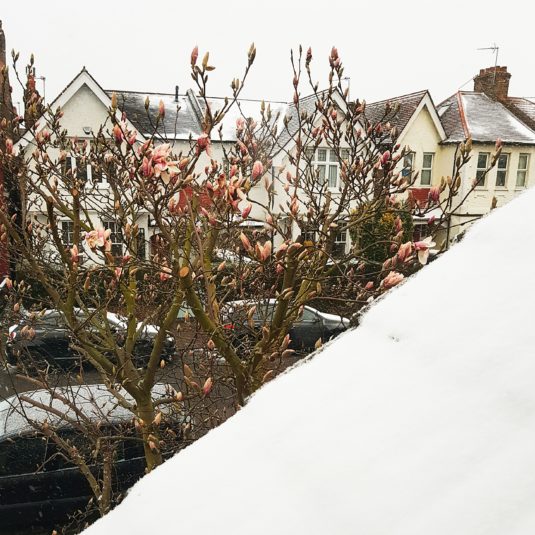 It is Snowing in London March 18, 2018 photo by Sarah
"I'd wanted to make an Alice in Wonderland inspired fragrance for years, but these things take a lot of thinking about, and the right opportunity. Michelyn sent me a message to say that she had some news and an idea. Could we talk? We arranged a time, and it was the oddest of interesting conversations. Firstly, it was snowing in New York and Michelyn couldn't get out for her usual 5 mile run so she was running around her apartment in Queens as I was sitting on my green sofa in the studio in London.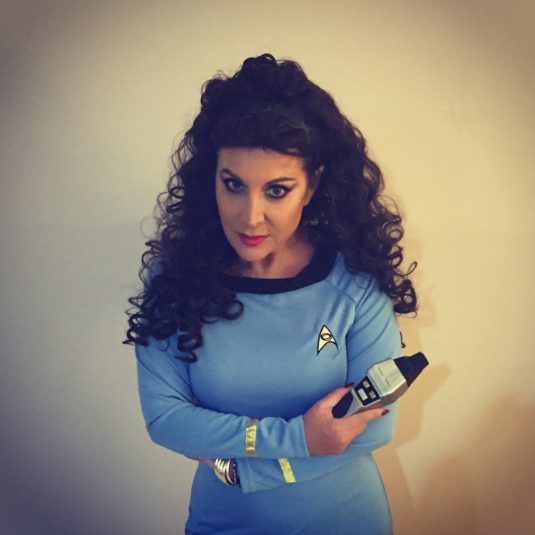 Michelyn as Counselor Deanna Troi of Star Trek Next Generation Halloween 2017 (who could read emotions and minds, might I add)
We talked about everything that surrounded our interest in fragrance, even taking in our mutual interest in Star Trek. I dropped in a little reference to Seven of Nine and we were off. Michelyn had chosen 4160 Tuesdays as her 2017 House of the Year, and wanted me to make a fragrance to celebrate CaFleureBon's anniversary. Michelyn asked me to use my favourite materials, to create a fragrance which would be recognisably mine. To make it hers too, she pictured it as a modern gourmand but not a candy fragrance. It needed lactones – something creamy but not over sweet.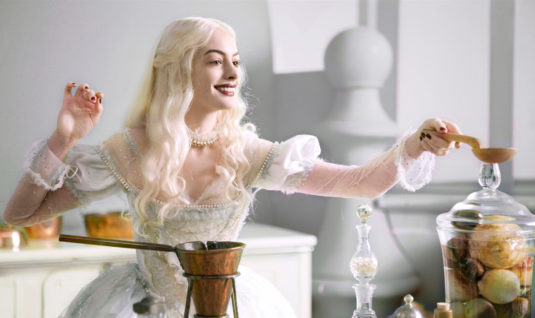 Anne Hathaway as The White Queen Tim Burton 2010 making a magic potion for Alice©
Where to start? I'd been watching Tim Burton's Through the Looking Glass in which Anne Hathaway, as the White Queen, makes a potion for Alice in her laboratory. "Will it take me home?" Alice asks. I'd also been working on a fragrance with the working title Take Me Home, something that reminded me of where I grew up. That's going to be something completely different, it went in another direction entirely, but this one does that; it takes you to somewhere vaguely familiar and comforting, but not quite home because after your adventures, home will never be the same again.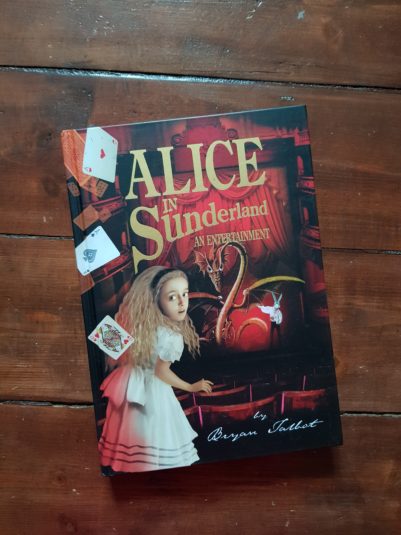 Sarah's Copy of Alice in Sunderland by Bryan Talbot
Here's a back story: Lewis Carroll (Charles Lutwidge Dodgson) told stories to his friend and mentor's children, and these became Alice's Adventures in Wonderland and Through the Looking Glass. Alice's grandfather, Henry Liddell, was a clergyman who became Rector of Boldon in the north east of England, between Newcastle and Sunderland. Boldon was where I grew up and went to high school. The Church was built in the 1200s, and just down the hill was the rectory where his family lived: at the time this was a huge house with gardens and stables. The rectory was demolished in the late 1950s, and replaced with 19 modern houses. My family lived there, and I grew up in one of these homes, so when I was younger I played in the same gardens as Alice played in, a place Lewis Carroll visited and told stories. I played in Wonderland. I only found this out four years ago. It made me so happy I cried. Once we realised that an Alice Through the Looking Glass White Queen would be exactly what both of us wanted, then I was able to start thinking about what to do.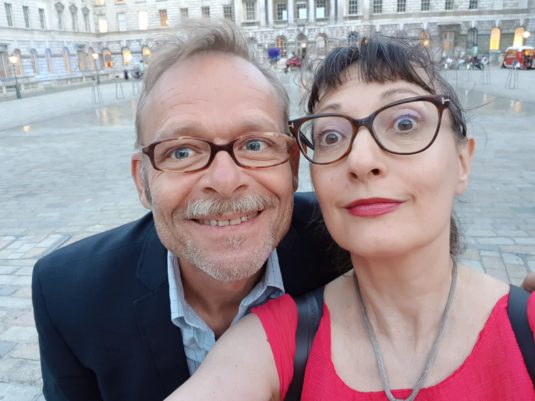 Andy Tauer with Sarah (Andy's L'Air du Desert Marocain inspired our first fragrant awakening, written by the much missed Managing Editor Tama Blough
There's that phrase about "falling down the rabbit hole, the portal that first takes Alice into Wonderland, so we decided that our fragrance needed a feeling of earthiness, a subterranean unfamiliarity, to invite wearers to fall down and travel through the rabbit hole. It's something that we say so often about people who first get the fragrance habit, especially those who don't just collect fragrances, they start to blend their own accords and perfumes.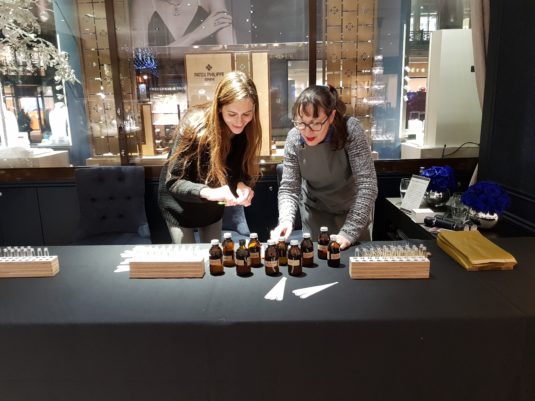 Sarah McCartney with Brooke Belldon of 4160 Tuesdays creating perfume for Mappin & Webb customers – the "Queen's" jewellers
With a project like 4160 Tuesdays White Queen, I do a lot of thinking before I even put a pipette in a pot. I don't blend materials until I've thought deeply about which ones I'd like to use. I compose in my head first. I know this isn't like most contemporary large scale perfumery, in which mods are typed into a programme and come out mixed and delivered ready for testing. Nor is it the romantic approach, in which essential oils of great beauty are dropped in as inspiration strikes. I'm methodical and mathematical about this. I consider everything I have in my collection of materials – and things I know I don't yet have – and I make a plan, perhaps several plans; they evolve until I have a line up of materials I want to audition for the cast of the next fragrance. It's not a secret that I smell aromas and finished fragrances as notes and chords, so when I smell things I know which key my fragrance will be in, and I can hear if a material won't fit into the blend. Some don't make it into the mix for this reason.
Woman with her head in clouds via flickr (Michelyn's visual for 4160 Tuesdays White Queen)
One I really wanted to use was Methyl Laitone, which has a milky aroma with a feeling of fluffy clouds for me. I'd had a sample of it, and was edging my way towards using it in a composition. Michelyn's creamy, lactonic gourmande vision an ideal place for it. The materials I wanted to use to make it recognisably mine – if there is such a thing; I had to take Michelyn's word for it – were my usual favourites: opoponax, bergamot, grapefruit, patchouli, raspberry and mandarin.I played more with musks: and lactones; they overlap anyway. Then there was the earthiness: vetivert and Veramoss.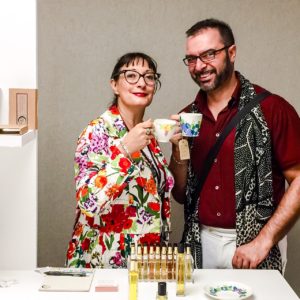 Sarah with our Monthly Contributor Ermano Picco having tea at Pitti
Michelyn also put in a request for a tiny drop of jasmine sambac and for frankincense so we got that too. Boswellia Carterii, if you're interested and literally three drops of jasmine sambac in 250grams because jasmine sambac can hit a whole perfume into a different court with just a tiny overdose and I wasn't going to let that happen.I did one more version that I was happy with as a fragrance, but it wasn't for us. I used a fascinating (to me anyway ) eucalyptus peppermint that was bright and cooling, but it made the whole fragrance too cold, and we didn't want an Ice Queen; our 4160 Tuesdays White Queen is clouds of whipped cream and white fluffy marshmallows not frosty and importantly NOT sweet.
Notes: incense, hazelnut, citrus fruits, raspberry, jasmine (the Queen of Flowers), cream, opoponax, vetivert, patchouli, musk.
-Sarah McCartney, Founder and Perfumer of 4160 Tuesdays and creater of 4160 Tuesdays White Queen
4160 Tuesdays White Queen will sell for $110 for 50ml and $180 for 100ml. Perfumology will be the first stockist.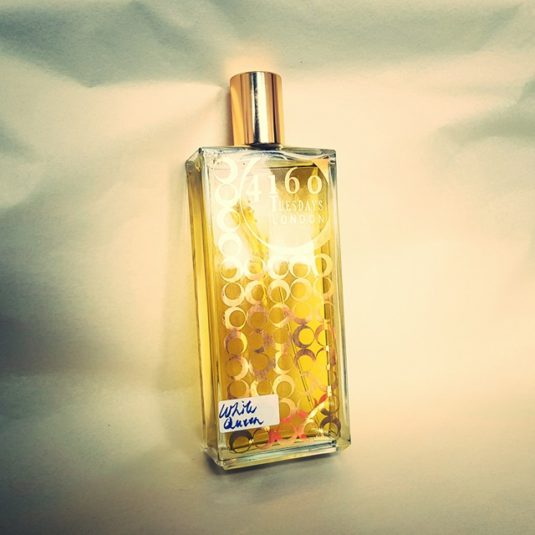 Mock-up of the bottle of 4160 Tuesdays White Queen
Thanks to the largesse of Sarah McCartney we have two 100 ml bottles of 4160 Tuesdays White Queen for two registered readers, one in the USA and one in the EU. Please be sure to register. To be eligible please leave a comment with what appeals to you about 4160 Tuesdays White Queen, how long you have been a ÇaFleureBon reader and a message to our team and where you live. Draw closes 3/24/2018
We announce the winners only on site and on our Facebook page, so Like Cafleurebon and use our Site feed…or your dream prize will be just spilled perfume.