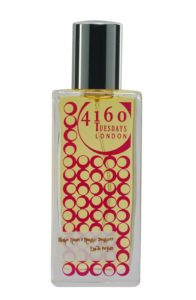 Perfumer Sarah McCartney of 4160 Tuesdays is one of the most prolific artisan perfumers in the UK and never ceases to surprise us with her inventive names and always creative concepts and collaborations. Her latest eau de parfum, Mother Nature's Naughty Daughters, was inspired by natural ingredients – rose, cedarmoss, opoponax and broom – which most perfumers can only use in small amounts, for reasons of expense or "safety" regulations.
According to the press release: Sara believes that 100 percent natural perfumes are more unpredictable on the skin than modern safe synthetics. She has composed a classically structured chypre scent that blends some of Mother Nature's bountiful offerings with 21st century synthetics . It's a perfume that celebrates science collaborating with nature. Mother Nature's Naughty Daughters contains technically natural blends that smell just like pear and strawberry, but are constructed from other plant materials. The natural hazelnut is produced by critical CO2 extraction. Even the rich blackcurrant you can smell in Mother Nature's Naughty Daughters is a perfume illusion created by combining other fruits".
Top notes: blackcurrant, pear, malt
Heart notes: praline, broom, rose, strawberry
Base notes: ambergris, cedarwood, cedarmoss, opoponax
Available online at www.4160Tuesdays.com on Thursday July 28.
9ml: £25, 30ml: £60, 50ml: £80, 100ml: £120
Via press release
Michelyn Camen Editor in Chief