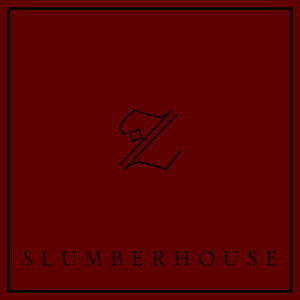 Josh Lobb of Slumberhouse is one of the most charismatic and mysterious Independent perfumers in the U.S.A. He avoids the spotlight, interviews and would rather let his perfumes speak for him. He has told me more than once that he is not all that comfortable with the attention he has been getting over the past couple of years. I was browsing his website and wanted to bring to our readers attention a new perfume he has in the works, which he writes about with much passion, as he tells the story of Zhad, his own story and the changes ahead for the brand.
2012 was the year that Pear + Olive became a worldwide sensation. 2013 has seen the release of just one new perfume, an extrait version of Ore.
Excerpted from Josh's website:"I've created a new perfume called Zahd. Only 125 ounces of it has be made, thus 125 bottles. Each bottle costs $150 and once they are sold out this perfume will not be recreated. Zahd will be the first perfume available in this new packaging and will ship between late December and early January to those who pre-order. The 60-75 days between now and the ship date are required to put all of these designs into production and have them shipped to the west coast. The designs have been fully realized and the drafts are approved by the manufacturers; everything is ready to go and the last remaining step is funding the production of what will become the new aesthetic of the brand.
So here's the catch: I'm only allowing 3 weeks to sell all 125 bottles. If I cannot reach this goal in time I will refund all orders in their entirety. There is no limit on the number of bottles you can purchase. These bottles of Zahd will be the first bottles to ship with this new presentation.
Presentation aside, I cannot stress what a beautiful and complex perfume Zahd is. I've never spent as much time of effort on a release like I have with this and I believe it shows. Since it is asking a lot of someone to pre-order a perfume without any samples available to test first, I'd like to talk a bit more about this particular creation.
When creating a perfume, I find that the initial 'on-switch' in my brain happens when I come across a material which I find very evocative or inspiring. With Zahd, it was a fairly rare cranberry concrete which has all the beautiful facets of a fruity red note without being overly sweet or young. Cranberry has a sophisticated complexity to it which I found alluring – a mild, fruity and warm note that I began to conceptualize as the heart of a perfume. It was almost two years ago that work on this project began.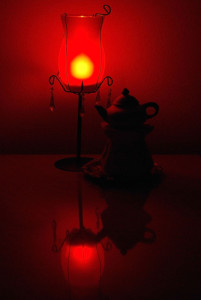 candle light erik bacar
"I wanted to think outside the box and find inspiration from things other than my own memories. I wanted to indulge in qualities that were unique to Slumberhouse and carried the perfume into territory that was both exotic and highly wearable. As I began creating the formula for Zahd, I realized I was subconsciously sculpting the scent to replicate how I felt crushed red velvet would smell if a fabric could be transformed into scent. I wanted something lush, opulent, alluring, completely gender neutral and ultimately mysterious. From this point I began incorporating other ideas involving heavier elements from traditional middle eastern perfumery to add both weight and complexity. Over the course of these two years I created roughly 80 prototypes of Zahd in my attempts to fine tune the fragrance to the smoothest, most rounded and perfected version of itself. In curating my materials palette, I realized that the addition of lotus, mysore sandalwood and an attar I commissioned specifically for Zahd had bumped this fragrance into not only the realm of excessive cost but also into being nearly impossible to replicate. Realizing that this would be a special release that I would only be able to offer in such a limited amount, it only made sense to offer Zahd for this occasion.
Purple velvet plumes and sunny moons on a day such as this
Smelling the stillness
Waving hellos, goodbyes, bottled and forgotten
Then the otherside, blazing crimson cinnamon December
Bee stung milk
Tears in a tenfold tinbox
In fact, I captured the summer in it one night
In the humid northfog, maraschino smog, confused baby grass
Surrounded seahorse prisoners, flittering naked
I want to walk with you tonight dear champagne milkshake, glowing dreamdrink
Uncorked the childhood memoir and flooded the crystalline edge
Easter egg hunts, apple juice bubbles
Dining with a winter fork on a cherry cake
Topped with a cranberry snowflake
We drink dry and eat high our fascination into thoughtless feelings that reel
the real til we feel we'll be dreaming and thinking of seeing ourselves
look at us like this
I move myself into the deeper waters
Mystery envelopes, I abandon sense
Gills that glimmer below the starscape nocturne
Perfect crescent shaped sighs
Swirling mazes of flowers that rhythmically sway in warm cadence with the heartbeat of night
Enormous raindrops and plum skin petals gushing forth from a late April spill
Sideways horizons that bend and curve to form beautiful cursive nothingness
All over the folds of my love and brainy mess of hope
Folding into itself over and over like a cosmic taffy machine
Deep and gentle swirls of sleep spiral through the milky sky
Leaving trails that play and patter like it doesn't matter
The grand republic of our majestic, microscopic heaven
Polar and lunar, multi-mooned in the afternoon
I'm everything in brief moments
Existence is solid gold, everything is gold
I'm but a dollop of angelwing ice cream
Drowned in dreams and crowned like a king
Still softer and always solid gold
Amber snowstars blinking upstairs in my brainbox
Smoke, salts, syrups and sanguine tendrils at the high end of the table
Mysterious blonde woods spiraled through sweet aubergine sap
Clouds return to the willows, velvet soul, my dictions fold
It's all silent – take it to the bath, tell it to the moth
Black and white butterflies in my shell, those little skyghosts
Plum pearls and soft piano keys
Buried in toasted hills where I dig adriosa's share
Gemmed crab shells, shadows of my coma crib anchored in the snow
Birds bloom out of nowhere and scrape the sky with bronze wings
Lush puddle bubbles of the jellyfish rubble
Phantoms blossom, tear up and melt
A decadence so slithering
A mysterious swirling of ash through dusky nectar
Smoke spiders that slowly dance in the thick black honey
Glassy clouds in the violet skies seem to be all I can feel anymore
I love just these few things
Violet skies and harpsicord lullabies
(written by Josh Lobb)
Zahd incorporates notes of cranberry, champaca flower, benzoin, plum, pink lotus, fir, cocoa, tolu, gromwell, wine ether, mysore sandalwood, cherry, incense and oak to create a dark, velvety berry scent. The perfume itself is a deep ruby red color and is concentrated at 30% to create an incredibly powerful and long lasting extrait. Each bottle contains 30ml and costs $150. Only 125 bottles will be made and once they are sold out that is it".
source:slumberhouse
For more information on how to order, Josh's note to his customers, the new direction of slumberhouse and his new web design click here
-Michelyn Camen, Editor in Chief