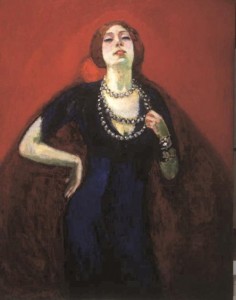 The Artist's Wife (1911)
I think we all envy the woman who can get dressed in a matter of minutes but yet look sophisticated and amazing. I always label those women as having a casual elegance as they make anything from jeans and a tee to a sheath look like it's worth a million bucks. These days that quality is rare but back in the early part of the Twentieth Century in the large Metropolitan areas this kind of easy going style was endemic. Women had freed themselves of the stifling layers of clothing and now wore simpler fashion but with that casual elegance I am talking about. This concept has been shoved to the front of my mind because of the new release from Puredistance called Opardu. It has an amazing amount of sophistication and a vintage vibe while still feeling relevant for the present day.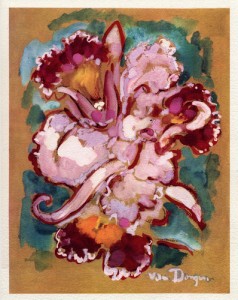 The Inspiration Piece for Opardu
Jan Ewood Vos, the owner and creative director of Puredistance, tapped perfumer Annie Buzantian to create Opardu. He showed Ms. Buzantian an illustration of a bouquet of flowers(see above) by Painter Kees van Dongen. According to the press release the first word that came to her mind was 'opulence'. According to Mr. Vos in an e-mail with Editor-in-Chief Michelyn Camen he also wanted Opardu to be 'softly seducing', to represent 'graceful beauty', and to be 'secretly hypnotizing'. Ms. Buzantian and Mr. Vos would spend over a year fine tuning Opardu so it would represent all of those feelings. In the end they have achieved their desire with a very distinct group of floral notes including gardenia, tuberose, lilac, rose, jasmine, carnation, rose, and heliotrope. The lilac, jasmine, carnation, and heliotrope are the lead players here and the lilac is really the surprise as it stands out in a way that I find uncommon for that floral note.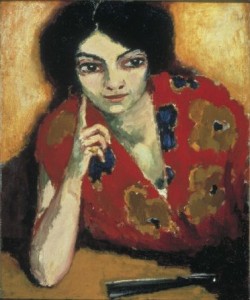 A Finger On Her Cheek (1910)
Opardu starts out with a full set of impressive and prominent top notes. Tuberose, rose, gardenia, and lilac are the initial group. When I tell you that it is the lilac that is the star and the lead note out of that group I imagine you will be surprised. Lilac holds way too many unfortunate associations with cheap synthetic room fresheners that a perfumer has to be very careful when using it. I would find it easy to believe if Ms. Buzantian spent the better part of the year she worked on Opardu getting this opening balance right. The lilac here smells alive and opulent and it mesmerized me with its surprising nuance. I think this is because Ms. Buzantian chose these other strong floral notes to set it off and allow the lilac in Opardu an unusual trajectory throughout the development. The lilac persists into the heart where now it harmonizes particularly wonderfully with the jasmine and carnation. The clove-like quality of the carnation brings out some of the sharper edges of lilac, the jasmine enhances the powdery quality but without that character taking over. By the end heliotrope adds its aquatic floral character and a tiny bit of cedarwood grounds this floral fantasia.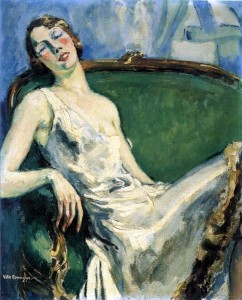 Portrait of Mme Marie-Therese Raulet
Opardu has outstanding longevity and average sillage which you would expect from something which is 32% perfume oil.
I went searching on the internet for more of Kees van Dongen's paintings and found a number he did of Parisian women of the early Twentieth Century and I also thought he captured the same casual elegance I am speaking of. Mr. Vos and Ms. Buzantian have created a perfume that could easily be worn by any of the women in the paintings in this piece or by the woman of today who has just been invited to a party and she sprays a bit of Opardu on before hailing a cab downtown. Opardu is something quite special.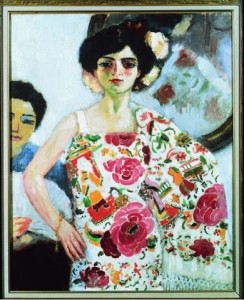 The Manila Shawl (1907-1909)
Disclosure: This review was based on a sample provided by Puredistance.
Thanks to Jan Ewood Vos and Puredistance we have a draw of 50, that's right fifty, samples to giveaway to CaFleureBon readers. Just leave a comment naming an example of casual elegance or a perfume that epitomizes casual elegance to you. We will draw 50 winners on September 24, 2012.
We announce the winners only on site and on our Facebook page, so Like Cafleurebon and use our RSS option…or your dream prize will be just spilled perfume.
-Mark Behnke, Managing Editor
All art by Kees van Dongen