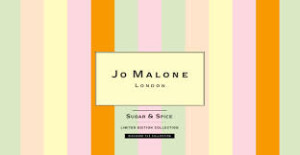 Jo Malone London has released a new "collection" of colognes based on delightfully sweet to spicy treats and desserts. This company has a way (as Jo herself did, when she ran the company) of taking one or two notes and highlighting them with complimentary notes to bring out their beauty. This is not a counter I frequent often, as the closest one to me is a ninety minute drive away, but the ones I have discovered and tried have really impressed me. This collection is only available in 30 ml cologne sprays with no ancillary products (lotions, body wash, deodorants) and they are very affordable, priced around $2 US per ml.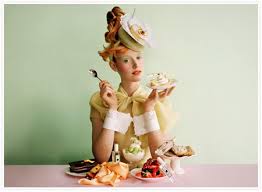 Sugar and spice (and everything nice) is what little girls are made of, or so the saying goes. Though these are all based on desserts, none of them come off too saccharine (artificially sweetened), too heavily gourmand or intensely feminine; yet each of them manages to capture both the deliciousness of the inspiring delicacy and keep true to the Jo Malone aesthetic of simple elegance. All of these fragrances were created by Christine Nagel.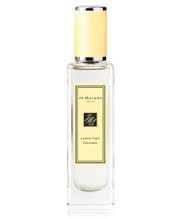 Lemon Tart was the first one that caught my eye. I love lemons and, when I read it was framed with notes of verbena, lemon thyme, citruses and meringue, I had to smell it first. I expected a tarter lemon and more vibrant herbaceous notes. The lemon here is smooth and cool. The other citrus notes mingle with it and take that astringent edge away. Lemon verbena, usually a rather intense aroma, is reserved and behaves quite properly here. It never oversteps its place and blends wonderfully with lemon thyme.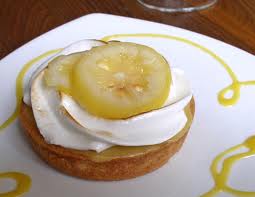 I could almost swear I detect a hint of vetiver in this scent; but, it is (no doubt) the verbena and thyme giving it that grassy and fresh dry feeling, without getting too earthy or smoky. I am not a big fan of meringue, in general. However, in Lemon Tart it is well done and rounds out the perfume perfectly adding an airy whipped feeling and subtle sweetness while letting the other more verdant and citric notes shine through. Lemon tarts (or pies) are usually sweetly "sour" and they have a distinct and intense taste. This cologne captures that, but turns the volume down a couple notches and dries to a semi-sweet greenish lemon whisper that lasts-but does not project all that far. A wonderful scent for spring/summer when you want something refreshing, but not too heavy, that just smells yummy! Sillage: close. Longevity: slightly above average.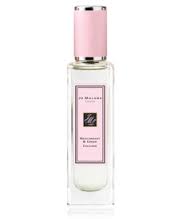 Redcurrant & Cream was a nice surprise! I expected something fruity and creamy, but nothing quite as lovely as this is. This cologne is dripping in sweet and tart summer berries (currants, raspberries and strawberries) without too much added sugariness. These are sweet enough by themselves. The red currant note is amazing here and smells like simmering fruit; yet possessing a transparent juiciness that is augmented by ripe raspberries (tartly sweet) and strawberries (sweetly tart). This cologne was inspired by a creamy summer berry pudding, and does make me lick my lips.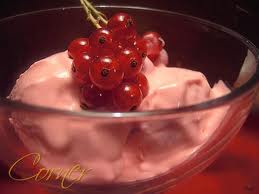 The dry down here is milky and softly musky (neither animalic nor sweaty). Imagine red berries in thick creamy yogurt blended into a nutritious summer smoothie rubbed on skin then rinsed and warmed by a hot summer sun. After the berries begin to wane, it remains somewhat fruity fresh and has a vaguely floral aroma as it becomes a skin scent that clings softly but tenaciously to you. In the first part of its development it is more feminine; but, after it dries completely, Redcurrant & Cream could be worn by either sex. A refreshing twist on the usual cologne DNA, this has a delicate and sheer tenderness that is lacking in most mainstream fruity floral gourmand scents. Sillage: close. Longevity: average.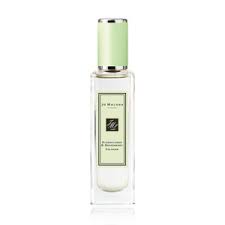 Elder Flower & Gooseberry was the one I thought sounded most intriguing and unique. I love gooseberry jam and swoon at the (overpowering to most) scent of elder blossoms. The inspiration for this cologne was a gooseberry fool, a dessert served in the UK made of pureed fruit, whipped cream and sugar with a flavoring agent like rose water. Here Christine Nagel has pureed gooseberries, along with lychee, into a fluffy heavy whipping cream, and added elder flowers instead. The result is a warm, full floral with slightly tart and watery fruit undertones and very velvety dry down.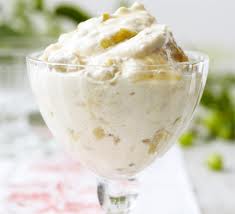 Elder flowers have a very distinct and thick aroma that blurs the line between musky and floral. They seem (to my nose) to give any perfume containing them a "chewy" (very palpable) thickness and rich almost tropical robustness. Elder Flower & Gooseberry is more of a creamy sour green fruity scent that has a deep and rich floral underbelly. The flowers tame the often biting tartness of the gooseberries and the lychee softens the fullness of the blossoms. All of these are whipped into a silken frothiness that lingers and projects nicely while remaining tender. This is my favorite, by far, of the five. Sillage: above average. Longevity: very good.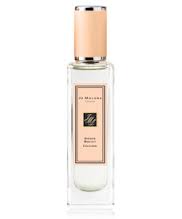 Ginger Biscuit combines savory spices, toasty nuttiness and the sticky sweetness of caramel and is reminiscent of a kitchen filled with the aromas of fresh baked cookies. This is the best-selling of the collection, according to the sales agent who made and mailed me my samples. It was released on a Friday, at the counter, and by the following Monday they had only six left.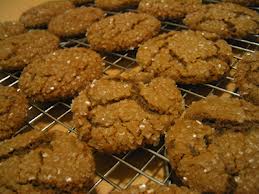 Ginger can be juicy and fresh or dried and powdery; here, it is somewhere in between. It has the delicious aroma of ginger complimented by woody cinnamon and powdery nutmeg. It remains spicy throughout yet the drizzle of caramel adds a delectable sweetness underneath the spiciness. Hazelnuts (filberts) lend a buttery nuttiness that is further accentuated by tonka bean and a thick cozy vanilla dominates the drydown. Ginger Biscuit is definitely the most "gourmand" of this collection, with a note lists that read like a recipe card and it truly smells good enough to eat. Sillage: slightly above average. Longevity: good.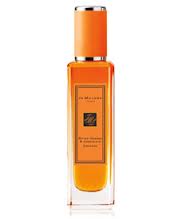 Bitter Orange & Chocolate is just what the name says. Immediately on spraying this on my arm I got a scent memory of Terry's chocolate oranges. A bright yet bitter orange has been dipped in deep dark bittersweet chocolate. On smelling it close up, I get a deep cocoa rich chocolate. In the next sniff I get a full-on zesty orange aroma. This olfactory tug-o-war continues for some time until the two agree to play nice with chocolate in the lead by a nose.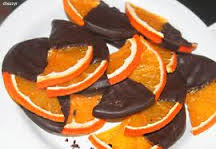 This is the most linear of the five, yet is still as scrumptious and almost addictive. I am not big on chocolate scents, but this really hits the spot for me. The coconut in this is subtle but completes it and keeps it from staying too bitter, pithy or powdery. Coumarin (the main aromatic in tonka beans) lends a warm earthy edge to Bitter Orange & Chocolate without taking away any of its mouth-watering goodness. This is a perfect gourmand for those who find most scents in this category to be too sweet or heavy. Sillage: slightly below average. Longevity: fair to good.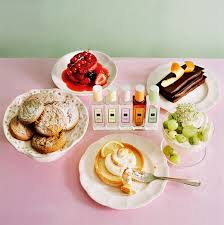 Disclosure: Reviews based on samples mailed to me by the wonderful Jo Malone sales team at Nordsrom's in the Ross Park Mall, Pittsburgh PA.
–John Reasinger, Senior Editor
Editor's Note: Please join me in congratulating John on his promotion to Senior Editor. John richly deserves this recognition of his stellar work for CaFleureBon.