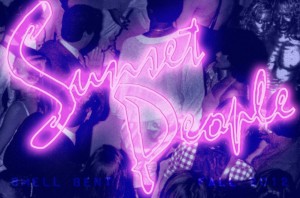 It has been a while since I've gone clubbing. My heyday was the late 70's and early 80's, when disco, punk, and new wave were on a collision course. Before I pretty much made the choice to be a low-key punk, I was enough of a chameleon to wear my ruffled wrap dress and Candie's shoes to a disco one night and my ripped t-shirt, jeans and combat boots to the punk club the next. I lived in the Castro district of San Francisco at the time, the proverbial gay Mecca, and went out dancing with my neighborhood boys to the local hotspots. Brent Leonesio's new collection for Smell Bent, Sunset People, pays homage to the club lifestyle. His club life is in Los Angeles, but judging from the perfume names, the experiences are universal.
We start the evening with Disco Nap. My friends told me a nap before going out is essential, although I would wind up just sleeping through the night if I tried it. However, had I had the benefit of this fragrance back then, I may have been able to have a nice doze and wake refreshed, oriented, and ready to go. A happy, cuddly, and seriously relaxing scent, Disco Nap is a sweet concoction that makes me feel edible and like there should probably be someone joining me for that nap. It somehow manages to avoid being cloying and for that I am grateful. A good sugar scent that doesn't make you want to visit the dentist for a sharp reprimand is a beautiful thing. Disco Nap has a soft, musky, drydown that will soothe your soul.
Disco Nap notes: a dreamy blend of caramelized vanilla and ambergris softened with almond, coconut, and snuggly musks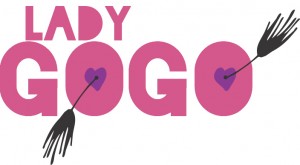 Although the clubs generally had a DJ, there were headline acts quite often, creating a maelstrom of humanity in front of the stage that could make you pass out from all the heat, sweat, and dancing lights. From drag acts to pop stars, the club was hopping on live music night. Lady Gogo is just the thing to get your night out started right. Fresh, clean citrus on a bed of pretty florals will complement even the most garish clubwear and make you smell much more innocent than you are. Don't worry, though, there is plenty of sex appeal here. It's not too pure, just enough to make a coy come hither look seem fetching instead of debauched. They will know you by your scent trail, and they will follow.
Lady Gogo notes: a double dose of sheer jasmine enlivened with orange flower, mandarin, fresh pepper, and sexy sandalwood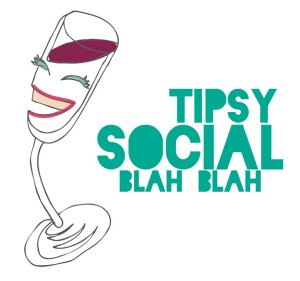 We've all had those conversations, slurred of word and veritably meaningless, when you are hoping to make enough of an impression to get a phone number, or even find a bit of fumbling passion when the night is done. Usually accomplished in a scream-level voice, with misinterpretations galore, this is Tipsy Social Blah Blah. The perfume smells like a parasol cocktail; a little sweet and fruity, but with a definite boozy note. A puff of head-shop incense is lurking underneath, and a touch of something a bit dirty. It smells like a room full of slightly drunk people; not barflies, but people who showered first and are now a bit sweaty and full of Red Bull™ and vodka. This is a fun smell that can make you remember some good times.
Tipsy Social Blah Blah notes: the banter of boozy cocktailers against the backdrop of a dim, crowded bar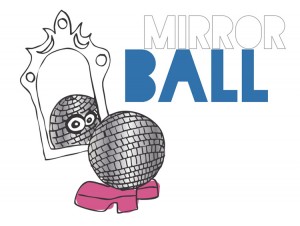 The night grows long; you can't stop dancing and can't feel your feet in that sweltering club. Colored lights are flashing, beats are thumping, and the air is thick with canned and real smoke. You feel surreal. People start looking inhuman, the dancing goes into slo-mo, and the light seems dimmer. Above your head is the all-seeing eye, the icon of the dance floor, shooting starry bits of light that spin everywhere: the glittering, mirrored disco ball. Mirror Ball is a perfume appropriate for that overheated, dreamlike state. Full of dark incense and the spiciest flowers, it won't just be the people too high on Ecstasy who will be draping themselves all over you. This is a scent of darkness and lust. As its aroma blends with the sweat of the dance and the pheromones of the hunt, you are bound to find The One. I wish I had this perfume back in my day, but am happy I have it now.
Mirror Ball notes: dark incense, shadowy woods, spiced hyacinth, and night-blooming jasmine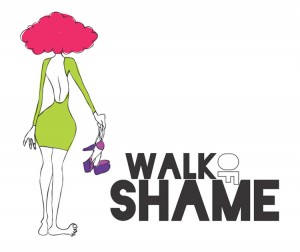 You've been there. Don't tell me you haven't. The sun is painfully rising as you stumble your way out of the apartment of someone whose name you have forgotten if you ever knew it. There is nothing more glaringly wrong than glitzy, disheveled club clothes and bedhead in the light of dawn. You stand a little taller to compensate, still half-drunk, and totter your way home doing the Walk of Shame. Opening with a cool metallic, almost plastic top note, this perfume smells like the aftermath of debauchery. There is a whiff of last night's perfume, both your own and someone else's; a slight air of butyl nitrite, and a hint of dirty musk. There is something appealing about smelling like this. Even if you don't remember it all, you know you had fun.
Walk of Shame notes: overcast skies, the chill of cold concrete, a waft of bodega blossoms and a bit of morning-after musk
Do you feel like you've had a big night out? I'm exhausted. Brent has done it again, inspiring my imagination through his scents. As much as these sound like "concept" fragrances, they are all wearable and enjoyable. They have varying sillage and longevity, but average on the whole.
Brent kindly provided me with my samples, and is offering a 4 ml spray sample set of the Smell Bent Sunset People Collection to one lucky reader. Tell us about your best night out, and which of these you'd wear. We will draw one winner on October 15, 2012.
We announce the winners only on site and on our Facebook page, so Like Cafleurebon and use our RSS option…or your dream prize will be just spilled perfume.
-Tama Blough, Senior Editor