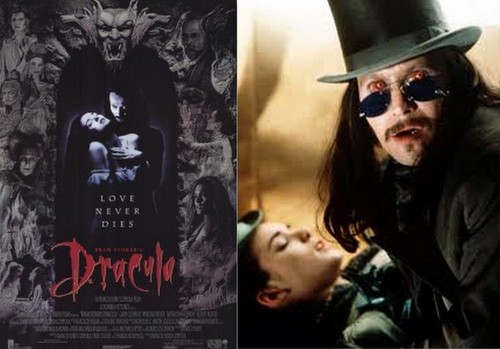 Gary Oldman (Dracula) and Winona Ryder (Mina) 1992
It seems like you can't turn a television on, visit the multiplex, or peruse a bestseller list and not find a vampire lurking in the shadows. If you are a fan of the undead which drink blood, versus shamble mindlessly, there is a flavor of vampire out there for your taste. With so many vampires in other art forms it shouldn't be a surprise that there are vampire inspired perfumes. Perfumer Liz Zorn of Soivohle was inspired by a specific portrayal of a vampire in composing her newest fragrance, Carpathian Oud. Ms. Zorn is not a fan of the new school daywalking, sparkling vampires of the current day. She wants to kick it old school with the granddaddy of all vampires Dracula. In particular, the portrayal of Dracula by actor Gary Oldman in Bram Stoker's Dracula as directed by Francis Ford Coppola.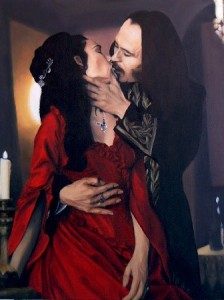 Ms. Zorn in her blog post of January 12 of this year said she wanted Carpathian Oud to "capture this juxtaposition of emotions and primal purity, and at the same time, not be so literal as to scare the living daylights out of anyone." One of the things Ms. Zorn did was research into the indigenous flora in the Carpathian Mountains which border Transylvania to the south and east in Romania. This would be used to capture the gentlemanly romantic side of Dracula. Those florals along with a healthy dose of mineral earth present the cultured exterior of the monster early on. Oud is used to describe the rot from within a creature of the night. Ms. Zorn's previous fragrance with Oud prominent in it was Oudh Lacquer and it is still to this day one of my top five oud scents ever. For Oudh Lacquer Ms. Zorn perfected a sinkwood tincture which she aged for a year. For Carpathian Oud she chooses to create her own house blend of different ouds using primarily Indian and Laotian oud. I think Ms. Zorn is one of the few perfumers I know who understands how to coax exactly what she wants out of oud and in this case the sense of decay which is what causes oud is enhanced to mimic the sense of a monster as its true self is exposed.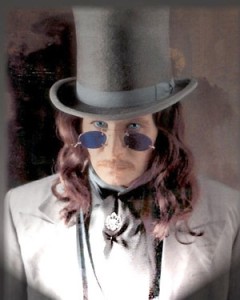 Carpathian Oud opens on a crisp mountainside in Romania with a bit of fir mixed with the smell of wild poppies, dianthus and the leaves of rhododendron and laurel. Underneath all of this is a delicate earth accord of soil and stone. The heart is almost solely made up of violet and oakmoss acting like a boutonniere within the Count's dinner jacket. To all of this the smell of earth still clings to the heart notes. Then the oud appears, the use of Laotian oud with its slight floral quality picks up on the violet in the heart as it begins to wrap you in a deep, but perhaps dangerous, embrace. The Indian oud unmasks the fiend at the heart as this oud is the anticipation of the bite with no more pretenses; the monster is loose and the wearer is trapped.
Carpathian Oud cologne has all day, or all night, longevity and average sillage.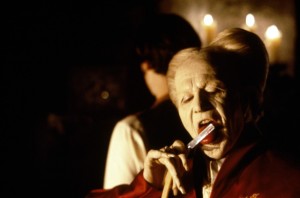 Ms. Zorn was also kind enough to also send me a sample of the more concentrated demi-absolute of Carpathian Oud. In this concentration Carpathian Oud eschews the mountain hillside and the florals and heads straight into the earth. The early moments of the demi-absolute are reminiscent of being entombed all day waiting for nightfall. The rest of the development is similar to the cologne version but it carries on a more languid seduction of the wearer's senses. If the cologne is the victim, the demi-absolute represents Dracula. As one would expect the demi-absolute lasts longer and wears closer to the skin than the cologne.
One could say that oud is as ubiquitous in perfumery as vampires are in the media of today. Just like in that visual media you know when an artist has a true vision and inspiration so it is clear to me that Ms. Zorn achieved exactly what she intended to with Carpathian Oud. The cologne version of Carpathian Oud is a resplendent piece of perfumery and shows that there is still life in both Dracula and oud if the artist inspired by it has talent.
Disclosure: This review was based on samples provided by Soivohle.
Thanks to Liz Zorn and Soivohle we have a draw for a 5mL travel spray of the Carpathian Oud cologne. This is a US only draw. To be eligible leave a comment naming your favorite Soivohle fragrance or your favorite portrayal of a vampire on movie or television. Remember to let us know if you're in the US. Draw ends on October 10, 2013.
We announce the winners only on site and on our Facebook page, so Like Cafleurebon and use our RSS option…or your dream prize will be just spilled perfume.
-Mark Behnke, Managing Editor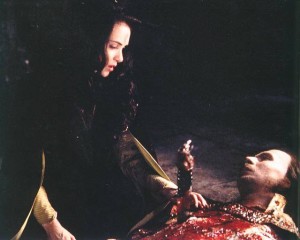 Editor's Note: Carpathian Oud will be available October 15, 2013 on the Soivohle website. If you haven't seen the 1992 version of Dracula remedy that before sundown. The stellar cast included Anthony Hopkins as Professor Van Helsing, Monica Belluci as Dracula's Bride, Keanu Reeves as Jonathan Harker, Tom Waits as Renfield and Sadie Frost as Lucy.