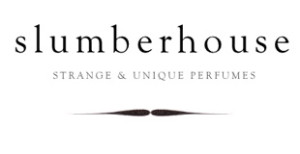 Perfumer Josh Lobb and his slumberhouse line of fragrances has me looking to a new city that begins with a P for my most anticipated perfumes of 2013. The Portland, OR perfume creative group is producing some of the most creative independent perfumes currently. While many of them are making outstanding fragrances it is Mr. Lobb's creations I look forward to the most. To start off 2013 Mr. Lobb has decided to look back and re-interpret four of his fragrances from Eau de Parfum to Extrait strength. The four he chose were Jeke, Norne, Sova, and Pear + Olive. I contacted him, via e-mail to find out why he was interested in exploring the extrait version of these four in particular. Mr. Lobb replied, "I think alcohol-based extraits are the ideal perfume medium because you can apply them with the ease of an atomizer but they almost operate more like a rich, opulent perfume oil. They don't use top notes and I actually find they benefit from being rubbed into the skin once sprayed on, otherwise they might leave slight visible oiliness or tint on the skin. Extraits age beautifully too — almost syrup-like. I let mine sit in the windowsill in direct sunlight, they look like jars of amber or honey. I decided to stick with these four because they are composed with remarkable materials (I've got a fetish for bizarre and obscure raw materials) and each represents a complex olfactory world, something immersive with lots of hidden scent corridors."
In my experience with all four of these I found each of them to be fascinating companions to their Eau de Parfum versions. To test fully I wore the extraits by themselves and then side-by-side with the EDP to tease out the differences. At the end I found a split decision on which "scent corridor" I preferred as two were much more immersive in the extrait form and two seemed like a richer opulent version of the EDP.
Smoke Monster from the TV Series 'Lost'
Jeke Extrait was one of the latter for me as in its EDP form this is what I call a "smoke monster". Sometimes it would eat me alive and other times it would surround me and fascinate me before leaving me unscathed. The core of Jeke in both forms is the combination of cade and tobacco over a resinous base. In the Extrait form the "smoke monster" is much more controlled and for the first time I noticed an amazingly beautiful patchouli lurking among the maelstrom. Once I had them side-by-side I really noticed the patchouli in the EDP but the whole composition seemed more balanced and when the labdanum and benzoin kick in this really feels decadent. The Extrait feels like a rough jewel which has now been cut and faceted into a brilliant gem.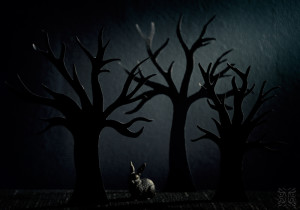 midnight.forest:. by ~Edhelamarth
Norne in EDP was a fever dream of pine made into fragrance. Norne was as immersive as a midnight forest full of scary things just outside my lantern's range. Mr. Lobb layered absolutes of pine, hemlock, moss, and resin. The intensity of all of this drew me in but it felt like my nose was at red line. If you had asked me going into this exercise it was Norne Extrait I expected to like the best as I thought I wanted to run this particular fragrant engine a shade or two less revved up. The fun of the Extrait for me is by having Norne a bit more toned down it allowed me to really dig into the materials and these absolutes Mr. Lobb is using are remarkable as the nuances especially of the hemlock and moss facets really come forward in the Extrait. From a purely analytical point of view I had a much better understanding of the composition of Norne but when they were side-by-side I kept being pulled into the fever dream of the EDP and the Extrait felt like it was too well-mannered.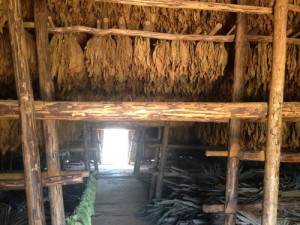 Tobacco Shed
Sova gave me exactly the opposite experience. I was a huge fan of the EDP and expected the Extrait to give me a rich toned down tobacco and I thought I would prefer the more intense version of the EDP. Well expectations are meant to be confounded. Sova in EDP form is a veritable palimpsest of different absolutes many of which are used to create the narcotic tobacco leaf accord and the others are used to amplify that accord so that it is an olfactory aria. The Extrait is the same aria but sung tenor to the EDP's basso. The tobacco accord and many of the ingredients remain but in the Extrait form Sova has a more complex beauty while being much more controlled in effect. During the side-by-side I kept going from arm to arm trying to pick out what Mr. Lobb removed from the original. In the end I'm not sure but I know I prefer the Extrait because by taking a step back Sova Extrait springs forward in leaps and bounds.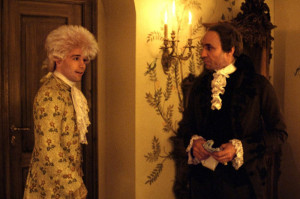 Tom Hulce as Mozart and F. Murray Abraham as Salieri in 'Amadeus'
Pear + Olive EDP was my second favorite fragrance of everything I tried in 2012. One of the reasons for that was the precision necessary to create the EDP version of the perfume. Every note was critical to the overall effect and each note had its place. In a conversation with another blogger I compared it to Mozart. If Pear + Olive EDP is Mozart, the Extrait is Salieri. The Extrait, I believe, has all the critical ingredients of the EDP; the olive tincture, the cognac oil, the aglaia but now re-configured and intensified it just doesn't sing with the same power. I wished I could go back and try the Extrait first because I think I would have a different opinion if it came before the EDP but just as Salieri had to live contemporaneously with Mozart so does the Extrait and it just loses something in translation. Pear + Olive EDP is as good as it gets and it is hard to beat near-perfection.
All of the Extraits have above average longevity but almost minimal sillage.
As always, when a perfumer chooses to re-interpret a previous non-extrait version into an extrait version I am captivated. When a perfumer as talented as Mr. Lobb chooses to take on this particular study, it is nothing less than fascinating. I close with the final line in the e-mail I received from Mr. Lobb where he states, "I like mysterious and thought provoking perfumes, perfumes that unfold with intrigue, perfumes that seem to smell different each time you wear them." On that score the four Extraits all succeed fully.
Disclosure: This review was based on samples of the Extraits supplied by Parfum1.com and bottles of the EDP's which I own.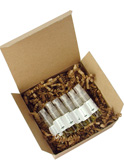 Thanks to Parfum1.com we have three discovery sets of all four Extraits to giveaway. To be eligible leave a comment naming your favorite slumberhouse fragrance or which one you think might be your favorite. The draw will end on March 20, 2013.
We announce the winners only on site and on our Facebook page, so Like Cafleurebon and use our RSS option…or your dream prize will be just spilled perfume.
-Mark Behnke, Managing Editor