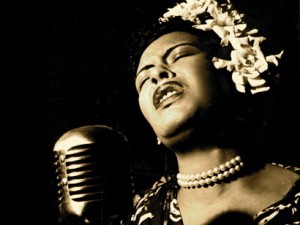 Billie Holliday
Expectations are often maddening, especially when it comes to fragrance. When I hear that there is a new Serge Lutens Fragrance coming that sets my expectations at level one. When I hear it is going to be based on famed, and tragic, jazz singer Billie Holliday I am at level two. When it is based on the gardenia she wore in her hair then my expectations are officially off the charts. When I finally received my decant of the new Serge Lutens Une Voix Noire, it met none of my expectations. Which was disappointing but there was something there and over the next week I came to realize my expectations were unrealistic and the reality was something better than what I expected.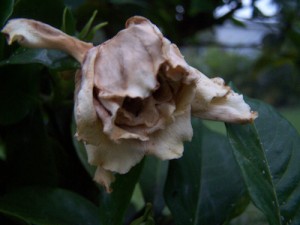 Gardenia has certainly been one of the "it" notes to build a fragrance around in 2012 and I should've realized that if Serge Lutens and Christopher Sheldrake were going to follow the crowd they were going to do it in a very Lutensian way. Most of the gardenias released this year have focused on the fully flowered and heady version of gardenia. Une Voix Noire seems to focus on the past its prime slowly browning version of gardenia. This is gardenia as it releases its last bit of floralcy into the atmosphere, a poignant reminder of the glory days. That Mssrs. Lutens and Sheldrake surround it mostly with accords of tobacco and rum it makes the gardenia feel as if it has lived a hard drinking life with a halo of cigarette smoke drifting around it. I expected a dark take on the bright of gardenia and instead was treated to an epitaph for gardenia. Once I realized that, Une Voix Noire truly bloomed in my expectations and consciousness.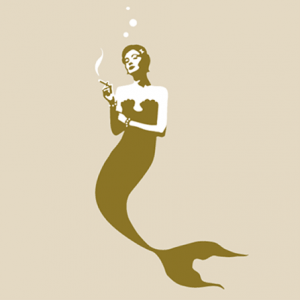 As I mentioned the gardenia here is of the slightly wilted browning on the edge of the petals variety. As a result the opening moments of Une Voix Noire are all about that gardenia. This is not the almost narcotic white flower version we are used to; the green quality is much attenuated and the indolic core is equally restrained. This makes the gardenia almost come off as a fruity kind of note. It isn't listed but there seems to be a bit of powdery iris around in the early moments which keep the gardenia more on the floral side of things. As the rum accord rises the gardenia takes on a wistful quality, a world-weary floral having a shot at the bar before closing down for the day. The tobacco adds the nicotinic headiness missing from the gardenia and it takes Une Voix Noire deeper into that good night.
Une Voix Noire has outstanding longevity and above average sillage.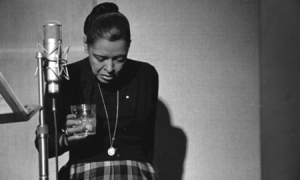 Billie Holiday, last recording session, studio, NYC 1958 by Milt Hinton
After I moved my expectations of a bluesy riff on gardenia out of the way and took the time to appreciate the creativity of focusing on the dying moments of the gardenia on display in Une Voix Noire; that was when it came alive for me.
Disclosure: This review was based on a decant purchased from The Perfumed Court.
Thanks to Serge Lutens I have the famous black card solid perfume sampler set direct from Le Palais Royale at 25, Rue de Valois in Paris which includes Une Voix Noire and 31 of their most wanted fragrances to giveaway. To be eligible leave a comment on your favorite Serge Lutens fragrance, what appeals to you about this review or your favorite Billie Holiday song. Draw closes October 16, 2012.
We announce the winners only on site and on our Facebook page, so Like Cafleurebon and use our RSS option…or your dream prize will be just spilt perfume.
-Mark Behnke, Managing Editor
–Art Direction, Michelyn Camen, EIC