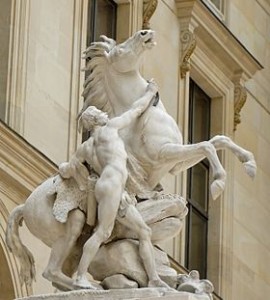 Guillaume Coutou's "Les Chevaux de Marly"
It is so hard to keep up with the new niche releases. Often by the time I've found out about a new release from what I think is a new house I find the house has been around for a while. This kind of discovery occurred at this January's Elements Showcase when I discovered Parfums de Marly. I walked up to the booth and saw nine fragrances and expected to hear that this was a new collection. I was surprised to find out that the house had their first four releases in late 2009 and since then have been adding one or two new releases per year. The more I learned the more I looked forward to trying the perfumes. The name Parfums de Marly is inspired by the sculpted horses of eighteenth century sculptor Guillaume Coustou called "Les Chevaux de Marly". Each sculpture shows a groom taming a rearing horse and as I exposed myself to Parfums de Marly I realized that Parfums de Marly, under the creative direction of Julien Sprecher, had assembled a number of the best perfumers to act as tamers of some of the most difficult to corral notes in perfumery. Certainly some are more successful than others but this line offers interesting interpretations on many classic olfactory themes from some of our most talented artists.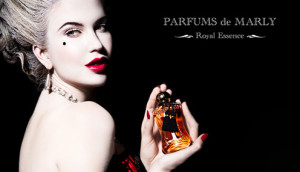 Before I focus on the two most recent releases, and under the expectation that this is a line new to most of you reading this, I'm going to give a number of quick impressions of the seven earlier releases.
Darley composed by Francis Deleamont is a classic fougere centered on lavender. M. Deleamont uses rose and cinnamon to twist that classic architecture and gaiac wood keeps this incredibly light. This is a fougere which is anxious to run.
Ispazon composed by Jacques Flori is a woodier oriental extrapolation of that spring staple, lily of the valley. The top notes are citrus and spice. The spice comes from bay and thyme and it adds heft to the top notes from which the lily of the valley arises before settling into an amber and vanilla base. This feels like a lily of the valley fragrance any man could wear easily as it is surrounded by the spices.
Lippizan was my favorite of the original four and that should be no surprise because it was composed by one of my favorite perfumers Sidonie Lancesseur. Like the proud stallions it is named after Mme Lancesseur gives Lippizan a bit of hauteur from a cardamom laced spicy opening into a fabulous rose and patchouli heart before ending on a leather base. I can't believe this fragrance has been around for three years without my knowing about it.
Shagya was also composed by Mme Lancesseur and it is a classic lime oud theme. Often both of those components are the only things you experience but Mme Lancesseur is able to give some other notes, like geranium to turn the lime greener and gaiac and vetiver to tilt the oud woodier, an opportunity to be involved. This is a thoroughly tamed version of lime oud, able to be taken out in polite company.
Godolphin, was the fifth release, composed by Michele Saramito. Here is the rose fragrance every line seems to need as Godolphin uses saffron and leather to surround a decadent rose accord. It is a simple composition oozing high quality ingredients.
Pegasus is the second Parfums de Marly fougere by perfumer Hamid Merati-Keshani. I like this better than Darley because it takes a few more risks with the classic style. It starts with the use of caraway in the top notes. Caraway is one of my favorite underused notes and it is paired with heliotrope and bitter almond. That turns this fougere sharper and that is continued into a lavender heart which also stays on the sharper side of things. Things smooth out with a sandalwood and vanilla base.
Herod which is composed by Olivier Pescheux is a tobacco and vanilla fragrance. What M. Pescheux does is to pair those notes with some different partners to make Herod feel different. The tobacco is matched with cinnamon and osmanthus. The cinnamon adds orthogonal spiciness to the richness of the tobacco. The osmanthus is a particularly brilliant addition as the apricot facet slightly candies the tobacco and the leather facet makes it deeper. Vanilla is swathed in a haze of frankincense and it keeps things from being too sweet.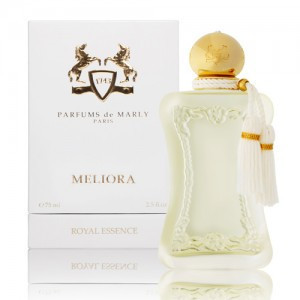 Meliora is one of the two most recent releases by Parfums de Marly. M. Sprecher tapped Nathalie Lorson to create another lily of the valley fragrance. As I mentioned above Ispazon is woodier than the typical lily of the valley fragrance. Meliora is more typical as the lily of the valley is sandwiched between fruit above and woody vanilla below. Meliora opens with the slightly green fruity blackcurrant buds paired with raspberry to make sure the fruity qualities predominate. I'm not a big fan of fruity openings but the green facets of the blackcurrant buds cuts a lot of the saccharine quality of the fruit and it seems to pitch it right at a level I find pleasant. This transitions to the heart notes of lily of the valley along with rose and ylang-ylang and some other green notes. This has all of the spring qualities one associates with lily of the valley centered fragrances. The base is vanilla and wood slightly sweet but, as in the top notes, not too sweet. It is the polar opposite of Ispazon and allows for one to choose how they want to wear their lily of the valley.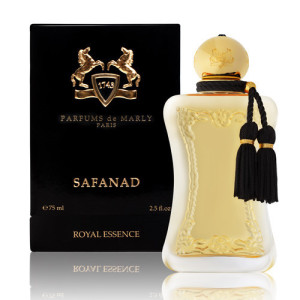 The other new release is Safanad composed by Fabrice Pellegrin. If every perfume line needs to have a rose fragrance it also needs to, probably, have an orange blossom fragrance. Safanad checks that box for Parfums de Marly. M. Pellegrin opens on a crisp pear note before diving head first into the orange blossom which seems to arrive very rapidly on my skin. It is further supported with iris and ylang-ylang but this is a very complex orange blossom note. I'm not sure but I think this must be a particularly high quality version of this raw material because there seems more subtlety and depth to it than I normally experience in an orange blossom note. This ends with a smooth amber, sandalwood, and vanilla base.

I found all of the Parfums de Marly fragrances to have above average longevity. The sillage was also modest making these good options for the office.
The two most recent additions to the perfumed stables of Parfums de Marly continue the tradition of the bloodline that came previously. As it is in horse breeding so it is in perfumery consistency breeds consistency and Parfums de Marly continues to breed consistent luxury perfumes.
Disclosure: This review was based on samples provided by Parfumerie Nasreen.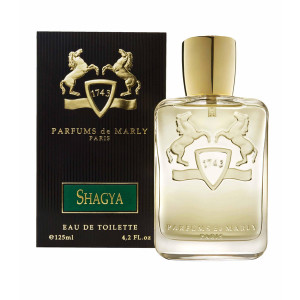 Thanks to Parfumerie Nasreen we have a full 3.4 oz. bottle of Shagya to giveaway to one winner. This is only for our USA readers only. To be eligible leave a comment naming which one of the Parfums de Marly fragrances you think might be your favorite. Again, you must have a US address. Draw will end on April 17, 2013.
We announce the winners only on site and on our Facebook page, so Like Cafleurebon and use our RSS option…or your dream prize will be just spilled perfume.
-Mark Behnke, Managing Editor