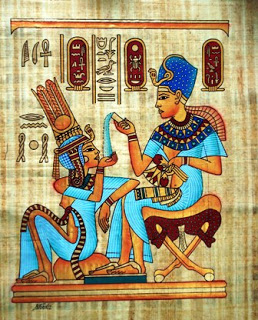 King Tut is lavishing his wife Angkhesanamum with perfume
When it comes to how a specific ancient civilization smelled it is arguably Ancient Egypt which might have been the most pleasantly fragrant historical period. It is often cited as where perfumery began. So when perfume houses touch on Ancient Egypt as their inspiration they usually focus on the richer set of ingredients on the perfumer's palette. Memo Paris, as part of their Les Echappees series of fragrances, have sent their perfumer Alienor Massenet back in time to create Luxor Oud so we can all waft like an Egyptian.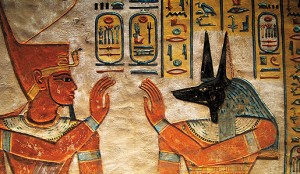 ancient painting of a Pharaoh in the Valley of Kings near Luxor
I was excited to try Luxor Oud because the last time Mme Massenet used oud it was in the spectacular Shams for Memo, also. In Shams she found a series of spicy notes which tamed the rough beast that is oud in perfumery. If she caged the beast in Shams, for Luxor Oud she chooses to put it on a leash. The oud in Luxor Oud is the foundation of the pyramid Mme Massenet creates but despite the name it is not the whole story of Luxor Oud. Luxor Oud feels like something a Pharaoh would wear, a honeyed balm of a perfume which imparts an opulence that just never quits.
George Owen Wynne Apperley:A Dancer in Ancient Egypt
Mme Massenet opens Luxor Oud with a mix of ripe berries and mandarin. You might look at that and expect something overtly sweet but in the case of Luxor Oud it instead has a much more subtle fruity character and it plays very well into the rich honey accord that slowly oozes over everything. There is also a rich rose that lingers just under the surface of the honey. This is not rose as the focal point this is rose as grace note. The honey is what dominates the heart of Luxor Oud. As the honey accord begins to decay a couple of the components, cypriol and cistus, create another accord that of an astringent balm. The presence of the oud, along with patchouli, makes up the base of Luxor Oud. This is where the oud has the chance to exercise a little more of its forceful nature; having patchouli as counterbalance keeps it from being too overbearing.
Luxor Oud has outstanding longevity and above average sillage. I received two compliments while wearing this at work one day. It really is a crowd-pleaser.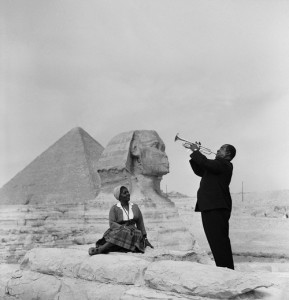 Louis Armstrong playing the trumpet for his wife Lucille at Giza 1961
Every time I think there is nothing more under the sun which will illuminate oud, a talented perfumer reminds me how wrong I am. Mme Massenet, as she did with Shams, shows her mastery of this ubiquitous note. Her choice of how she presents it and surrounds it makes it something special. In Luxor Oud she uses it as the support for everything she wants to accomplish. For me, this is the best oud of 2012.
Disclosure: This review was based on a bottle supplied by Memo Paris.
Thanks to the generosity of Memo Paris I will make a 2.5mL decant of Luxor Oud to giveaway before its launch overseas in November. To be eligible go visit the Memo Paris website and let us know which fragrance you think would be your favorite. We will draw one winner on October 17, 2012.
We announce the winners only on site and on our Facebook page, so Like Cafleurebon and use our RSS option…or your dream prize will be just spilled perfume.
-Mark Behnke, Managing Editor
Art direction- Michelyn Camen, Editor in Chief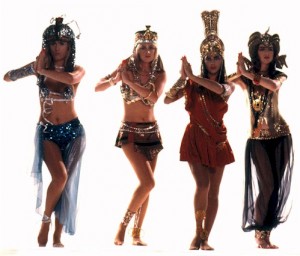 The Bangles- "Walk like an Egyptian"
Editor's Note: In an email exchange with John Molloy, I told him I wasn't fond of Oud fragrances. He replied "Luxor Oud is about sensuality and if you don't love it I will buy you dinner in New York". Looks like dinner is on me and I will be wafting like an Egyptian. -Michelyn Camen, Editor in Chief