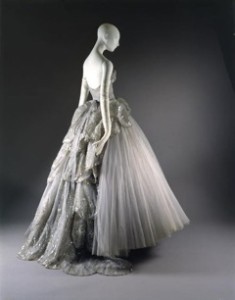 Christian Dior Venus ball gown (1949)
When I visit La Collection Privee Christian Dior, I am always reminded of how it takes time to find a fragrance. How we should slow down and let things settle, perhaps walk away and then come back again. La Collection Privée invites us to take the time to luxuriate and experience a broad-spectrum of fragrances, if we choose. The methodical collection sits together in a tidy row. Crisp herbaceous fragrances to the left, bold bouquet florals in the center and towards the right of the row density prevails. Each fragrance almost builds on the scented family that came before, and in my in my mind I envision each as a response to what has come before. Additionally, each of the fourteen fragrances has a corresponding accord, which I find deepens the experience. For example, you can smell the Iris Florentine accord that makes Bois d'Argent. Remember it's good to smell raw materials anytime you get the chance. Visually graceful, it is a perfectly thoughtful collection from the delicate color of each juice to the simplicity of label and bottle design.
"..An ode to the House of Dior's legendary location 30 Avenue Montaigne..," reads the description
for Gris Montaigne Dior's latest offering from the Privée Collection.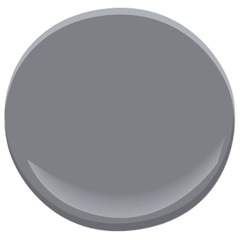 Dior Gray Paint
Gris Montaigne is a floral chypre that comes across as polite and easy to wear. Gris Montaigne was inspired by the impressions of a color. Not just any color though, it was specifically inspired by Dior Gray. The same color that frames the infamous Paris boutique, why there is even a Benjamin Moore paint color named Dior Gray. It is a billowy foggy gray, ethereal and the perfect color for daydreaming. To my nose Gris Montaigne is a tad of a hazy fragrance, it begins as it ends, and has just a few sparks. The first spark comes from the top citrus accord, focused on the herbaceous and floral aspects of Bergamot. Its center notes of Damascus Rose and Jasmine combine to form the ultimate floral bouquet. The fascinating note, Cistus Labdanum is introduced, and quickly collides and sparks the floral bouquet. It lends balsamic, ambery sweetness, and an almost plum-like jammy quality to the perfume. Notes of patchouli, amber, cedar, and oakmoss reign in on its floralcy creating volume. However, the floral and the sweetness do exist in Gris Montaigne, and this keeps it a little left of classic chypre, and more like floral chypre.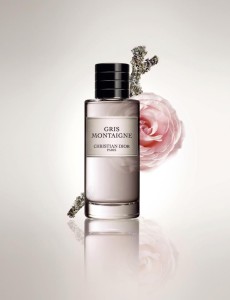 In 1917 Coty gave birth to the first chypre fragrance. This family of fragrance was most popular in the 40's 50's and 60's, but for me chypres continue to resonate their power today, adding a needed mix of stylized beauty, sophistication and edginess to perfumery. Chypres have a specific structure built around bergamot, cistus labdanum, and oakmoss, and it is tweaked to get various results. Some chypres are more leathery; others are smoky, or fruity, while some are centered on a floralcy, but the basic structure remains its foundation. Almost one hundred years later, Gris Montaigne is keeping good company.
–Valerie Vitale, Contributing Editor