Last September the first LA Artisan Fragrance Salon was held in Santa Monica, California. I was unable to attend, but a kind friend acted as my surrogate and obtained samples from brands that were participating that were not familiar to me. One of the brands that came in the fun box she sent was called Imaginary Authors, featuring great artwork and packaging, along with a fun concept. Perfumer Josh Meyer has created a line based on books that have never been written by authors who never lived. Each perfume bottle is wrapped in what looks like the cover art of a book, and the website gives author biographies and excerpts. I was delighted by the idea and more delighted when I covered my arms with all seven scents at once and found them to be intriguing.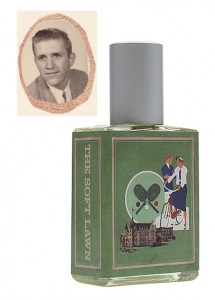 The art for "The Soft Lawn", by Claude LeCoq (the imaginary author), depicts a country club atmosphere a la F. Scott Fitzgerald. The perfume is beautiful; featuring linden (a favorite note) and leaves, it is fresh and green, with no bitterness and a slight floracy. The Soft Lawn is a perfect name for it, as I feel as though I am lolling on a sweet, newly mowed patch of grass. As the scent progresses, an earthiness is displayed, and Josh Meyer has playfully added notes of a tennis court to tie in with the theme of the book. I enjoy it when a perfume that starts out so pretty becomes a little odd but still interesting, although I do wish the top notes stuck around a bit longer. The far drydown is a piquant, salty, almost marine aroma that I am enjoying quite a bit.
Notes: Linden blossom, laurel and ivy leaves, vetiver, oakmoss, fresh tennis balls, clay court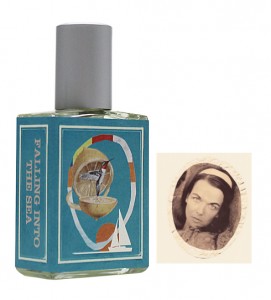 I am a sucker for anything that even suggests "tropical", so I was excited to try "Falling Into the Sea", by Nica Galas. I was not as happy when I sprayed it on, as it has the unfortunate characteristics of a cleaning product when first sprayed, especially liberally, like I did. However, I do persevere in these matters, and it settled down some. Of all the Imaginary Authors scents, this is the least satisfying to me – the citrus is not balanced against the flowers the way I would like. I do smell the tropical flowers slightly, but the harsher aspects of the citrus elements overpower them. Were the citrus elements sweeter, even, I would be okay with this, but my nose is unhappy. As always, just because I don't care for something doesn't mean you should count it out, It could smell amazing on different skin.
Notes: Lemon, bergamot, grapefruit, lychee, tropical flowers, warm sand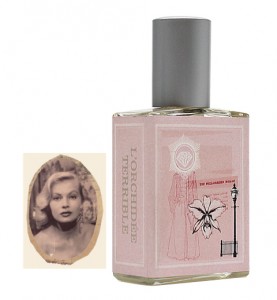 "L'Orchidee Terrible", by Audrey Blavot, is a feminine fragrance of the cheap drugstore variety. Please don't interpret that as meaning it smells fruity or synthetic. I mean it more as a paean to the drugstore scents of the 60's – blasting with aldehydes and soap, being worn by a bottle blonde in a tight fuzzy sweater. As the scent progresses, it becomes slightly bitter, like the blonde's dark roots showing a little too much. Although this is not a scent that sits well on my skin, I admire its brashness, and recommend it to people who like slightly chilly, brassy perfumes.
Notes: Orchid, honey, muguet, aldehydes, white musk, satin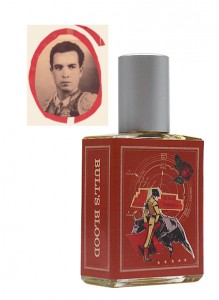 I have a lot of friends who go crazy for animalic, unusual scents. They are going to go wild for "Bull's Blood", by Devante Valereo. I remember being really intrigued by this perfume when I first tested it during my Imaginary Authors orgy. To say this is a difficult perfume is not giving it enough credit somehow, but it is certainly not easy. I think this might be one of the few truly human perfumes I have worn. It doesn't smell fecal, but it smells like hair and skin and blood, that have all come together in some terrifyingly passionate act. It has an air of antiquity, too, like you are smelling the old clothing of the one who committed this act, deeply inhaling to catch every memory. The perfume is also beautiful and emotional, and I admire it greatly. Will I wear it? It's hard to say. Time will tell. Will it haunt me? Absolutely.
Notes: Patchouli, Rose, Costus root, tobacco, black musk, bull's blood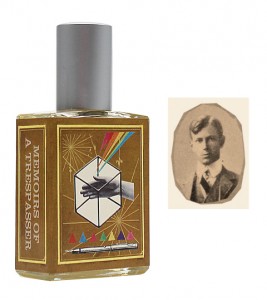 Vanilla lovers will appreciate "Memoirs of a Trespasser", by Phillip Sava. It is soft and woody, but still rich and boozy like a good vanilla should be. This is cozy upon cozy, with myrrh and guaiacwood at the heart. Vanilla scents can skew very gourmand and sweet, or quite dry. Memoirs of a Trespasser straddles the line between; dry in that it is not caramel-laden, but gourmand in that it is still rich and dark. This is a nose-glued-to-wrist perfume for me; it's elegant, evocative of a warm hearth, and delicious.
Notes: Madagascar vanilla, guaiacwood, myrrh, benzoin resin, ambrette seeds, oak barrels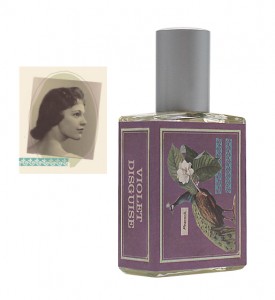 The first few moments of "Violet Disguise", by Lenora Blumberg, are a bit discomfiting, as they remind me of a food I can't quite put my finger on. Fortunately, that dissipates quickly, and what remains is an intriguing, piquant twist on the fruity floral. Just a pinch of violet is the flower here, and its dusty, antiquated scent combines well with the tangy top note of plum and the dense heart note of dried fruits. The dried fruits are not stewed in booze to make them more palatable, but chewy and hard on your teeth. Their sweetness is difficult to find, and buried deep in the scent. I prefer the drydown of this fragrance to the opening. It is unusual, a bit tart and soothing at the same time.
Notes: Plum, violet, dried fruits, balsam, amber, evening air, the month of May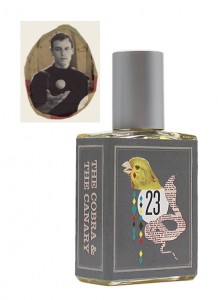 "The Cobra and the Canary", by James Spundt, is a masterful tobacco leather scent. This is an unabashedly masculine fragrance, brimming with heat and danger. Of course, women are going to love it, too, the kind of women who revel in smelling like smoky leather jackets and hazy corner bars. There is a bit of lemony bite up top, and a snarl of orris root lurking in the middle. But mostly this is leather, and a really good one. The synopsis for this "book" reads: "We were driving faster than dammit, headed due west for a place called Anywhere But Here." The perfume conjures this scenario perfectly; the road, the passion, the hot tuck and roll leather seats. Get in your car and drive.
Notes: Lemon, tobacco flowers, orris root, leather, hay fields, asphault
Josh Meyer has done a great job with this collection. Finding a new line that is imaginative, artfully produced, diverse and unique all at once is surprising and welcome. I encourage everyone to sample this nicely affordable line, as I am confident there is something for everyone here. Samples are available on the Imaginary Authors website, individually or in sets.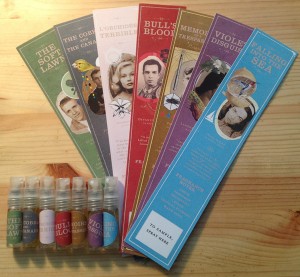 As a special treat to CaFleureBon readers, Josh is offering a full sample set to THREE lucky commenters. Leave a comment on what appeals to you the most about this concept or the fragrance you can "imagine" falling for. Draw closes November 15, 2012.
We announce the winners only on site and on our Facebook page, so Like Cafleurebon and use our RSS option…or your dream prize will be just spilled perfume.
–Tama Blough, Senior Editor