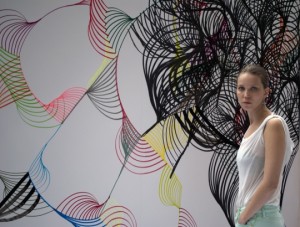 I don't know if they still teach art class in elementary school anymore. Back in those long ago days of the 60's when I was in the early days of my education we had art for a couple of hours every week. We made drawings of our families, lopsided ceramic cups, and finger paintings that would only be found on the home refrigerator. Of all of the things I did in art class there was one thing which has always stayed with me from those days, drawing with charcoal. When I was handed a stick of charcoal and a piece of heavy stock beige construction paper and asked to draw, for me, it was a visual, tactile, olfactory and auditory experience. The only sense left out was taste, and don't think for a minute the thought didn't run through my mind at that age. I loved the way the stick of charcoal laid in my fingers with a weight and almost slippery consistency. I loved the sharp dark lines it drew on the pace as I drew different geometric shapes. I loved the smell as I leaned over the page and the charcoal left a dusty vapor trail in its wake. Most of all I loved the sound of the charcoal as it moved over the page with a low humming rasp. The longer the line I drew the more all four of my senses were delighted. Andrea Maack shares my love of these things, I think, because her latest fragrance is called Coal.
Making of a new COAL drawing from ANDREA MAACK PARFUMS on Vimeo.
Andrea Maack is a multi-disciplinary artist from Reykjavik, Iceland. Coal is her sixth fragrance where she has combined her visual art with olfactory art. Earlier this year she debuted Coal in an installation at the Museo Piaggio in Pontedera, Italy. There she used a stick of charcoal and drew with it over a color drawing she had done previously. Coal is meant to capture "the smell and atmosphere of an artist's studio when the artist is using black coal."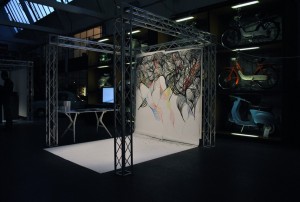 I tried Coal for the first time at the recent Elements Showcase in New York City and when I sprayed it on a patch of skin I felt the rasp of charcoal and couldn't wait to wear it a couple of times. Since returning home I have had the opportunity to do that and have found Coal to be a compelling evocative fragrance on me encompassing the experience of drawing with charcoal.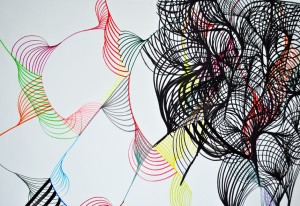 The opening stages of Coal mirror the slippery feel of a stick of charcoal as a wisp of resins skirl around the outset. This deepens as the charcoal meets the paper and a mesh of creamy paper accord and ambrox combine to create the rasp over paper. Many of you know I am not fond of ambrox but Coal might be my favorite use of ambrox because it does sort of rasp across my nose when I encounter it in fragrance and the construction paper accord really stands up to it. The base is a mix of woods and leather which adds an intensity to match the ever building effort of the artist as the garret becomes warmer with the body heat of the artist and the smell of pieces of charcoal falling to the floor and being ground under the shoes. The ambrox makes a bit of a return late in the development to once again add that olfactory buzz.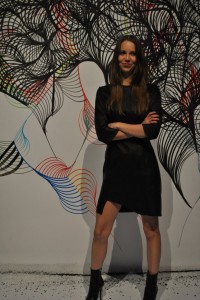 Coal has above average longevity and average sillage.
Coal is another example of how even the most talented of artists can create on multiple planes. Ms. Maack has made the best fragrance of her line to date by returning to her studio and picking up a stick of charcoal and letting it ride across paper. It is a ride well worth taking.
Disclosure: This review was based on a sample provided by Intertrade Europe.
–Mark Behnke, Managing Editor