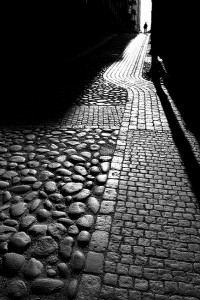 Narrow street by Bror Johansson
The singular perfume of my late teens early 20's had to be Ralph Lauren Polo. Polo was a tipping point in fragrance, especially for men, as it exposed the reality of that market to others. What is often lost is the perfumer who created that classic fragrance, Carlos Benaim. Polo represented a men's fragrance which was unusual at the time, 1978, for its green quality and in a marketplace which hardly had any other competition, its sophistication. Mr. Benaim would go on to have much commercial success especially within the designer fragrance category. When I wear Polo these days it is a reminder of a young man and nowadays I like wearing fragrance that represents the man I am now. I have perhaps out grown Polo. With the latest release by Mr. Benaim for A Lab on Fire called LiquidNight I wonder if he wasn't making a perfume for the young man who wore Polo but wants something more as he grows up.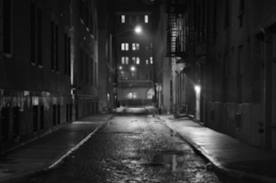 One of my favorite revelations of 2012 has been the A Lab on Fire line. This perfume house has been using some of the biggest perfumers to create their fragrances. This has led to a line full of fragrances which allow for the perfumers to compose for a smaller niche audience and especially in the case of LiquidNight allow for Mr. Benaim to create a strong fragrant statement piece. LiquidNight, according to the press release, is supposed to evoke "the hidden depth of the night in New York City". I am not sure this lives up to that description although the picture (shown above) which accompanied the press release does sort of feel right to me. A dark alley with points of light from streetlights and windows as LiquidNight is a fragrance of deep dark notes with a little light from a couple of well-chosen bright notes. LiquidNight is a complex evolving fragrance which is definitely more dark than light.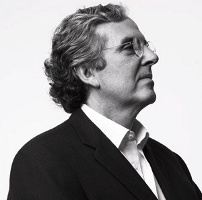 Perfumer Carlos Benaim of IFF
Mr. Benaim uses a pair of those points of light as his top notes with lime and bergamot kicking things off. They are joined in short order by saffron and sage. Mr. Benaim's use of saffron here is to add a bit of exotic spice, it reminds me of Asian food but when the sage arrives that picture flies away. Sage in all of its rough herbal glory rides up like a cowboy skidding to a stop on his horse in a cloud of dust. The sage takes over and pushes everything to the background. Then the sage dust cloud settles and what you are left with is a mix of lavender, hinoki, and a lesser amount of the sage.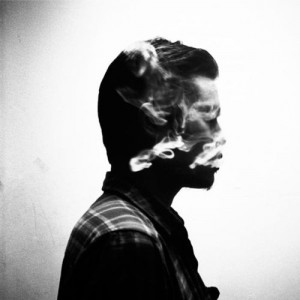 Cover art for Badlands (2011 album by Dirty Beaches)
This is where LiquidNight spends much of its development so much so that you might think this is where this perfume ends, but ever so slowly like a time-lapse photo LiquidNight flows into something else. If you aren't paying attention the woody lavender will all of a sudden surprise you as it has turned into a vanillic incense. That's what happened the first time I wore LiquidNight the next few time I was ready and noticed as the vanilla began to sweeten the heart notes and then the incense came along. This all finishes with a wonderfully sensual musk as the foundation.
LiquidNight has overnight longevity and above average sillage.
As I've grown older I've tried to keep a lot of the enthusiasm of my youth in place with a bit of the wisdom of time to temper that enthusiasm. LiquidNight feels like the perfume that would be the result of Polo doing the same thing. Mr. Benaim has created a fragrance which once again captures my being as it is today.
Disclosure: This review was based on a sample provided by MiN New York and a bottle I purchased.
I will make a 2.5 mL sample from my bottle for one lucky commenter. To be eligible leave a comment on your favorite fragrance of your youth or an example of growing up but not old in your life. Draw ends October 31, 2012.
We announce the winners only on site and on our Facebook page, so Like Cafleurebon and use our RSS option…or your dream prize will be just spilled perfume.
-Mark Behnke, Managing Editor
Art Director:Michelyn Camen, Editor in Chief
Also for those in the NYC area Carlos Benaim will be giving a presentation on the development of Viktor and Rolf Spicebomb at the Museum of Art and Design on Thursday December 13, 2012, more information can be found at this link.